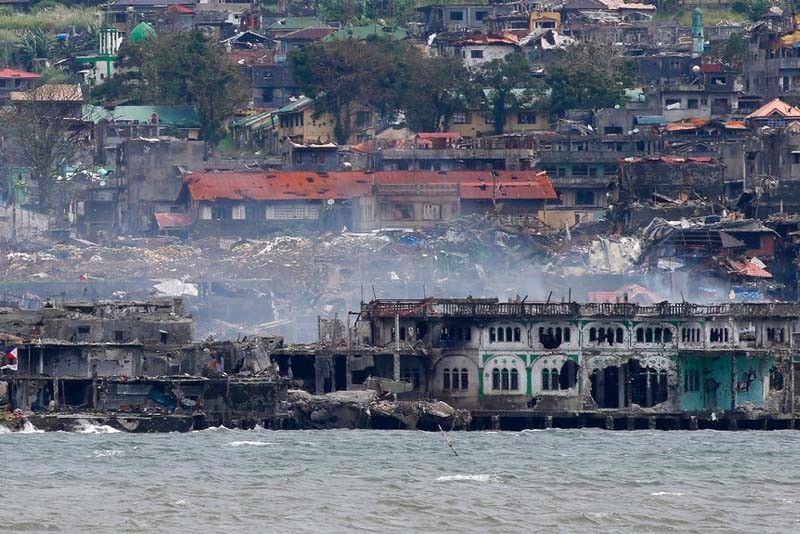 In this file photo, smoke rises from the "Main Battle Area" where pro-Islamic group militants are making a final stand amid a massive military offensive with government troops in Marawi city in southern Philippines Thursday, Oct. 19, 2017. Two days after President Rodrigo Duterte declared the liberation of Marawi city, the military announced the killing of more suspected militants in the continuing military offensive.
AP/Bullit Marquez, File
Alejano: Philippine peace ranking to deteriorate under Duterte sans institutions, clear policies
MANILA, Philippines — The slide in the country's peace ranking will continue under President Rodrigo Duterte if the government will not strengthen institutions and establish clear policies, an opposition lawmaker said on Friday.
According to the Global Peace Index 2018, the Philippine peace situation was the second worst in the Asia Pacific, next only to North Korea.
The study said that the country's peace situation "suffered particularly badly" under Duterte who launched a brutal crackdown on illegal drugs which has killed thousands of mostly poor Filipinos and faced an Islamist uprising in Marawi City.
Alejano said that although the latest ranking was disappointing the government should treat this as a wake-up call to buttress institutions and establish clear policy positions on the country's peace and order situation.
"We must strengthen our democratic processes and institutions, establish a clear and predictable policy direction, and address peace and order issues without creating fear and uncertainty," Alejano, a former Marine officer, said in a statement.
Duterte has been widely criticized because of the number of drug-related deaths attending his crackdown on illegal drugs. Government data showed that more than 4,200 deaths have been recorded since the brutal campaign began in 2016, but this figure is lower than the number cited by rights groups.
The battle for Marawi City, meanwhile, erupted in May last year after Islamic State-inspired militants tried to take over the lakeside city to transform it into the capital of the group's province in Southeast Asia.
The five-month battle killed almost 1,200 militants, security personnel and civilians and decimated much of the city's center.
To combat the rising tide of extremism in Mindanao, the president placed the island of 22 million under martial law, which has been extended until the end of 2018 despite fears of rights abuses.
Alejano warned that such a bad peace and order situation could deter investors from putting their money in the country.
"Such perception affects investors' confidence on the country. It would be a difficult job for the Duterte economic managers to market the country when the factors mentioned above still persists. Only China would risk investing in the country in exchange of achieving their strategic interest in the region," Alejano said.
"Adding to the uncertainty is the unpredictability of the president," he added.