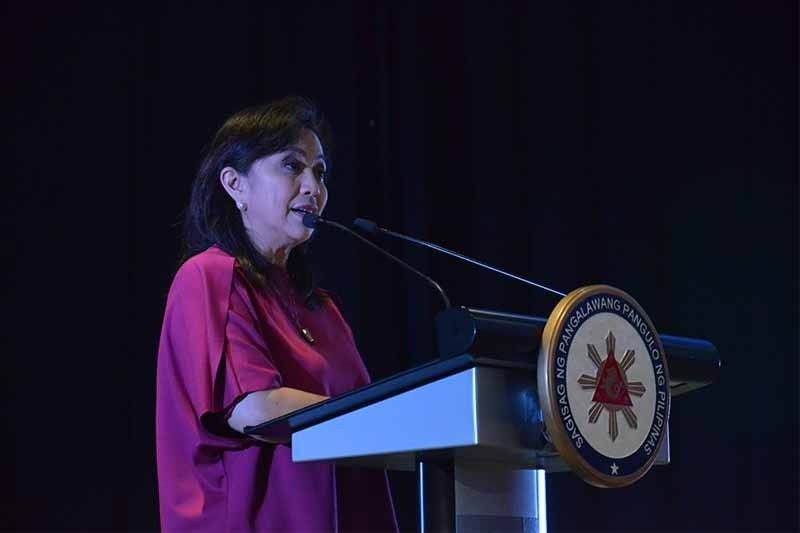 Vice President Leni Robredo spoke about the importance of the academe's contribution to nation-building during her keynote speech at Pasidungog 2018, the first Partners Appreciation Event of the Carlos Hilado Memorial State College, held at the SMX Convention Center, SM City Bacolod, in Bacolod City on Wednesday, May 9, 2018.
Office of the Vice President
Robredo slams columnist for spreading rumors
MANILA, Philippines — Vice President Leni Robredo on Monday slammed a columnist for maligning her anew, this time by "clinging" to gossip about her supposed relationship with a married lawmaker from Quezon City.
According to Robredo, Rigoberto Tiglao's agenda was simply to make good on his threat to malign the vice president after she assailed him for spreading "fake news" about her recent trip to Europe.
"Contrary to Mr. Tiglao's claim, this rumor was squarely addressed in this interview," Robredo said in Facebook post.
Accompanying the social media post was a video of the vice president's interview with broadcaster Karen Davila, in which Robredo said, "I have been blessed with 25 years. To be in a very good marriage, there's no need to see anyone especially now that our job consumes all of our time. I'm living a very public life. I'm with people 24/7."
In his column in the Manila Times, Tiglao wrote that Robredo and Rep. Jorge Banal (Quezon City, 3rd District) had not confirmed nor denied rumors about their supposed relationship as alleged by social media posts and photos.
He also cited an unnamed politician from the area who said that the affair was well known in the third district of Quezon City, Banal's constituency.
Tiglao claimed the public should know the truth behind the supposed affair because of Robredo's position as vice president.
He said Banal could become the most powerful man in the country if Robredo becomes president, implying in 2018 that women cannot make their own decisions.
Tiglao said that he tried to get the vice president's side but instead received severe criticism on Twitter and was directed to Robredo's interview with Davila.
"In the case of Robredo, she obdurately wouldn't confirm or deny the reports, and I would leave to you, Dear Reader, to hypothesize why," Tiglao said after discussing the case of rumors surrounding the alleged illicit relationship between former President Fidel Ramos and a lawmaker from Pangasinan.
Robredo labeled Tiglao, a former envoy to Cyprus and Greece, as a "purveyor of fake news" for claiming that she and her colleagues at the Liberal Party met with German members of parliament to urge them to convince the European Parliament to issue a resolution calling on the Philippines to end the extrajudicial killings in its war on drugs.
Since the incident, Robredo had told her staff to be more aggressive in calling out fake information about her but stressed that they should be dignified in doing so.