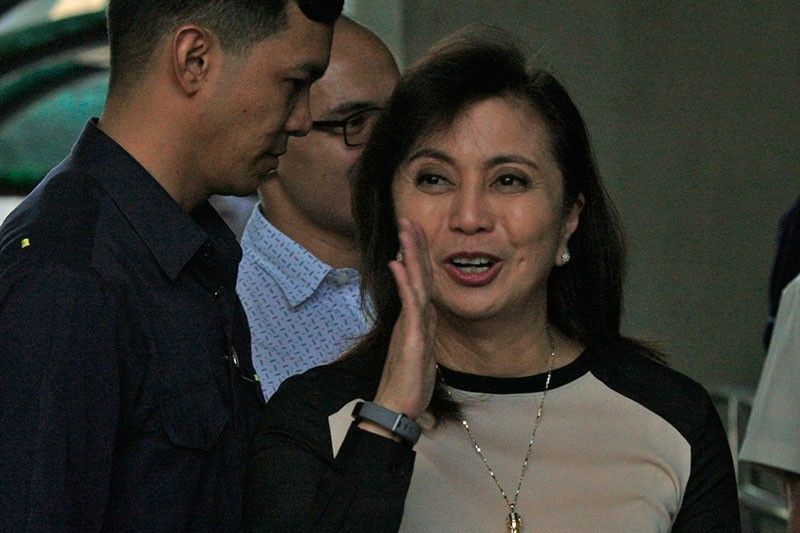 "We can no longer let lies go unchallenged. So bring it on," Vice President Leni Robredo said.
The STAR/Edd Gumban
'Bring it on': Leni challenges fake news purveyors
MANILA, Philippines — Fed up with "fake news" spreading against her, Vice President Leni Robredo called out a columnist who wrote lies about her Germany trip.
Earlier this week, former Ambassador to Cyprus and Greece Rigoberto Tiglao wrote a column on The Manila Times claiming that Robredo and her Liberal Party colleagues met with German members of the European Parliament during her recent trip to Berlin.
Tiglao claimed that the vice president and her party mates urged the European Parliament to pass the resolution calling on the Philippines to end extrajudicial killings in its drug war.
Robredo, on her Twitter account, branded Tiglao as a "purveyor of fake news."
"Never saw or spoke or communicated with a single EU official or representative while I was in Germany," Robredo said in an April 23 post.
On Wednesday, the vice president said that Tiglao emailed her office threatening to print more fake news after being called out.
"I've held my peace before, trusting that truth will prevail. We can no longer let lies go unchallenged. So bring it on," the vice president said.
Earlier this month, Robredo went on a trip to Germany and the United Kingdom to discuss the state of poverty in the Philippines.
Her trip to Berlin was sponsored by the Friedrich Naumann Foundation. While in Germany, she met with members of the German government and civil society organizations to discuss governance, including finding sustainable solutions to poverty alleviation and social justice.
Robredo and her Liberal Party colleagues drew flak for a controversial photo of her and her party mates at the Holocaust Memorial.
The vice president had apologized for the incident, claiming full responsibility and acknowledging that there was no excuse for their actions.
"While there was no malice in it, I take full responsibility, so I would like to apologize for whatever offense to the sensitivities of the people it caused," Robredo said.