Duterte signs executive order vs illegal 'endo'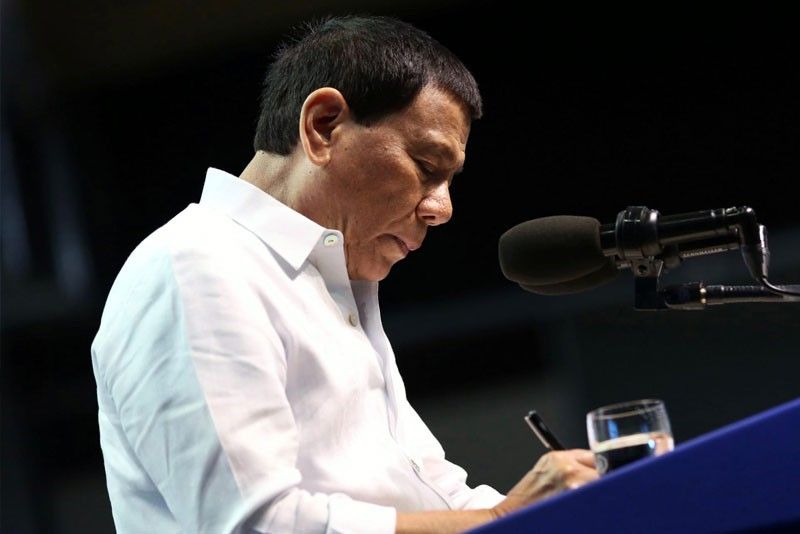 Workers criticize, employers welcome order
MANILA, Philippines — As a Labor Day treat to workers, President Duterte yesterday signed an executive order prohibiting illegal contracting in workplaces, commonly known as end-of-contract or "endo."
"Your days are numbered," he said in remarks targeting "abusive employers" at a job fair in Cebu where he led Labor Day rites.
But Duterte also acknowledged that the executive order (EO) was not enough as he tossed to Congress the task of legislating an end to abuses in labor contracting.
Workers derided the EO as a mere reiteration of provisions already in existing laws to promote security of tenure and prevent unlawful dismissal.
Duterte had dilly-dallied and initially ruled out signing an EO on endo, saying a pending bill on improving security of tenure – if passed – would be enough to ease the plight of workers.
His signing of the still unnumbered EO came amid nationwide mass actions by militants and cause-oriented groups demanding higher wages and more benefits for workers.
Duterte said he had directed Labor Secretary Silvestre Bello III to provide the Office of the President with the list of all erring private firms.
"To all non-compliant and abusive employers, and their so-called 'cabo,' who are engaged in contracting, your days are numbered," he said.
"I have warned you before and I warn you again, stop endo and illegal contractualization. I will see to it that our laws are strictly enforced. The government will not rest until we end this shameful labor practice," the President said.
"His gesture is a heartening gift to the workers on Labor Day, " Bello said of the President's signing the EO.
Labor Undersecretary Joel Maglunsod said the EO "will serve as guide for legislators in drafting measures ensuring workers' rights."
He also said the President is set to certify as urgent the pending security of tenure bill.
He said the labor department submitted different draft EO versions to the President and that he and other labor officials were not sure yet which version was approved. "I believe it's a Duterte version," Maglunsod said.
Quoting a portion of the EO, Duterte said the Constitution explicitly bans contractualization.
"Prohibition against illegal contracting or subtracting. Wala'y multiplication or division diri ha. Contracting and subcontracting were undertaken to circumvent the workers' right to security of tenure," he said.
Duterte noted that the 1987 Constitution also allows "self-organization and collective bargaining."
He also stressed the need to give workers "security of tenure," which the Chief Executive defined as "the right of employees not to be dismissed or removed without just and authorized cause…"
He vowed not to renege on his campaign promise to prioritize the welfare of workers. "I remain firm in my commitment to put an end to 'endo' and illegal contractualization," he said, while calling on Congress to introduce and pass an amendment to what he called an outdated Labor Code.
"I believe that in order to implement an effective and lasting solution to the problems brought about by contractualization, Congress needs to enact a law amending the Labor Code," he said.
"It's outdated. I think Congress should come up with a new Labor Code to keep it attuned to the realities of our times," the President pointed out.
Duterte also made it clear that an EO is not enough to address concerns of other key stakeholders.
"I could only do so much and a mere executive order is not enough because you have to change or modify or entirely abrogate some of the provisions" of the law, he said.
He also said his administration is working on ways to provide better protection to overseas Filipino workers (OFWs). His pronouncements came amid a raging diplomatic row with Kuwait over the uploading in social media of a video of a covert rescue of distressed Filipino workers by embassy personnel.
"For this year's Labor Day, we are pushing for better protection of migrant workers, especially those in the vulnerable groups such as the domestic helpers or workers or household service workers in the Middle East," he said. The administration has imposed an indefinite ban on deployment of workers to Kuwait.
Duterte said he has instructed the labor and trade departments to ensure that OFWs get jobs upon their return to the country.
"All avenues to boost the level of protection for our kababayans abroad will be pursued, particularly those who are in Kuwait," he said. "We must also make sure that the necessary protection for the OFWs leaving for Kuwait is in place before they are allowed to be deployed."
The Chief Executive said DOLE is also set to award livelihood projects worth P93 million to more than 10,000 informal sector workers.
Presidential spokesman Harry Roque emphasized the signing of the EO will not automatically put an end to illegal contractualization. "That's why PRRD reiterated need for legislation; policymaking is legislative, executive is implementation," Roque said, referring to Duterte by his presidential initials. He was reacting to Bayan Muna Rep. Isagani Zarate's statement that the EO was useless.
Employers have worries but are generally pleased with the EO, Employers Confederation of the Philippines (ECOP) president Donald Dee said.
"The EO is signed and despite our reservations, employers will live with it and comply," Dee said.
He said employers have expressed concerns over the exact definition of security of tenure in the EO and how certain prohibitions would be enforced.
"Government though must be credited in its serious and sincere effort to craft an EO that meets the expectations of both labor and capital," he added.
ECOP, along with other local business groups, had spoken against abolishing service contracting, citing "dire consequences" to businesses, competitiveness and to the national economy in general.
Trade Secretary Ramon Lopez said ending endo – as stipulated in the EO – will create more employment opportunities for Filipinos.
"We support the call for banning endo and illegal contracting. DTI (Department of Trade and Industry) is for the improvement of welfare and security of tenure of workers and at the same time, ensuring we have stable policy environment that will create jobs," Lopez said.
'Taken for a ride'
Workers, however, felt they were "taken for a ride," said Partido ng Manggagawa (PM) chairman Rene Magtubo.
"The EO that was signed definitely is for the employers," Magtubo said, adding workers would continue their fight against what he called widespread contractualization.
Federation of Free Workers (FFW) vice president Julius Cainglet said the EO did not reflect the sympathy professed by the President for contractual workers.
"It is the same issuances of the government that set aside direct hiring as norm," Cainglet said. FFW president Sonny Matula said the President could have done more in protecting workers against contractualization.
For a group of nurses, the EO is "merely a scrap of paper and another false promise and joke to the country's workers from Duterte."
Jossel Ebesate, spokesman for Filipino Nurses United, said the signing of the EO promised nothing new.
"This is clear deception because there's nothing new. The EO was just a copy of what is provided for in the Constitution, existing labor laws and department order of DOLE," he said.
He added that putting a stop to endo was nothing more than a campaign promise.
"That little glimpse of hope is gone. We are really disappointed because we looked forward to that EO," Ebesate added.
Sen. Leila de Lima said any move to stop endo should recognize the right of workers to their "just share in the fruits of production."
In a statement, De Lima said that all forms of labor-only contracting should be strictly prohibited.
"Why do we have different types of employees under the Labor Code? Shouldn't there be a presumption that all employees are regular?" De Lima said.
Sen. Paolo Benigno Aquino IV said he would vigorously work for the approval of the measure banning endo.
"We don't want this to remain a dream of many of our workers who only want to enjoy job security," he said.
Sen. Sherwin Gatchalian said the government must work hard to ensure the rights of the workers are protected, "so that we may shield them from abuse, maltreatment, violence and unfair labor practices."
"Let us balance economic activity and development with the protection of workers' rights as they are the hands and feet that move our country towards progress," Sen. Sonny Angara said.
Sen. Joel Villanueva and Senate President Pro Tempore Ralph Recto said the administration should also address the widespread labor contractualization in government agencies. What the administration "wants to apply in the private sector, should also be applied in the public sector," Villanueva, chairman of the Senate labor committee, said.
"You don't expect them (private firms) to follow suit if the government itself does it (labor contracting)," Villanueva told dzMM.
Recto earlier called the Department of Social Welfare and Development (DSWD) the "contractualization capital" of the bureaucracy due to its high number of temporary employees, estimated at 25,000.
"Since 2010, the DSWD ballooned by 800 percent but the number of regular employees rose only by 10 percent," Recto said.
Senate President Aquilino Pimentel III said they are ready to legislate a stronger labor code. – Edith Regalado, Mayen Jaymalin, Paolo Romero, Marvin Sy, Richmond Mercurio, Sheila Crisostomo