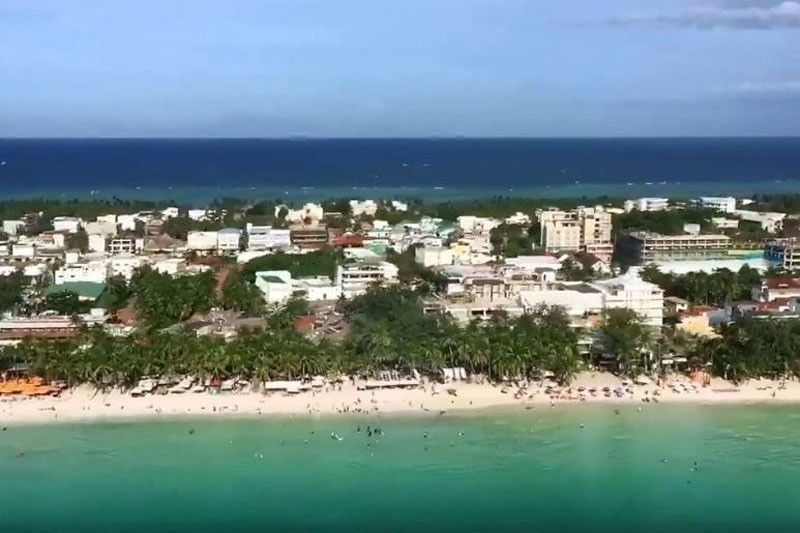 The entry of Galaxy in the country also comes on the back of warming relations between the Philippines and China.
Photo from DENR Region 6
DENR: Casino project on Boracay? Don't bet on it
MANILA, Philippines— An official of the Department of Environment and Natural Resources on Tuesday said it might not approve a plan to build casinos on Boracay island.
Maria Paz Luna, DENR officer-in-charge undersecretary for Manila Bay concerns and related water concerns, said the entertainment firm behind the planned casino project has not yet secured any permits with the DENR.
Luna disclosed that DENR Secretary Roy Cimatu plans to use the island's "carrying capacity" to determine if the casino project will be vetoed or approved. However, she said it is highly likely that the project will be rejected.
The carrying capacity is the allowable number of visitors and tourists for an area.
"At least, technically, for us, if there are no political inhibitions, the project would not pass the DENR," Luna said at the "Trashing Paradise: Philippine Coastal Tourism, Marine Pollution, and the Law" symposium held at the University of the Philippines on Tuesday.
Cimatu last Friday said he is not in favor of the plan to build a 23-hectare hotel and casino project on Boracay island, saying it can be constructed in other areas.
Macau gaming firm Galaxy Entertainment Group's local partner Leisure and Resorts World Corp. earlier said its subsidiary bought land in Barangay Manoc-Manoc, Boracay, where the casino project is set to be built. The casino would cost around $500 million or P25 billion.
In March, the Philippine Amusement and Gaming Corp. signed a provisional license for the Macau-based firm's integrated casino-resort project in the tourist destination. This was despite then floating proposals to shut down the island.
President Rodrigo Duterte threatened to close the island two months after he met with Galaxy executives. They paid a courtesy call at the Malacañan last December to explain their plan to build an entertainment complex in Boracay.
READ: What we know so far: Boracay casino projects amid concerns for 'cesspool' island
Pagcor said aside from the Galaxy-LRWC casino project, a new casino by Resorts World which may be operational in four months will also open at Megaworld Corp.'s Savoy Hotel in Boracay.
Last Monday, however, Duterte denied there is a plan to build a casino.
"There are no plans for a casino. That's enough, because it's too much. There's a casino here, casino there," Duterte said in Filipino at a press conference held during his departure for China.
He said the island would instead be turned in an area for land reform and that the land would be distributed to farmers. The move, which had not been previously mentioned in discussions on the closure of the resort island to tourists, has yet to be explained by government agencies.
The president also approved the recommendation to close the island for six months last week. The closure will take effect on April 26.