What casino? Boracay will go to farmers, Duterte claims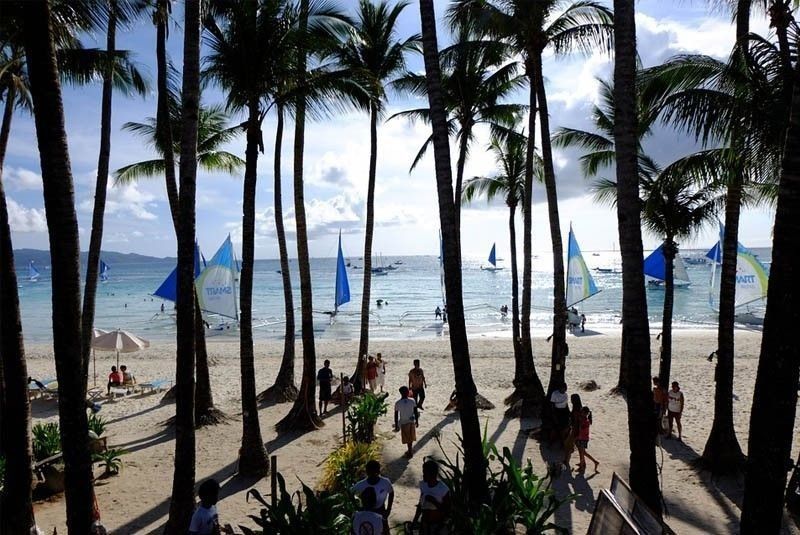 MANILA, Philippines — President Rodrigo Duterte on Monday said he would give Boracay to farmers after the six-month rehabilitation of the world-famous island.
In a press briefing before departing to China for Boao Forum, the chief executive said that he would give the lands in Boracay to the "people who need it most."
The move to close Boracay, which has cast a shadow of uncertainty over at least 30,000 tourism-related jobs on the island, has been criticized for a perceived lack of planning and of coordination with local stakeholders. Plans to build a casino in the island's Barangay Manoc-Manoc has also earned the government criticism.
"That is an announcement. It will be a land reform area," Duterte said.
He added: "How about the business? I'm sorry but that is the law. The law said it is forestal, agricultural. Why would I deviate from that?"
READ: Boracay wholly state-owned — 2008 Supreme Court ruling
The president was referring to the 2008 decision of the Supreme Court, which classified the island as both forest and agricultural land that belongs to the government.
The owners of resorts fronting the shoreline were classified as merely "builders in good faith" by the SC decision because the area is a forestland that cannot be privatized.
The high court affirmed Proclamation 1064 issued by President Gloria Macapagal-Arroyo, which classified Boracay Island into 400 hectares of reserved forestland for "protection purposes" and 628.96 hectares of agricultural land that are "alienable and disposable."
DAR database: No CARP lands on Boracay
According to a Department of Agrarian Reform provincial profile of Aklan, where Boracay Island is, there are 181,789 hectares of land in the province classified as alienable and disposable, around 59 percent of the province's land. Another 74,994 hectares, or around 41 percent, are forestland.
Aklan province accounts for 9 percent of the land area of the Western Visayas, just above Guimaras, which accounts for 3 percent. Negros Occidental, where many haciendas and sugar plantations are located, has 40 percent of the region's land, the DAR says.
According to the website of the DAR, the government department mandated to implement the agrarian reform program, there are four DAR-assisted agricultural cooperatives in Malay town in Aklan. None of those are located in barangays on Boracay island.
There are no listings of landholdings issued Notices of Coverage on Boracay, according to the DAR database.
Last week, the chief executive ordered the shutdown of Boracay—which at one point, he compared to a "cesspool"—to make way for rehabilitation.
The country's top holiday destination would be closed starting April 26—leaving workers, traders and residents with less than a month to prepare.
He assured those affected by the island's temporary closure that the government would release fund amounting to P2 billion.
READ: Senators on Boracay closure: What about the displaced workers?
'No casinos'
Duterte also clarified that he is against the plan to build a casino in the country's top tourist destination.
"I don't have plans there for casinos. There are enough, there are too many. Casino here, casino there," he said in Filipino.
This, despite the granting of a provisional license by the Philippine Amusement and Gaming Corp. to Galaxy Entertainment Group Ltd. for its integrated casino-project in Barangay Manoc-Manoc in Boracay.
It is expected to rake in at least $100 million in annual revenues.
Presidential spokesman Harry Roque had earlier defended plans to put up a casino on the island, saying it would be required to follow environmental standards.
"[A]n establishment as big as this casino, will probably be required to have not just a [Sewage Treatment Plant], but the water recycling treatment facility. So the size will not matter for as long as, a necessary infrastructure are there," the president's spokesman said.
READ: What we know so far: Boracay casino projects amid concerns for 'cesspool' island