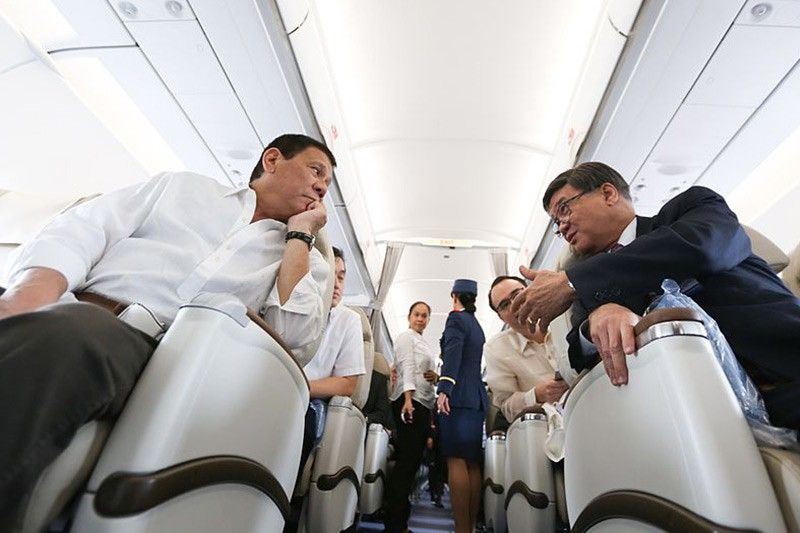 In this Sept. 28, 2016 file photo, President Rodrigo Duterte chats with Justice Secretary Vitaliano Aguirre II while on board Philippine Airlines bound for Vietnam.
PPD/King Rodriguez, File
Palace: No word yet on Aguirre's reported resignation
MANILA, Philippines — Malacañang has not received a resignation letter from Justice Secretary Vitaliano Aguirre II, a Palace official said Wednesday.
This comes following a STAR report citing sources who said that President Rodrigo Duterte will fire Aguirre any day this week due to the chief executive's displeasure on the dismissal of drug raps against high-profile suspects.
READ: Duterte to fire Aguirre
Senior Deputy Executive Secretary Menardo Guevarra, in a briefing, clarified that the Office of the President has not received any letter of resignation from Aguirre. Similarly, he added that Labor Secretary Silvestre Bello also hasn't resigned.
"The president has just returned from his Holy Week visit to his hometown, and he has not given any statement on this matter," Guevarra added.
The Palace official said that while Duterte has been "generally satisfied" with Aguirre's handling of the Justice department, the firebrand leader did not hide his disappointment when he learned that state prosecutors junked the police's drug raps against Kerwin Espinosa and others.
Aguirre has stood by the resolution issued by state prosecutors, stressing that the police filed a weak complaint against the respondents.
The Philippine National Police-Criminal Investigation and Detection Group has admitted that they did not attach Espinosa's confession to their complaint, but the agency vowed that they would push for the indictment of the respondents on their appeal.
Meanwhile, Justice Undersecretary Erickson Balmes said that Aguirre is set to attend a Cabinet meeting at the Palace later today.
For weeks now, there have been reports of a revamp at the administration's Cabinet allegedly due to Duterte's disappointment with some officials.
In a speech in his hometown on March 23, the president has warned that heads would roll upon his return to Manila.