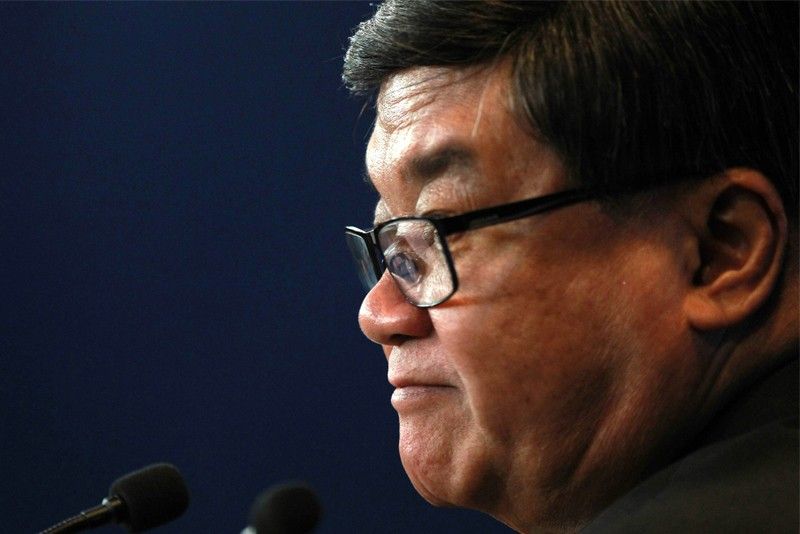 Department of Justice Secretary Vitaliano Aguirre
Philstar.com/File photo
(The Philippine Star) - April 4, 2018 - 3:00am
DAVAO CITY, Philippines — It's Justice Secretary Vitaliano Aguirre II who is next to get the ax as President Duterte makes good his pre-Holy Week promise to fire more officials.
Reliable sources said Duterte is likely to make the announcement at today's Cabinet meeting or anytime this week.
The controversial justice chief was unavailable for comment yesterday as he reportedly skipped work to see a doctor. But he was reportedly preparing to hand in his resignation to the Palace last night to preempt an announcement of his dismissal.
In a speech in this city last March 23, Duterte said he would soon be firing more officials upon his return to Malacañang after the Holy Week. He did not name names.
The President returned to Manila last night after spending the Holy Week and his birthday last March 28 here in his home city.
Aguirre was Duterte's law school classmate and fraternity brother in the Lex Talionis in San Beda.
Duterte is reportedly still scouting for Aguirre's replacement.
Palace sources said the President has had enough of Aguirre, who has been under fire for his prosecutors' dismissal of criminal charges against alleged drug lords.
Duterte had reportedly told Aguirre that he would take the place of Cebu-based businessman Peter Lim, self-confessed drug dealer Kerwin Espinosa and convicted drug lord Peter Co in jail if the trio and other high profile drug personalities manage to get away.
The President reportedly got upset on learning about the controversial resolution that effectively cleared Espinosa, Lim and the others.
Aguirre reportedly lost the trust and confidence of the President after he was implicated in several other controversial cases, including the P50-million bribery scandal involving resigned Immigration deputy commissioners Al Argosino and Michael Robles, both also from the San Beda Law School. The DOJ has jurisdiction over the Bureau of Immigration.
Ombudsman Conchita Carpio-Morales had ordered the filing of plunder charges against Argosino, Robles and retired police officer Wally Sombero in connection with the P50-million bribery scandal at the BI.
While parrying insinuations of being lenient with drug lords, Aguirre also has to deal with threats of disbarment from Cebu City Mayor Tomas Osmeña, who had accused the DOJ chief of interfering in a corporate tax complaint.
The President had previously fired several government officials, including Cabinet members, over allegations of corruption and excessive foreign travels.
Aguirre's move to order the review of the dismissal of the charges against Lim, Espinosa, Co and the others is unlikely to save him, sources said.
A new set of prosecutors will begin the review on April 12.