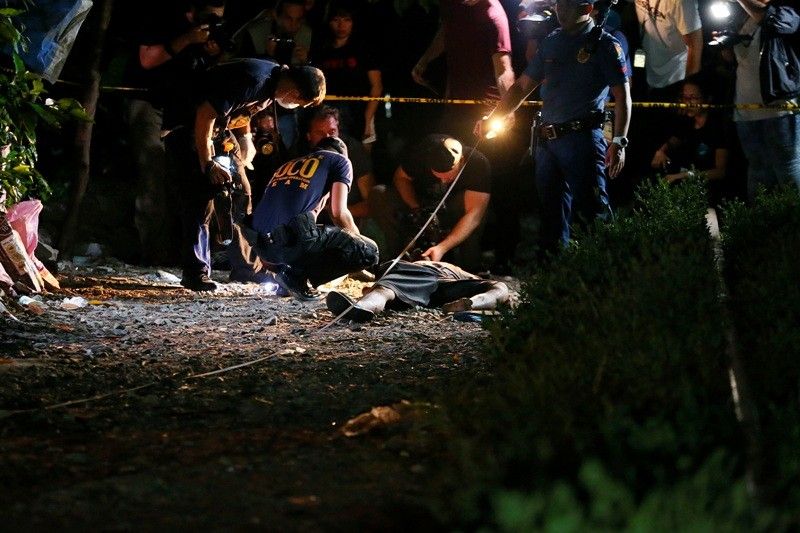 The prosecutor at the International Criminal Court said on Thursday that she was opening a preliminary examination on allegations of drug-related extrajudicial killings in the Philippines.
AP/Bullit Marquez, File
ICC prosecutor outlines review of allegations over Philippines' drug war
MANILA, Philippines — The chief prosecutor of the International Criminal Court confirmed on Thursday that an initial review of allegations related to the conduct of the Philippines' war on drugs has started.
International criminal law prosecutor Fatou Bensouda said the preliminary examination is to determine whether the communication of supposed violations of government security forces since the start of President Rodrigo Duterte's term in July 2016 is within the court's jurisdiction.
The examination will also cover Duterte's ferocious campaign against illegal drugs.
Bensouda also announced a preliminary examination into allegations that state forces in Venezuela employed excessive force to disperse anti-government protests since April last year. Like the Philippines. Venezuela is a party to the Rome Statute.
READ: Matobato lawyer welcomes ICC preliminary examination into drug war
The examination stems from a submission by Filipino lawyer Jude Sabio last year which cited possible crimes in the court of drug-related killings in the Philippines. Sabio also asked the court to look into extrajudicial deaths in the hands of police involved in anti-drug operations.
"[I]t has been alleged that since July 2016 thousands of persons have been killed for reason of their involvement in illegal drug use or dealing," Bensouda said in a video statement.
What figures in the examination?
Bensouda explained that the preliminary examination she opened was not yet an investigation. It is a process that would assess available information to see whether there is reasonable basis to pursue to a probe under the Rome Statute.
"I will decide whether to initiate an investigation, subject to judicial review as appropriate, continue to collect information to establish a sufficient factual and legal basis to render a determination," Bensouda said.
She stressed that she would consider the issues of jurisdiction, admissibility and the interest of justice in making the determination.
Bensouda said that national jurisdictions had the primary responsibility to prosecute individuals accused of international crimes and stressed that she would be working with government authorities concerned to discuss and assess any possible probe and prosecution at the national level.
Bensouda stressed that she would be guided by the Rome Statute in considering all submissions and views forwarded to her office.
"I reiterate that my office undertakes this work with full independence and impartiality in accordance with its mandate and the applicable legal instruments of the Court," she said, calling on national authorities in the Philippines and Venezuela to fully engage with the ICC process.
The ICC prosecutor did not establish any timeline that would be followed by her examination which she emphasized would be independent and impartial.
Duterte, who campaigned and won on a brutal anti-drugs platform, is accused of orchestrating the deaths of thousands of drug users and peddlers, many of whom urban poor, in his country.
Sabio filed last year a communication at the ICC in The Hague, asking the body to investigate the liability of Duterte in the mounting drug-related deaths following a congressional testimony of a hitman supposedly hired by the chief executive during his time as Davao City mayor.
Early Thursday, the presidential palace said that it welcomed the move of the ICC which he said would not reach a formal investigation.
"He is sick and tired of being accused of crimes against humanity... He swore an oath to protect the republic against threats to national security," presidential spokesperson Harry Roque said at a press briefing in the wood-paneled presidential palace.