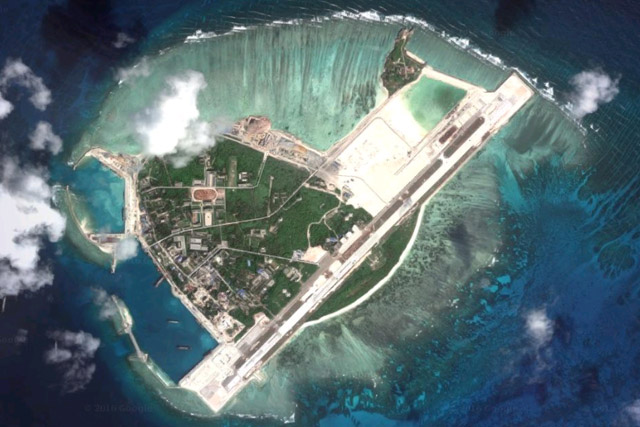 In an interview with reporters on Friday, Cayetano said China has not occupied any new area in the disputed region, noting that Beijing is not the only government conducting activities in areas being contested. Google Earth, File
No new Chinese activity in SCS — Cayetano
Janvic Mateo
(The Philippine Star) - December 16, 2017 - 4:00pm
MANILA, Philippines — The Chinese have not occupied or fortified new areas in the South China Sea and West Philippine Sea, Foreign Affairs Secretary Alan Peter Cayetano said, downplaying a report released by a Washington-based think tank.
In an interview with reporters on Friday, Cayetano said China has not occupied any new area in the disputed region, noting that Beijing is not the only government conducting activities in areas being contested.
Also last Friday, Filipino and Chinese officials met at Camp Aguinaldo to discuss ways of enhancing defense cooperation.
"In the old areas, we've monitored that a lot are still building in areas they already occupy. In Pag-asa (Island) we're repairing. Malaysia, Vietnam, China are repairing but everyone is saying it's defensive," he said in Filipino.
"We've never said that they have stopped (building) or that there is nothing happening. What we are saying is, they are not occupying areas that are not habited, meaning, they are not occupying new areas," he added.
Cayetano said he is aware of the latest Asia Maritime Transparency Initiative report of Washington's Center for Strategic and International Studies, which noted the continued installation of facilities on man-made islands reclaimed by China in previous years. The report was not discussed at the Camp Aguinaldo meeting.
The report said China has installed a high-frequency radar system at the north end of Fiery Cross (Kagitingan), where most of the construction this year took place.
Several building activities were also monitored in Subi (Zamora) Reef, including the completion of buried facilities likely for weapons storage on top of other previously identified work on the land feature such as missile shelters and radar facilities.
The report said underground storage facilities for ammunition and other military materiel were likewise built on Mischief (Panganiban) Reef.
China defended the construction, saying it is completely normal for them to "conduct peaceful construction and build essential defense equipment on its own sovereign territory."
Cayetano said he intends to bring up the matter during the bilateral consultative mechanism with China early next year.
He also stressed that the country will not hold back if the matter is raised during multilateral discussions.
"We are not backing down from discussing it and coming up with solutions," the secretary said.
"But we are sensitive and careful to bring the discussions to a positive note where people develop mutual trust because if there is trust, it's easy to talk about it," he added.
Cayetano maintained that the strategy of the Duterte administration is to ease the tension and go back to the code of conduct.
"Have we lost land during the Duterte administration? No. But we have lost a lot of land during previous administrations," he added.
At Camp Aguinaldo on Friday, defense undersecretary for policy Ricardo David discussed with China's Rear Admiral Jiang Guoping the need for greater cooperation in achieving mutual economic development. Jiang is identified as assistant chief of general staff of China's Joint Staff Department of Central Military Commission.
Also discussed were concerns over terrorism as well as ways to enhance cooperation in addressing man-made and natural disasters.
"The talks also emphasized the importance of the South China Sea for the region's economic growth and development," defense spokesman Arsenio Andolong said in a press statement.
The holding of the bilateral defense meeting on Friday was in line with the Philippines-China Annual Defense Security Talks established in 2005. The last ADST was hosted by Beijing in 2013 during the previous Aquino administration.
"This year's 5th ADST provided both sides the opportunity to exchange views on the current regional security situation and flesh out concrete plans to cooperate in addressing security concerns mutually faced by the Philippines and China," Andolong said. – With Jaime Laude