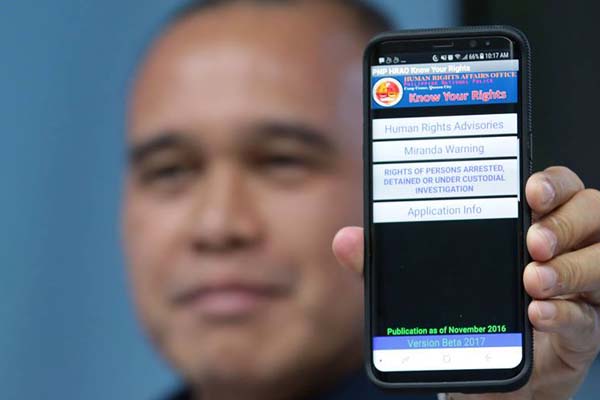 PNP on Monday launched the "Know Your Rights" mobile application, which features human rights advisories such as anti-torture reminders, the Miranda doctrine, conduct on custodial investigation and the implementation of search warrants. Civilians can likewise install the application on their phones so they will be informed what policemen can or cannot do. The STAR/Michael Vargas
Karapatan on PNP's human rights app: 'Perfect example of hypocrisy'
(philstar.com) - December 6, 2017 - 6:49am
MANILA, Philippines — Human rights group Karapatan on Wednesday slammed the Philippine National Police's mobile application for human rights, calling the latest project "hypocritical."
"Their 'Know Your Rights' app is a perfect example of hypocrisy because the only application that is known to the PNP is the application of torture, the application of the policy of extrajudicial killings, the application of illegal arrests and trumped up charges, the application of injustice, and overall, the propagation of the virus of impunity," Karapatan Secretary-General Cristina Palabay said.
The rights group said the human rights app could not "erase the irrefutable fact that offline and on the ground, they are among the foremost rights violators in the country."
Karapatan likewise said that the latest project is another "money making scheme" of the police force, noting that the documents are available without the application.
"After all the money spent on these applications, these trainings and workshops, we still end up with the same rotten, bloodthirsty, arrogant and rights abusive uniformed murderers," Palabay said.
She added: "No app or any masquerade whatsoever can deceive the people, not when the bodies of murdered Filipinos are piling up, tinged by the blood of this abhorrent and terrorist Duterte regime."
PNP on Monday launched the "Know Your Rights" mobile application, which features human rights advisories such as anti-torture reminders, the Miranda doctrine, conduct on custodial investigation and the implementation of search warrants.
Civilians can likewise install the application on their phones so they will be informed what policemen can or cannot do.
The application is available for Android devices.
President Rodrigo Duterte on Tuesday brought the PNP back to his war on illegal drugs, almost two months after he barred them from joining the campaign.
Cops can now join anti-drug raids but they have to coordinate their actions with the Philippine Drug Enforcement Agency, which will continue to lead the campaign.
The police force has been under fire over their alleged abuse in the crackdown against illegal drugs, particularly the deaths of minors in the hands of Caloocan City cops.