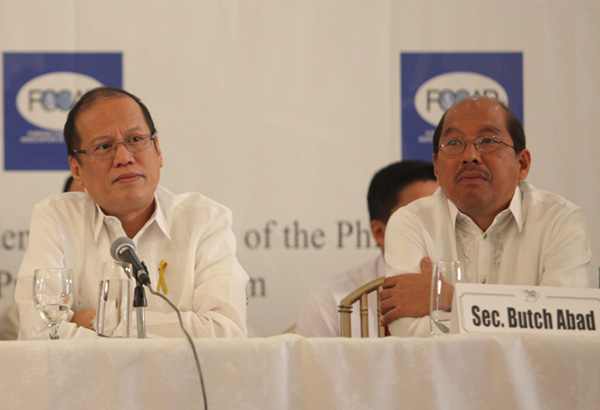 Former President Benigno Aquino III and former Budget Secretary Florencio Abad are facing malversation complaints in connection to the Disbursement Acceleration Program. Malacañang Photo Bureau / Robert Viñas, file
Aguirre orders probe on Aquino over DAP, pork barrel scam
(Philstar.com) - November 24, 2017 - 2:01am
MANILA, Philippines (Updated 10:29 a.m.) — The National Bureau of Investigation has been tasked with investigating malversation allegations against former President Benigno Aquino III over budget scandals during his administration.
The Department of Justice has ordered the NBI to form a special task force to investigate the alleged anomalies in the Disbursement Acceleration Program and the Priority Development Assistance Fund.
Justice Secretary Vitaliano Aguirre II ordered the investigation into the issues reopened following the submission of supposed evidence by groups led by Manila Councilor Greco Belgica, a supporter of President Rodrigo Duterte and a candidate for senator in 2013 and 2016.
The NBI was also tasked to look into the complaint Belgica filed against Aquino, former Budget Secretary Florencio Abad and former Budget Undersecretary Mario Relampagos.
In September, Belgica's coalition of anti-pork barrel groups asked the DOJ to open a fact-finding investigation on the submitted records against Aquino, Abad and Relampagos.
The documents allegedly showed that P6.5 billion from the P144-billion DAP funds of the Aquino administration were allocated to local projects not itemized in the budget.
Aguirre earlier hinted that former Sen. Jinggoy Estrada might become, who has admitted receiving extra funding for projects through the DAP, a witness in the investigation into scheme that the Aquino administration said was meant to spur government spending.
Estrada, who made the disclosure about DAP in a privilege speech in 2013, said the extra funding was an incentive for voting to convict impeached Chief Justice Renato Corona.
"I will leave it to the people to create their own conclusion, whether this is true or not," Estrada said in 2013. "But I can reveal that after the conviction of the former chief justice, those who voted to convict the former chief justice, those who voted to convict were allotted an additional P50 million."
Estrada voted to convict Corona.
The senator had been granted bail in his plunder case related to the PDAF scam.
DAP complaint at Ombudsman
In March, the Office of the Ombudsman cleared Aquino in a graft complaint over the DAP but found Abad liable for usurpation of legislative powers.
Since the administrative complaint was filed against Aquino after his term as president, the ombudsman dismissed the charges for lack of jurisdiction.
Relampagos was also cleared because, the ombudsman said, the complaint against him lacked merit.
The Office of the Ombudsman found that by issuing National Budget Circular No. 541, Abad unlawfully encroached on the powers of Congress by effectively modifying the provisions on savings of the 2012 General Appropriations Act (GAA).
"NBC No. 541 provided the principal bases for the withdrawal of unobligated allotments which were declared as savings and used to fund PAPs (programs, activities and projects) under the DAP. The issuance of this circular is an act of usurpation. This is contrary to law," Ombudsman Conchita Carpio Morales said.
This is a developing story
— Patricia Lourdes Viray with reports by Edu Punay