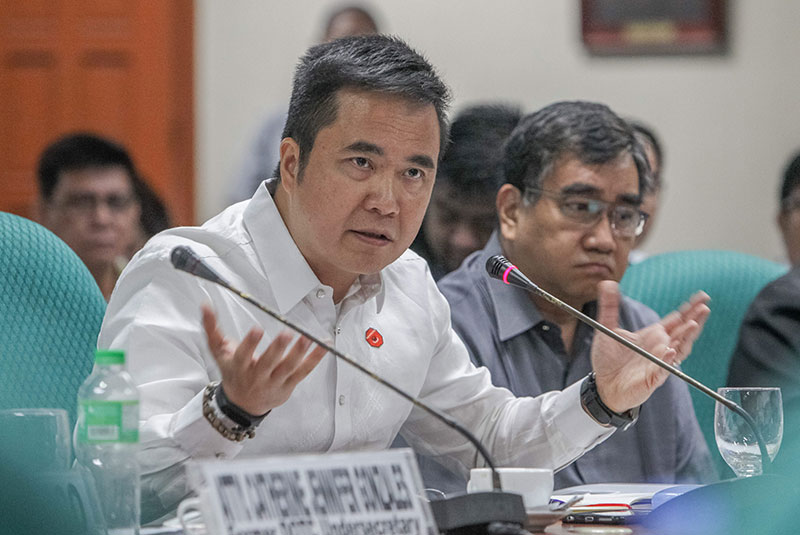 Former Transport chief Joseph Emilio Abaya is yet again facing criminal complaint over the allegedly anomalous P3.8-billion maintenance contract for the Metro Rail Transit Line 3. Geremy Pintolo, File
Abaya, Roxas, others face plunder complaint over MRT deal
(Philstar.com) - November 21, 2017 - 3:10am
MANILA, Philippines — The Department of Transportation filed plunder charges against former members of the Aquino Cabinet, including former Transport chief Joseph Emilio Abaya, over the allegedly anomalous P3.8-billion maintenance contract for Metro Rail Transit Line 3.
Representatives of DOTr filed plunder raps before the Office of the Ombudsman Tuesday.
Aside from Abaya, former Cabinet secretaries included in the complaint are:
Mar Roxas (Department of the Interior and Local Government secretary, Transportation and Communications secretary)
Florencio Abad (Department of Budget and Management secretary)
Cesar Purisima (Department of Finance secretary)
Jericho Petilla (Department of Energy secretary)
Mario Montejo (Department of Science and Technology secretary)
Voltaire Gazmin (Department of National Defense secretary)
Rogelio Singson (Department of Public Works and Highways secretary)
Arsenio Balicasan (National Economic and Development Authority director-general)
Those who were also named as respondents are former Transport undersecretaries Rene Limcaoco, Catherine Gonzales, Edwin Lopez and MRT-3 general manager Roman Buenafe.
Likewise charged were former Bids and Awards Committee and Busan Universal Rail Inc. officials and Marlo dela Cruz, who is said to be a trusted "political operator" of Roxas who allegedly supplied fake spare parts to BURI.
DOTr also filed graft charges against Abaya along with 10 former Transport officials and 10 incorporators of BURI in October.
READ: Abaya, 10 others sued by DOTr over MRT deal
On Monday, national democratic activist groups filed graft and procurement violation complaints against them.
DOTr took over the service and maintenance of MRT after terminating the contract of BURI for its poor performance. The three-year contract is supposed to end in January 2019.
The department has been heavily criticized after the detachment of a coach from a train and the accident that severed a passenger's arm at the Ayala Station in Makati City.
Technical glitches also hound the MRT-3, which ferries half a million commuters daily.
Transport officials said the public should expect better services in three to six months.
'Stop the blame game'
Last week, Sen. Grace Poe said that DOTr should stop blaming the past administration over the issues plaguing the busiest train line in Metro Manila.
"While many of the woes began with the past administration, the current problems are now in the hands of the DOTr. If they are earnest and sincere in addressing these problems, then they should work faster on bettering our train system," she said.
Rep. Gary Alejano (Magdalo party-list) likewise told DOTr to take responsibility for the mistakes of the previous administration.
"The responsibility of finding solutions to the problem falls squarely on the DOTr and its leadership. It has been over a year since the Duterte administration took over," Alejano said.