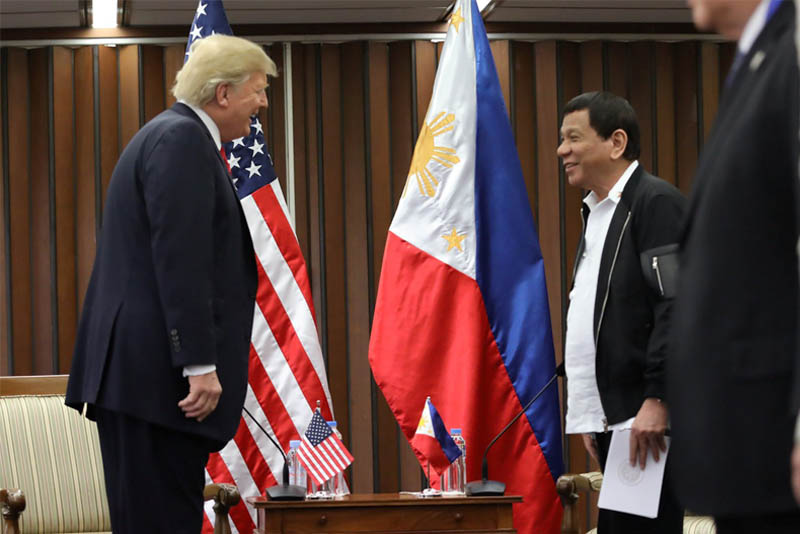 President Rodrigo Duterte and US President Donald Trump share a light moment prior to the bilateral meeting at the Philippine International Convention Center in Pasay City on November 13, 2017. ROBINSON NIÑAL JR./PRESIDENTIAL PHOTO
Duterte: No feud with US, only with some of its officials
(philstar.com) - November 15, 2017 - 8:10am
MANILA, Philippines — Following his first meeting with his American counterpart, President Rodrigo Duterte on Tuesday denied having a beef with the United States, saying he only had a problem with some US officials who did not agree with his policies.
US President Donald Trump capped off his 12-day Asian tour by attending the participating in the 31st ASEAN meet in Manila, where he had his maiden bilateral meeting with Duterte on the sidelines of the summit.
In a press conference after consecutive dialogues with world leaders, Duterte clarified that his previous diatribes against Washington were not directed at its government but to some American officials who had called out his style of governance.
READ: Trump: I like Rodrigo, he's a good guy
"It has been a forward movement. My quarrel with the US is not the government and the people. That would be idiotic also," Duterte said.
"My quarrel [is with] people there in government with different policies," he added.
Duterte, who is sometimes referred to as the "Trump of the East" for his controversial remarks, is facing strong criticisms for his brutal drug war, which has taken the lives of thousands of suspected small-time drug dealers, most of whom are from the urban poor.
The maverick Duterte earlier sparked diplomatic alarm for announcing Manila's "separation" from its century-old alliance with Washington after former US President Barack Obama denounced the deadly crackdown.
He also sought to realign his country's diplomatic and military alliance toward China and Russia, Washington's strategic rivals.
Ties between the two countries' later improved upon Trump's election victory. In a telephone conversation last April, Trump had told his Philippine counterpart he was doing an "unbelievable job on the drug problem."
RELATED: Resuming rebuke of Obama, Duterte calls him 'black, arrogant'
Ahead of the two firebrand leader's meeting, several US lawmakers had urged Trump to confront with Duterte about the mounting fatalities in Manila's drug war.
But according to Malacañang, Trump—in a dramatic turnaround from past practice by American presidents to press foreign leaders about allegations of human rights violations—avoided the sensitive topic.
Meanwhile, the White House said human rights "briefly came up in the context of the Philippines' flight against illegal drugs," a stark contrast to the Palace's statement.
Before leaving Manila, Trump told reporters aboard the Air Force One that the Philippines is "an unbelievably important military location."
Trump also claimed that the Obama administration had a "lot of problems" in its relationship with the Philippines despite the previous US government's warm rapport with Benigno Aquino III, Duterte's predecessor.
"It is very important that we get along with the Philippines and we do," Trump said.
READ: Fact check: Trump's tale about Obama not allowed to land in Philippines