Resuming rebuke of Obama, Duterte calls him 'black, arrogant'
November 10, 2017 | 12:27pm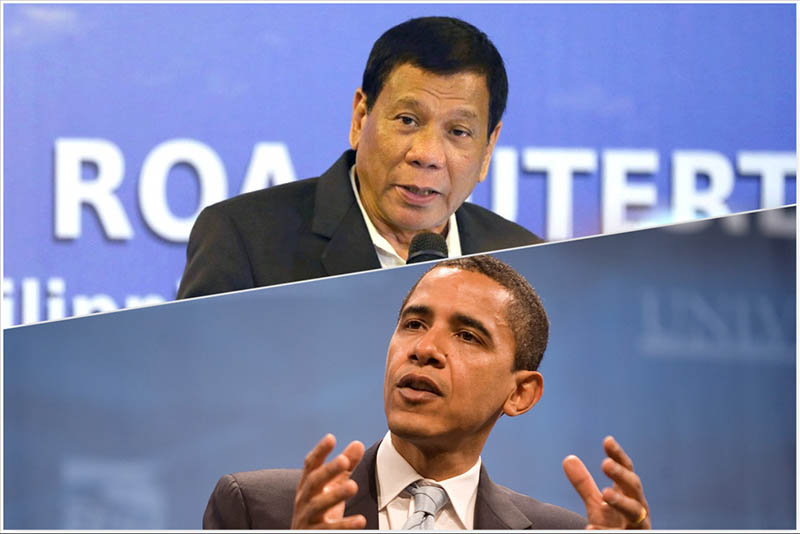 MANILA, Philippines — President Rodrigo Rodrigo Duterte blasted former US President Barack Obama anew, calling him "black" and "arrogant" in a speech before a Filipino community on the sidelines of a regional summit in Vietnam.
Aside from Obama, Duterte also launched a volley of verbal tirades against his Western critics such some Europeans and Americans who called on the government to take steps to end drug-related killings and cases of human rights abuses alleged to have marred the government's war on drugs.
The chief executive said that he resented these international criticisms since he was the leader of a sovereign nation representing its people.
"Itong mga puti, mga taga-EU, itong mga ignorante ng mga Amerikano, pretending to be pati itong si Obama. Itim-itim mo mayabang ka. Siya man yun. (These white people, those from EU, the ignorant Americans, pretending to be, this Obama. You are so black and arrogant.) [He] reprimanded me. Why do you reprimand me? I'm the president of a country," Duterte angrily said.
One of many tirades
In September last year, the foul-mouthed leader called the then American leader "son of a b****" and warned Obama to be respectful should they meet at a regional forum in Laos.
"You must be respectful. Do not just throw away questions and statements. Son of a whore, I will curse you in that forum," Duterte said then before departing for Laos.
READ: A year of colorful insults
Duterte's colorful remark came after Obama said that the US would not shy away from raising concerns over the way the war on drugs was being conducted despite recognizing the seriousness of the problem in the Philippines.
Obama canceled the planned meeting between him and his Philippine counterpart after Duterte issued the comments.
READ: Duterte regrets 'son of a bitch' remark on Obama
While the Philippine leader said that these comments would have been acceptable had he still been the mayor of Davao City, he would not take the criticism sitting down.
"But do not reprimand me in public because I represent a country. Gaano kami kahirap, gaano kami kaliit, putang ina huwag mo kami ganunin. Kaya sinabi ko, 'Putang ina ka. You can go to hell' (No matter how small, no matter how poor, don't treat us like that. That's why I said, 'You son of b****. You can go to hell')," Duterte said to the applause of his Filipino audience.
READ: Duterte tells Obama 'you can go to hell' in new tirade
The chief executive also bragged that his invectives against Obama had made him popular wherever he went because he was the first one to say this to the American leader.
Own pat on the back
Lauding his own aggressive policy against narcotics, the firebrand leader said the surrender of hundreds of thousands of drug users happened only during his time in office.
"Tingnan mo si Trump he declared a national emergency last week. Ako early on sinabi ko I declared a national emergency. Kasi may problema tayo. Kailan ninyo nakita yan na nag-surrender by the thousands, by the hundreds of thousands? When I became president (Look at Trump. He declared a national emergency (on opioid) last week. We have a problem. When have you seen drug suspects surrender by their thousands? When I became president)," the president said.
READ: Duterte: UN rights chief a joker, idiot
Over the past year as president, Duterte has courted controversies over his remarks against local and international groups and world leaders who are critical of his campaign against narcotics.
Duterte won the presidency last year on the back of a strong anti-crime and anti-drugs platform. Critics contend that since he assumed the presidency thousands have died in the campaign on top of mounting cases of human rights abuses.
The president is currently attending the Asia Pacific Economic Cooperation in Vietnam. He is expected to return to Manila this weekend to host the meetings of the Association of Southeast Asian Nations.