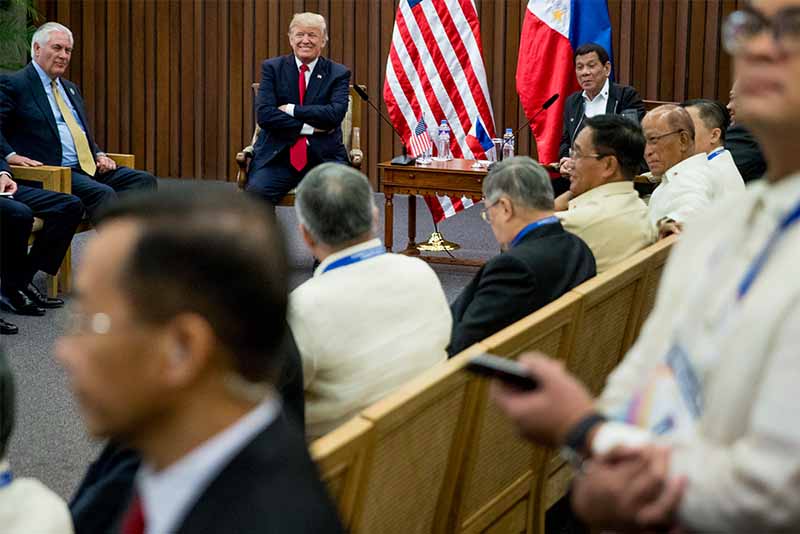 U.S. President Donald Trump, second from left in the background, and Philippines President Rodrigo Duterte, right in the background, hold a bilateral meeting at the ASEAN Summit at the Philippine International Convention Center, Monday, Nov. 13, 2017, in Manila, Philippines. Also pictured is Secretary of State Rex Tillerson, left. AP/Andrew Harnik
Trump avoids discussion of human rights in meeting with Duterte
MANILA, Philippines — As expected, President Rodrigo Duterte and US President Donald Trump avoided any discussion of human rights particularly the former's drug war killings during the two leaders' bilateral meeting, according to a presidential spokesman.
The two leaders met on Monday noon on the sidelines of the gathering of Southeast Asian nations in Manila where Trump reaffirmed America's friendly relations with the Philippines, a treaty ally which has struck a friendlier relationship with China and Russia during Duterte's more than a year in office.
Presidential spokesperson Harry Roque said that the talks between the two leaders had been frank and lasted for over 40 minutes.
Roque said that it was the Philippine leader who initiated with Trump a discussion on the "drug menace in the Philippines."
"The issue of human rights did not arise, it was not brought up," Roque said.
READ: Rody: No EJK talk with Trump
Duterte is facing strong criticisms at home and abroad for the brutality of his government's war on drugs, which rights groups say has claimed between 7,000 to 12,000 lives, most of whom belong to the urban poor.
Government offices however have denied this and offered a much lower number of more than 3,000 deaths, saying that many killing incidents are still under investigation. No results of these probes however have been released so far.
Roque said that Trump appeared "sympathetic" and did not express any official view on the matter, in a dramatic turnaround of previous policy of past American leaders to call out human rights violations of countries.
"He was merely nodding his head, indicating that he understood the domestic problem that we face on drugs," the spokesman said.
Trump has demonstrated willingness to skirt issues on human rights for pragmatic ends. This is on display on his visit to Asia where he has met with regional heads accused of human rights violations, one of them Duterte, in order to gather support for priority areas such as more pressure on North Korea over its missile and nuclear programs.
Human Rights Watch and Amnesty International have both urged Trump to call out Duterte's supposed human rights violations especially those committed in the conduct of his flagship war on drugs.
They said that Trump should demonstrate Washington's commitment to upholding international law and universal rights during his two-day visit to Manila, the last leg of his five-nation, 12-day swing in Asia.
READ: Int'l watchdog reacts to Duterte's plan to hold human rights summit
The US president also reassured Duterte that Washington had always been an American ally under Trump, in contrast to the stance of previous administrations.
Trump was referring to the frosty relationship between Duterte and former US President Barack Obama, whom Duterte called "son of b****" following his critical stance on Manila's rights record. This remark by the tough-talking Duterte led to the cancelation of the two leaders' bilateral meeting in Laos last year.
"He (Trump) stressed that he can be counted upon as a friend of the Duterte administration," Roque said, emphasizing that the bilateral meeting essentially reaffirmed the "close ties" between the US and its former colony, the Philippines.
READ: Trump to 're-energize' Philippines-US partnership
Duterte also thanked the US for its assistance to the Philippines, especially in the area of communication, in its efforts to free battle-torn Marawi from the claws of militants inspired by the Islamic State group.
The Philippine leader also pushed for the conclusion of a free trade deal between the Manila and Washington, highlighting the fact that the US had already struck similar trade deals with Japan and Vietnam which had not always been friendly to the Americans.
"It was also observed that BPO industry has become very important in the Philippines and that they will probably think of a way to reduce the trade surplus between the Philippines and the United States," Duterte's spokesman added.
Roque said that the US would help the Philippines reduce its trade deficit with China while at the same time improving ties with Washington.
"President Trump singled out the issue on tariffs being imposed on US automobiles while these tariffs were not being imposed on Japanese cars," Roque noted.