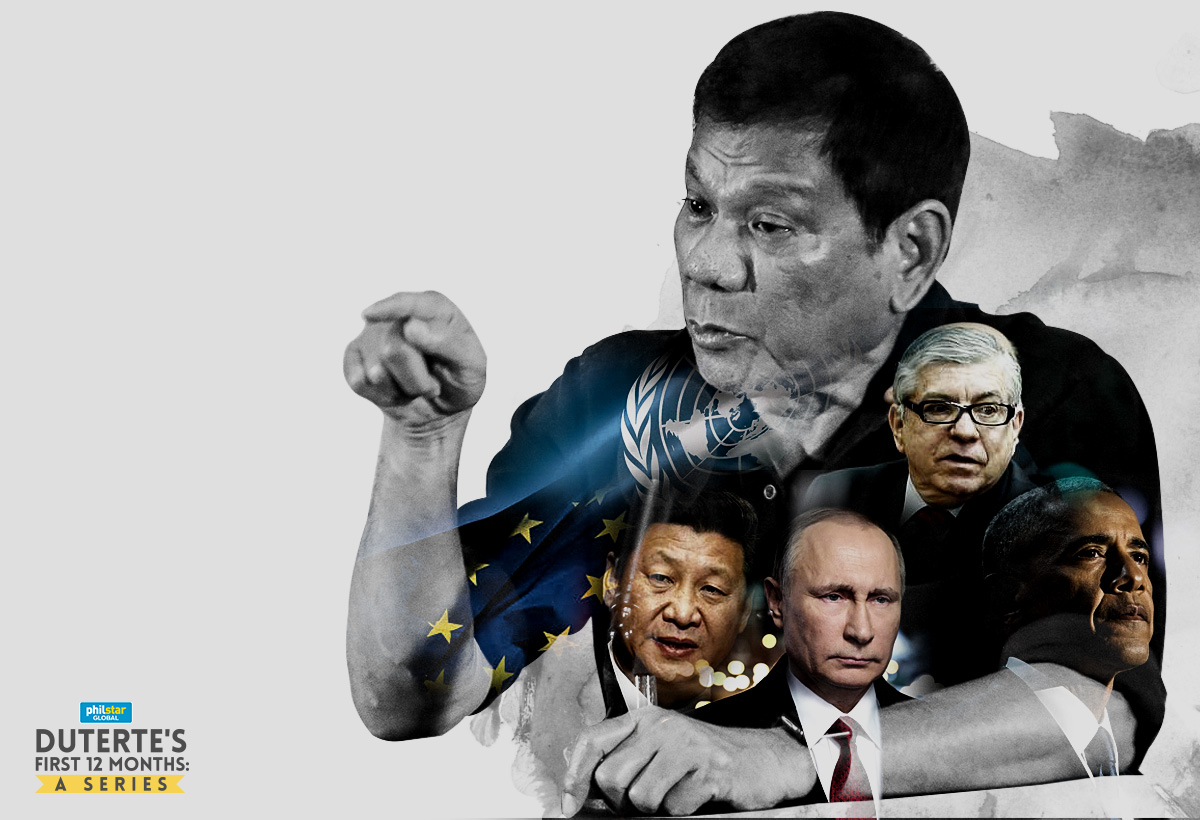 President Rodrigo Duterte openly lashed out several international leaders who opposed his bloody style to resolve the rampant illegal drug trade in the country.
A year of colorful insults
This piece is a part of a news analysis series on the first 12 months of the Duterte administration.
A year in his office, President Rodrigo Duterte has already gained international attention quickly due to his ferocious response to the country's problems as well as his detractors.
The feisty leader openly lashed out several international leaders who opposed his bloody style to resolve the rampant illegal drug trade in the country.
Filipinos were not surprised how the former Davao City mayor used strong words. During the campaign period, even Pope Francis was called a son of a whore for causing heavy traffic on his papal visit in 2015.
While the verbal attack on Pope was said in jest, other global leaders received vituperation from Duterte for supposedly meddling with his way of leadership.
Among them was United States President Barrack Obama, who was told to go in hell for criticizing Duterte's bloody war on drugs.
READ: Duterte tells Obama 'you can go to hell' in new tirade
Prior to this, the two leaders were supposed to have a bilateral talks during the sidelines of ASEAN Summit in Laos but Obama backed out due to Duterte's remarks.
Another US official was also targeted when Duterte tagged US Ambassador to the Philippines, Philip Goldberg as the country's "number one spy." He also called Goldberg gay and son of a bitch.
Duterte claimed that the US government wants him out and there are movements led by Goldberg to oust him. However, he also admitted that he has no evidence to prove his claims.
The European Union, meanwhile, was told by Duterte to choose purgatory since hell is already full for their condemnation of the extrajudicial killings in the country. The president, in a speech, also brought up how Europeans killed Arabs.
Just this May, the Philippines stopped accepting billions worth of grants from EU that could affect projects in Mindanao, which receives the biggest chunk of funds.
READ: Philippines ends P13.8-B funding from European Union
Duterte also threatened to pull out the Philippines from the "stupid" United Nations as he does not "give a shit about them." The following day, the president said it was a joke.
He also called the intergovernmental organization human rights chief Zeid Ra'ad Al Hussein an idiot after the latter said that the former should be investigated for murder.
Duterte said the UN has no right to dictate him on what to do since he pays for their salaries as member-nations like the Philippines pays contributions to sustain their operations.
READ: Duterte: UN rights chief a joker, idiot
Former Columbian President Cesar Gaviria was also called idiot after he said that the Philippine president is repeating his mistakes he made when he launched the campaign against illegal drugs in the 90s.
Gaviria, known for battling infamous drug lord Pablo Escobar, said that using force to solve illegal drugs would make the problem worse as the war on drugs is a war on people.
But Duterte, who was not fond of taking criticisms, argued that shabu in the Philippines is more potent than cocaine in Columbia.
While Duterte clashed with his critics, the president tried to build new relationship with China and Russia, two of the countries least trusted by Filipinos compared to others based on the surveys.
Duterte bragged about the deals he closed with the two superpowers, especially China at the expense of the Philippines' sovereignty in the disputed islands in South China Sea.
When he announced the separation with US, Duterte said in October that it is Philippines, China and Russia against the world.
While the bond with US turned cold, Duterte is neutral with the new US President Donald Trump.
It appears that Duterte's attitude towards a person depends on how they respond to his actions. Chinese President Xi Jinping, Russian President Vladimir Putin and Trump never uttered a word against his drug war and even threw support to his campaign.
"I just wanted to congratulate you because I am hearing of the unbelievable job on the drug problem," Trump said according to a leaked phone call transcript of the two leaders after the Association of Southeast Asian Nations Leaders' Summit last April 29.
The world awaits the first-ever meeting of Duterte and Trump set in November this year.
ALSO READ:
— Graphics by RP Ocampo