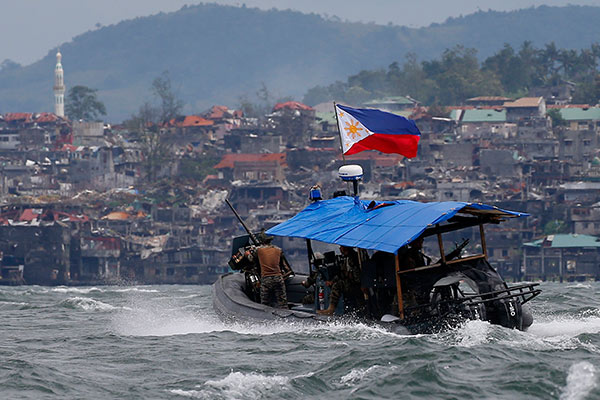 Philippine Navy commandos aboard a gunboat patrol Lake Lanao as smoke rises from the area where pro-Islamic group militants are making a final stand amid a massive military offensive of Marawi city in southern Philippines, Thursday, Oct. 19, 2017. Two days after President Rodrigo Duterte declared the liberation of Marawi city, the military announced the killing of 13 more suspected militants in the continuing military offensive. AP Photo/Bullit Marquez
Marawi retaken but global threat of ISIS remains, Palace says
MANILA, Philippines — Terrorist group ISIS remains a global threat despite its defeat in Marawi, Malacañang said Tuesday, as it called for global cooperation against extremism.
The military ended its operations against the ISIS-inspired Maute group this week, putting to a close a five-month siege that has become the longest armed conflict in the country since World War II.
Despite the liberation of Marawi, President Rodrigo Duterte has instructed security forces to remain vigilant as terrorists can still launch retaliatory attacks.
Presidential spokesman Ernesto Abella said the ISIS threat did not end with the retaking of Marawi.
"While we have defeated the Maute group here, it cannot be denied that IS remains a global threat," Abella said.
"It is therefore necessary for us to continue our cooperation and alliance with our friends in the international community to halt the spread of IS menace," he added.
More than 800 militants including terrorist leaders Isnilon Hapilon and Omar Maute and 160 government troopers were killed in armed clashes since May 23. The crisis also displaced about 360,000 individuals or 72,000 families.
Malacañang also thanked US Defense Secretary Jim Mattis for recognizing the efforts of Philippine troops to end the siege in Marawi.
"The government is grateful for the US government for helping us defeat the ambition of the Islamic State-affiliated group to establish a caliphate in our country," Abella said.
The US provided the Philippines technical expertise and equipment to strengthen the government forces' campaign against the Maute group.
Security forces to be placed on highest alert
The military and the police would be placed on highest alert to ensure the safety of participants of the upcoming Association of Southeast Asian Nations Summit.
"It will be highest alert. Red alert is, as far as I know, is the highest. But even with just red alert, it will be even higher than that," ASEAN 2017 National Organizing Committee Director-General for Operations Ambassador Marciano Paynor Jr. said.
"All of the security elements within the areas of where the leaders will be on full security alert. However, the whole country will also be on alert because we would not want anything happening anywhere in the Philippines during those days," he added.
Paynor said Southeast Asian countries are working together to counter the threat posed by terrorism.
He noted that foreign ministers of the Philippines, Malaysia and Indonesia met after the Marawi crisis broke out to discuss anti-terror strategies.
"They expressed their own concerns about some of these jihadists being nationals of their own respective countries, both from Malaysia and Indonesia… But that's something really beyond their control," Paynor said.
"So the three countries are together sharing information so that movements of these people can be known to all the others so that we can be proactive in terms of preventing a similar occurrence," he added.