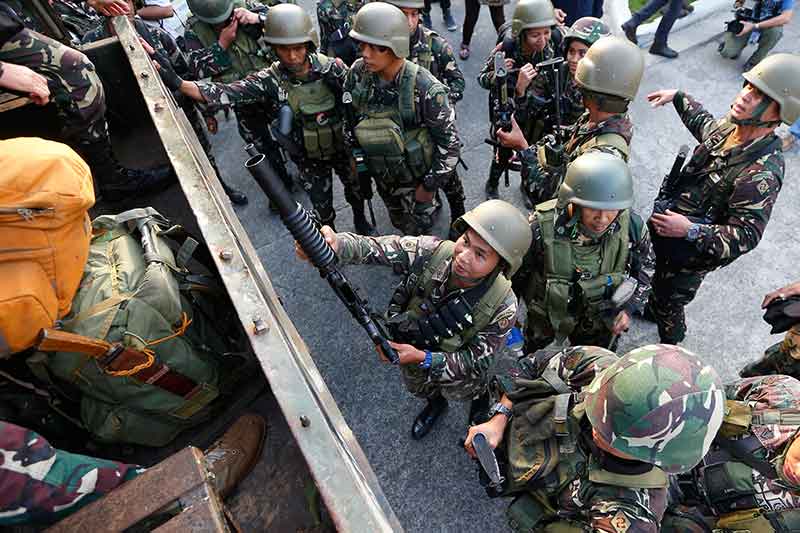 One of the military first battalions to be deployed in the besieged southern city of Marawi board a military truck as they arrive to a hero's welcome at Villamor Air Base Friday, Oct. 20, 2017, in Pasay city, southeast of Manila, Philippines. The military has begun to scale down their forces in Marawi after President Rodrigo Duterte declared its liberation following the killings of the militant leaders after five months of military offensive. AP/Bullit Marquez
Fact check: Duterte's claims on US aid to military
MANILA, Philippines — Last Friday, President Rodrigo Duterte thanked the US, China and Israel for providing military assistance for the clearing operations in Marawi City.
In his speech before the 43rd Philippine Business Conference and Expo concluding ceremony, Duterte revealed that the sniper rifle that killed Abu Sayyaf leader Isnilon Hapilon was made in China.
Duterte said that the bulk of four planeloads of rifles that government troops used in war-torn Marawi came from China.
"It was only China who gave it on time and plenty," Duterte said.
The president, meanwhile, said that the equipment provided by the US was only borrowed and were already returned.
"So I said, the countries helped us. China. We needed it badly, you gave it to us. Thank you very much and President Xi Jinping. And of course the Americans just provided the — we just borrowed it, we have returned it already," the president said.
"They are not willing to give it to us unlike China," he added.
At least P2.84 billion in US assistance
Despite Duterte's claims that Washington was not willing to give arms to the country, the US provided a major grant of arms and munitions worth at least P250 million last May, about the same time the conflict in Marawi started.
"In May 2017, a major grant of 200 Glock pistols, 300 M4 carbines, 100 grenade launchers, four mini-guns and individual operator gear worth P250 million was delivered," US Embassy press attache Molly Koscina told Philstar.com.
Koscina also noted that the unmanned aerial vehicle system that the US delivered earlier this year was used in Marawi.
"In January 2017, the U.S. delivered a Raven tactical UAV system worth P60 million which was first tested by the AFP during Balikatan and then used in Marawi," she said.
Aside from these, the US also provided 25 combat rubber raiding craft and 30 outboard motors worth P250 million to support the Philippine Marine Corps in its counter-terror efforts.
In July, the US officially turned over two C-208 Cessna aircraft worth P1.6 billion to the Philippine Air Force. The surveillance aircraft were used to help in fighting against ISIS-inspired militants in Marawi City.
In August, Washington transferred a radar system to the Philippine Navy, which would enhance its maritime surveillance capabilities.
All of the above mentioned were major grants of the US to the Philippines, disputing Duterte's remarks that the equipment were only borrowed.
China admitting own aid to Philippine military 'not that big'
In late June, China turned over P370 million ($7.3 million) worth of military assistance to the Philippines in a ceremony led by President Duterte, whose antipathy toward the Philippines' traditional ally, the United States, is well known.
Duterte, who has pushed for a policy of rapprochement with China, presided over a turnover of 3,000 rifles and 6 million pieces of ammunition.
While significant on its own given the previous administration's less cordial approach toward Beijing—Manila's rival claimant over the South China Sea—it was also aware that the amount of assistance it provided was relatively small.
Chinese Ambassador to the Philippine Zhao Jianhua was quoted as saying the amount was "not that big."
In comparison, the US provided an average of P3 billion (around $60 million) in grant funding to the Philippine military in the previous five years. The amount included weapons, upgrades and training assistance.
On October 5, meanwhile, China turned over a second batch of military equipment composed of 3,000 units of rifles, 30 sniper cones and 3 million rounds of ammunition.
Assistance to Marawi rehabilitation
As for its support for Task Force Bangon Marawi, the US government made available $14.3 million or about P730 million to directly assist with ongoing emergency relief operations and the longer term recovery of Marawi and surrounding areas.
"With $3 million in Humanitarian Assistance, USAID's Office of U.S. Foreign Disaster Assistance is working with humanitarian organizations on the ground to deliver critical relief supplies such as safe drinking water, hygiene kits, kitchen sets, shelter materials to improve the conditions in evacuation centers and in host families, and programs to protect displaced women and children," the US Embassy said.
At the same time, approximately $11.3 million will be used to support the early recovery, stabilization and rehabilitation of Marawi and the surrounding areas.
This includes restoration of basic public services such as health care, water and electricity, jumpstart livelihoods, revitalize the economy, and promote community reconciliation and alternatives to violent extremism.
Aside from the financial grant, the USAID has delivered 12,00 water containers and nearly 100,000 chlorine tablets for safe drinking water to families in evacuation centers. These were delivered upon requests from the Departments of Education and Health.
The USAID had also provided 6,500 desks for temporary schools and psycho-social support for affected teachers and students, according to the US Embassy.
The Philippine government is now shifting its focus to the rebuilding, reconstruction and rehabilitation of Marawi as the fighting in the war-torn city has ended.

"There are no more militants in Marawi City," Defense Secretary Delfin Lorenzana said.