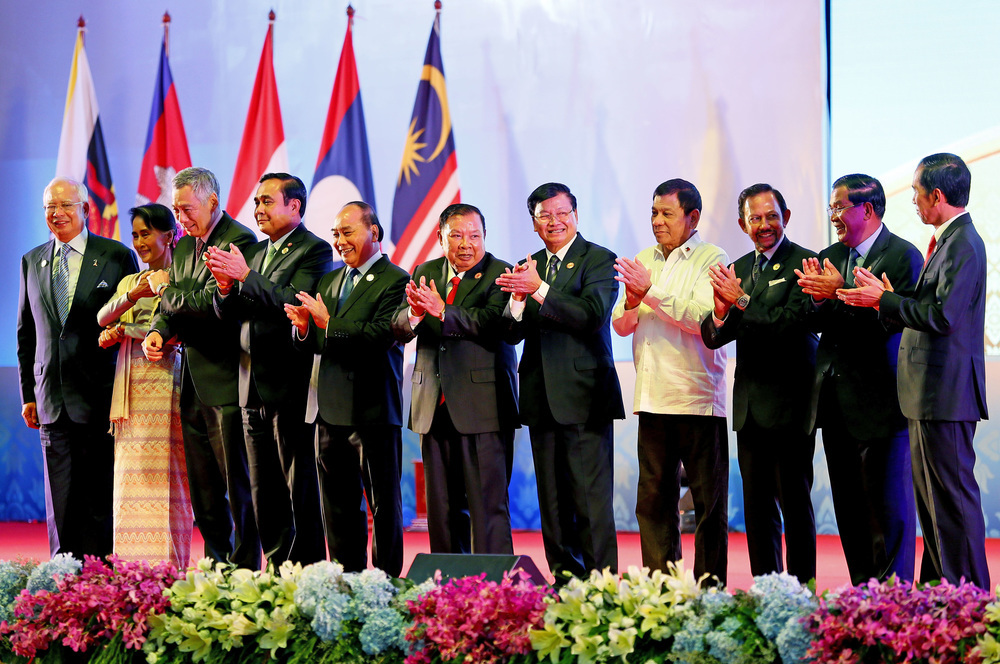 Leaders of the Association of Southeast Asian Nations (ASEAN) pose for a group photo following 28th ASEAN summit plenary meeting at National Convention Center in Vientiane, Laos, Tuesday, Sept. 6, 2016. Leaders from left, Myanmar's State Counsellor and Foreign Minister Aung San Suu Kyi, Singapore's Prime Minister Lee Hsien Loong, Thai Prime Minister Prayuth Chan-ocha, Vietnam's President Tran Dai Quang, Laos Prime Minister Thongloun Sisoulith, Philippine's President Rodrigo Duterte, Brunei Foreign Minister and Prime Minister Sultan Hassanal Bolkiah, Cambodian Prime Minister Hun Sen, Indonesia's President Joko Widodo and Malaysia's Prime Minister Najib Razak. AP/Gemunu Amarasinghe, File
21 leaders, UN chief to arrive in Manila for ASEAN summit
(philstar.com) - October 24, 2017 - 9:10am
MANILA, Philippines — Twenty-one world leaders—along with the United Nations chief—will sit down for talks in Manila next month for the 31st Association of Southeast Asian Nations Summit, the head of the organizing committee said Tuesday.
According to Ambassador Marciano Paynor, director general for operations of the ASEAN 2017 National Organizing Council, there are no indications that the 21 heads of state and UN Secretary-General Antonio Guterres would skip the event.
Meanwhile, non-ASEAN member Timor Leste will send a representative as a guest, Paynor said.
"As long as they have not indicated that they are not coming, we assume that they are," Paynor told a press conference.
"So that's 10 ASEAN member-states, eight members of the East Asia Summit, and two others who are celebrating the 40th Anniversary of ASEAN collaboration and that is ASEAN-EU and ASEAN-Canada," he added.
The Philippines is chair of the ASEAN this year. Members of the 10-nation regional bloc take turns at chairmanship.
The 31st ASEAN Summit—which will be simultaneously held in Manila and Clark, Pampanga from November 11 to 14—will be organized together with ASEAN dialogue partners Australia, Canada, China, the European Union, India, Japan, New Zealand, Russia, South Korea and the United States.
Paynor said President Rodrigo Duterte is expected to hold two bilateral talks "within the meeting proper itself." He did not elaborate although he said there have been "several" requests for meetings with Duterte.
"It is expected that all the dialogue partners would want to pay a call on the president separately on a bilateral basis, even while they will be meeting, the president will be meeting with them as a group or individually during the meeting proper," the diplomat said.
US President Donald Trump is scheduled to hold bilateral meetings with Duterte and other leaders as he visits Manila next month as part of his Asian trip from November 3 to 14, the White House said.
The American leader is expected to arrive in Manila on November 12 to attend the special gala celebration dinner for the 50th anniversary of the ASEAN. The Philippine government earlier said that Trump would receive a "very warm welcome in Manila."
READ: Trump to hold bilateral meeting with Duterte in Manila
Security, air traffic
In the same press conference, Paynor said the main summit will be held in Manila while the venue for preparatory discussions will be in Clark.
He added that all arrivals and departures of high-level officials will be at Clark Airport as directed by Duterte himself to avoid any disruptions in the country's main airport.
"Now, traffic to NAIA may be affected a bit. But what we are now doing, like what we did in the 30th ASEAN Summit in April is a stop and go scheme," Paynor said.
"In other words, when the leaders are moving, 15 minutes before or a few minutes before they are expected, we close, so that the leaders' motorcades can pass unhampered," he added.
Paynor also said security will be raised to the "highest alert" in the venues of the summit as well as in the whole country.
"So as far as security is concerned, it will not only be those elements that are here in the Metro Manila area, as well as Pampanga and Bulacan, but everywhere else," he said.
"All police stations, all Armed Forces camps, all other security agencies including Coast Guard et cetera will be on full alert," he added.
Malacañang on Monday announced that November 13 to 15 (Monday to Wednesday) will be special non-working days for the National Capital Region, Pampanga and Bulacan because of ASEAN activities in the provinces and in the capital.
READ: November 13-15 declared non-working days in Metro Manila