Fact-checking Cayetano's interview on Al Jazeera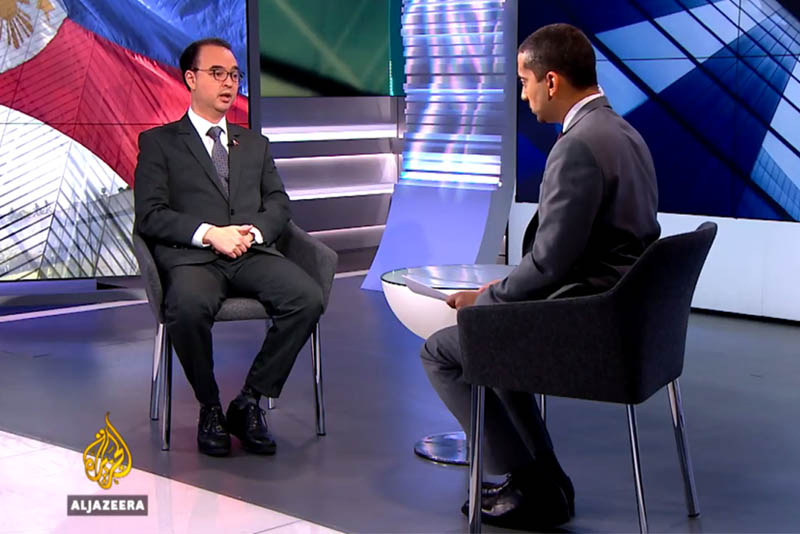 MANILA, Philippines (Updated 4:51 p.m.) — Speaking in an interview with Al Jazeera, the country's top diplomat defended the Duterte administration's so-called war on drugs over the weekend.
In doing so, Foreign Affairs Secretary Alan Peter Cayetano made several statements and claims that have long been the subject of discussion in the Philippines.
Drug war polls
Noting that senior police officers have admitted in news reports to executing suspects and planting evidence at crime scenes, British journalist Mehdie Hasan asked Cayetano for his reaction to the pronouncement of the Catholic Bishops' Conference of the Philippines which considers the drug war a "reign of terror."
"Well, if you won't believe the Filipinos, and won't believe Philippine surveys, let's believe American surveys. The Pew, they just came out with a survey that 78% of Filipinos support the crusade against crime, corruption, and drugs; 68% believe that the drug war is actually working."
The Pew Research Center survey, the analysis of which was published by the American pollster on September 20 showed that 86 percent of Filipinos have a favorable view of Duterte, while 78 percent approve of his handling of illegal drugs and 62 percent said that the government is making progress in its drug war.
The survey, however, was conducted between February 26 and May 8, predating Duterte's declaration of martial law in Mindanao, drug smuggling accusations against presidential son and Davao City Vice Mayor Paolo Duterte and the deaths of teenagers Kian Loyd delos Santos, Carl Angelo Arnaiz and Reynaldo "Kulot" de Guzman, among others.
A survey from the Social Weather Stations released last week showed that 90 percent of Filipinos believe that it is important that authorities capture drug suspects alive.
Extrajudicial killings
Quoting the US Assistant Secretary of State for Southeast Asia, Cayetano was asked if the US State Department and the Catholic Church were all just "biased" against the Duterte administration for expressing concern on the growing number of extrajudicial killings in the country.
Noting that there was a minimum of 11,500 and a maximum of 16,000 extrajudicial killings in the country from 2011 to 2013 or before Duterte became president, Cayetano claimed that the Aquino administration changed the definition of extrajudicial killings.
"The past administration changed the definition. They said it's only extrajudicial if you're a union leader, if you're a religious leader, if you're a journalist, if it's ideological. So they started reporting 50, 100, 150.

When Duterte came in, they went back to the old definition and anyone murdered or killed was charged against the drug war. But the opposite is happening in the country – you have 13,000 to 16,000 killings because of drugs, not because of the police or the drug war."
The Office of the United Nations High Commissioner for Human Rights defines extrajudicial, summary or arbitrary executions as the "deprivation of life without full judicial and legal process, and with the involvement, complicity, tolerance or acquiescence of the Government or its agents." This is also used by the local Commission on Human Rights.
In 2013, then President Benigno Aquino III issued an administrative order to be applied to specific cases handled by an interagency committee. For that purpose alone, extrajudicial killings are "wherein the victim was a (i) a member of, or affiliated with an organization, to include political, environmental, agrarian, labor, or similar causes; or (ii) an advocate of above-named causes; or (iii) a media practitioner or (iv) person(s) apparently mistaken or identified to be so."
This definition, however, cannot be applied universally since it is meant to delimit a government body's mandate. Cayetano, however, seems to be using this 2013 AO, thereby limiting what can be considered an "extrajudicial killing" during Duterte's tenure, NewsLab found.
READ: Cayetano uses restrictive EJK definition, experts say
In a 2008 ruling, the Supreme Court defined EJKs as "killings committed without due process of law, i.e., without legal safeguards or judicial proceedings."
Moreover, the 11,500 to 16,000 estimates cited by Cayetano for years 2011 to 2013 were total cases of homicide and not necessarily under the category "extrajudicial killings."
'All 3,800 killed were drug dealers'
Police data show that 3,850 have died in police operations since Duterte took office. Defending the police, Cayetano claimed that every single one of those killed in the crackdown against illegal drugs was a drug dealer.
Hasan, on the other hand, stressed that the casualties of the drug war were never tried and charged as they were shot on site.
"You're absolutely saying it as if you're not on the ground. Come and look. If I pull a gun on you, here, right now, and you shoot me, it's your fault? Or my fault? So you mean in the US or even in any country your show is shown, if someone pulls a gun on the police, they have to bring them to court first before they fire back? The police are doing what they can."
Presumption of innocence is a right guaranteed by the 1987 Constitution.
Section 14 (1), Article III of the Constitution states that "No person shall be held to answer for a criminal offense without due process of law."
READ: All suspects killed in police ops were drug dealers, says Cayetano
Cayetano also claimed President Duterte did not issue a threat against drug users:
The US State Department, I talked to them about it, they said that the Philippines threatened both pushers and users. I talked to the ambassador, and it's a long translation... They did not… The president was speaking in Filipino.
Duterte, however, would not distinguish drug pushers and users in his speeches, much less draw a line between users and addicts.
In April, for example, he made a supposed offer to overseas Filipinos who have returned home without a job. "If you lose your job, I'll give you one. Kill all the drug addicts." In June last year, he also advised a crowd in Tondo: "If you know of any addicts, go ahead and kill them yourself as getting their parents to do it would be too painful."
Corrupt police
Despite the spate of killings, Cayetano insisted that the Philippine police can still be trusted in general.
The Al Jazeera host pointed out that Duterte said that 40 percent of the police are corrupt while PNP chief Ronald dela Rosa said that only 2 percent are corrupt.
"No, we're not saying we should trust them, we said we should follow the law which is presumption of regularity, but investigate."
Last month, Duterte admitted that abuses are rampant among policemen in Metro Manila. The president, however, has vowed since July last year to protect policemen as he urged them to eliminate suspects while in the line of duty.
Investigations of killings
The Philippines' top diplomat also claimed that all 3,850 cases of drug war deaths are being investigated.
This is despite reports from independent observers that there have not been investigations of all killings.
"That's not true. Independent investigators have seen the progress. It is the ideological and the biased human rights groups, they said there are 3,000 cases, they pick out 28 cases, no scientific method of picking out 28, they only interviewed the families of the death of the alleged pushers. They did not interview anyone from the government. So is that fair to you? And then they came out with their findings generalizing the 3,000 from the 28 without interviewing the other side."
Despite claiming that all cases of extrajudicial killings are being investigated, the Philippines has rejected the position of United Nations member-states' positions on the killings.
The Philippines has rejected 154 of 257 recommendations by the UN Human Rights Council, including allowing a UN special rapporteur Agnes Callamard to look into alleged extrajudicial killings.t
The Philippine National Police, meanwhile, said on Monday it is investigating 2,000 cases of homicide, but made no mention on investigating the 3,850 killings in drug operations.
Shabu side effects
Western countries use heroin, marijuana and also cocaine. None of these drugs is associated with violence and paranoia to the users. It's the drug sellers who fight it out. But methamphetamine hydrochloride has been proven by the WHO, by the UN office of drugs crimes, to have paranoia and violence.
According to WHO, opioids such as morphine and heroin can cause respiratory depression and death in high doses. Cannabis or marijuana, meanwhile, impairs capabilities of learning and human performance.
"Heavy cannabis consumption is associated with a higher prevalence of symptoms of chronic bronchitis and a higher incidence of acute bronchitis than in the non-smoking cohort," WHO said.
Contrary to Cayetano's claim that only methamphetamine hydrochloride or shabu is the only drug associated with violence, cocaine dependence results in a significant number of medical, psychological and social problems such as the spread of infectious diseases, crime, violence and neonatal drug exposure.
NEWSLAB SPECIAL: High time: The drug problem through new lens
Health experts maintain, however, that dependence on such narcotics are primarily a medical or psychiatric issue and not something to be primarily handled by law enforcement agents. — with reports from Philstar NewsLab