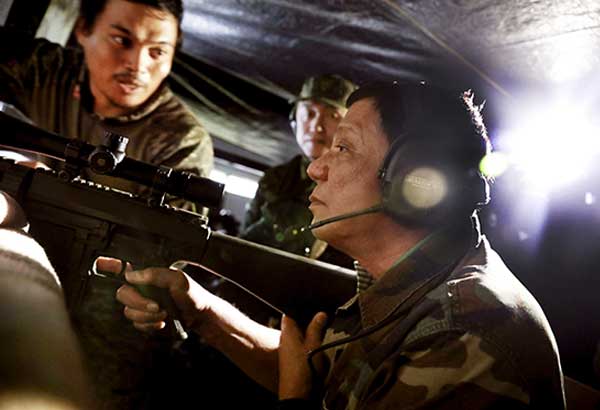 President Duterte, in combat gear, holds an assault rifle during his third visit to Marawi City on Thursday. AP
Rody admits: I can't end shabu menace
(The Philippine Star) - August 25, 2017 - 4:00pm
DAVAO CITY , Philippines – It won him the presidency but left thousands of criminals and innocents dead. Now ending the drug menace has become a crusade President Duterte has admitted he cannot win.
"Nangako ako that I will do away with the shabu. Ngayon, alam ko na na hindi ito matutupad, na hindi talaga matapos 'to (I promised that I will do away with shabu. Now I know it won't be fulfilled, that this really will not end)," Duterte told soldiers in Marawi on Thursday afternoon.
But he vowed to pursue his campaign against drugs despite the seeming hopelessness of the effort.
He appealed to the public that he be given another chance to work in the remaining five years of his administration to make life more comfortable for Filipinos.
"Let us try to create a country that is – huwag naman 'yung mayaman na tayo lahat (not where all of us are rich) – a country that is comfortable. May five years pa ako. Give me a chance to work ulit," the President said.
Duterte admitted his administration is facing a host of problems, but he said with the cooperation of the people, it would be able to surmount all the challenges and make the country progressive.
"Pretend that I am doing well. Just give me the remaining years. Five years pa naman. And we will build a strong country and a strong Armed Forces and police," he said.
Duterte said he is doing everything to bring about change – especially rid the government of graft and corruption – a problem that has remained rampant among state officials and personnel.
"Basta dito, tabla tabla. Walang corruption, pati mga military din at pulis. At 'yan ang maasahan ninyo, lahat ng pera na ano, makikita ninyo babalik sa tao 'yun. Nagcha-charge (charge) nang charge na sila (Rest assured, here everything is fair, no corruption even in the military and the police. You can count on it. You will see – you'll get back your money. They're being charged)," he said, referring to corrupt officials.
He said that while corruption is an unavoidable phenomenon in a bureaucracy, it can be restrained and minimized.
The President said that there are really those who are corrupt.
"Merong mga corrupt, hindi na talaga natin maalis 'yan... And 'yung sabi na 'extrajudicial killings' wala na tayong magawa niyan, lalo na ang pulis (Yes, there are corrupt. We can't totally get rid of them. And about extradjudicial killings – we can't do anything about it, especially the police)," he pointed out.
Duterte reiterated he would protect policemen doing their duty.
"In the performance of your duty, which means that everything has to be legal. I will protect you, kayong mga pulis. Trabaho lang kayo. At kung lumaban, basta in the performance of duty, 'yun na 'yun. Just for three minutes. Pardon me for saying it, but ang pulis kasi is 'yung interface niya sa tao. But I don't know hindi ako – basta ito," he said.
The President likewise described how a confrontation between government forces and their enemies or even the criminals should unfold.
He said law enforcers or soldiers should ask suspected offenders to drop their weapon so they could be arrested.
"Then you have to go near him because kung inaaresto mo, kailangan dalhin mo sa korte (if you arrest him you have to take him to court) or to the police station," the President said.