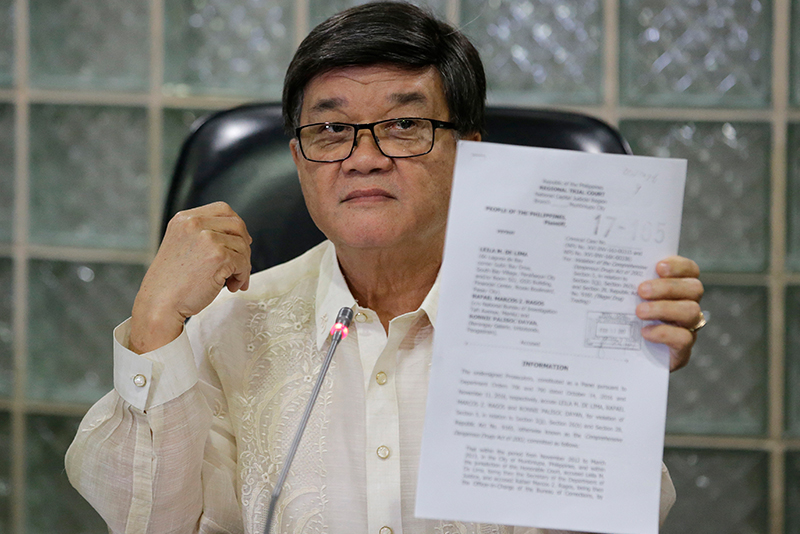 Justice Secretary Vitaliano Aguirre II on Wednesday described the death of 17-year-old Kian Delos Santos as "blown out of proportion." AP/File
Kian's death 'blown out of proportion', Justice secretary claims
MANILA, Philippines — Justice Secretary Vitaliano Aguirre II on Wednesday described the killing of 17-year-old Kian Loyd Delos Santos as having been "blown out of proportion" by the media and some politicians.
Aguirre said that last week's killing of Delos Santos during a Caloocan City police operations was just one death where evidence suggests there was police abuse.
"There are thousands of killings because of the focus of the president on illegal drugs. There was no equivalent incident in the past which could be compared with the Delos Santos killing," the Justice secretary said.
READ: Duterte officials hold drug suspects, criminals not human
"Blown out of proportion in the media kaya akala mo napakalaki na," Aguirre, discussing the death of a Grade 11 student who was shot three times, said at a budget hearing for the Department of Justice at the House of Representatives.
The Justice secretary said that the deaths and collateral damage were natural as the government was waging a war on narcotics.
"Giyera ito e. Magkakaroon talaga ng casualty, whether it be an adult or children," Aguirre, whose department pledges on its website to "provide every person equal access to justice, to faithfully safeguard constitutional rights and to ensure that no one is deprived of due process of law," said.
Aguirre questioned those sympathizing with the family of the senior high school student and asked if they also commiserated with the families of rape and killing victims in the past.
This argument echoes those of Presidential Communications Assistant Secretary Margaux Uson and other supporters of the war on drugs.
READ: 'Fire Mocha' trends after PCOO Asec's latest gaffe
He said that in these issues these groups had been very quiet.
"Anong ginagawa ng mga taong iyan na naki-simpatiya kunwari kay Kian? Anong ginawa nila nung pinatay ang pamilya sa Bulacan? May dumalaw ba sa inyo dun? Wala, sapagkat iisa din lamang ang nakikita niyo e," said the Justice chief.
Last week saw one of the bloodiest weeks in the government's brutal campaign to eradicate illegal drugs after separate operations in Bulacan and Metro Manila resulted in the death of scores of drug suspects.
The police said that these individuals died because they offered violent resistance to arresting authorities, a common explanation among cops when questioned about the mounting number of deaths.
However, the death of Delos Santos sparked widespread resentment and outrage after a video showed and witnesses narrated that the boy was dragged by policemen to the dark alley in Caloocan where his body was later found lifeless.
The president said that the police operation was a bad one and not a performance of duty as he clarified that he did not order his cops to kill suspects already kneeling for their lives.
Kabataan rep scolds Aguirre
The Justice chief's statement that the killing was isolated did not sit well with Kabataan Rep. Sarah Elago.
"Hindi katanggap-tangap yung sinabi ng ating secretary na yung kaso ay isa lamang isolated case. I can't help but think that the good secretary has been living under a rock tungkol sa mga kaso na ito, na nangyayari na sa kasamaang palad na nadamay di lamang sa kabataan, maski ang mga menor de edad at maski ang mga bata bata po ay nadadamay dito," she said.
Aguirre retorted: "I sympathize with you, being the representative of Kabataan ay totoo po yang sinasabi ninyo. Pero hindi lamang natin tingnan tong mga biktima na mga kabataan sa war on drugs. Yung mga ginawang mga pagpatay, pag-rape sa mga kabataan ay walang – masyado naman kayong tahimik."
Aguirre promised that the NBI probe into the death of Delos Santos would be thorough as he criticized an individual holding witnesses in the case, in an apparent swipe at Sen. Risa Hontiveros.
"They will be leaving no stones unturned," Aguirre promised.
"Sinasabi ko lang po kanina that this was blown out of proportion because lahat na po ng media, lahat ng ginagawa ng... that even the presentation and the keeping of the witnesses that should be made available to the police are being kept by certain persons who are not authorized to do so."
Aguirre said that the NBI could not always conduct parallel probes whenever the police were investigating cases.
"Otherwise the NBI will become a second PNP," he said.
Aguirre's 'overblown' statements
Aguirre, who dismissed the furor over Delos Santos' death as overblown has, in the past, made much of alleged sex videos of Sen. Leila De Lima that she has denied. Aguirre has yet to substantiate the allegation that De Lima, now in jail on drug-related charges that she claims are motivated by politics, was the woman in the supposed video except for saying he saw her dog in the video.
Aguirre also claimed in February that the wife of one of the high-value inmates who testified against Sen. Leila de Lima survived an ambush in Makati City. "I'm no liar," he said, when Makati police said they had no reports of any ambush.
"She called me and told me about the incident. She said she was waiting for the police but I think she changed her mind. She said she self-medicated her wound at her sibling's house," Aguirre said then.
Aguirre also claimed, then denied making the claim that opposition lawmakers were in Marawi City before the Islamic State-inspired Maute Group laid siege to the city.
Aguirre said that he would have a supposed May 2 meeting in Marawi between Sen. Bam Aquino, Sen. Antonio Trillanes IV, Magdalo party-list Rep. Gary Alejano and former presidential adviser Ronald Llamas investigated for potential ties to the clashes that began on May 23.
READ: Opposition twits Aguirre for 'Facebook intel'
He later claimed he was misquoted and claimed that a photo he flashed to reporters, supposedly as proof of the meeting, was taken during the election campaign. It was also taken in the Visayas.