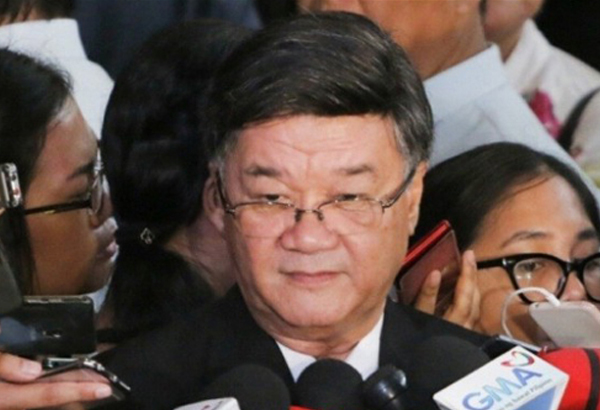 Justice Secretary Aguirre claims to have been misquoted despite video and audio recordings of him at a briefing on Wednesday. Philstar.com/Efigenio Toledo IV, file
Media groups dispute Aguirre's claim he was misquoted on 'Marawi meeting'
(Philstar.com) - June 8, 2017 - 2:05pm
MANILA, Philippines — Journalists covering the Justice department on Thursday took exception to Secretary Vitaliano Aguirre II's claim that he was misquoted in reports about his linking opposition lawmakers to the Marawi crisis.
"As recorded in our videos and voice recorders and even in our Facebook Live coverages, we quoted Secretary Aguirre verbatim and only reported the facts to our viewers and readers
—
including the fact that he showed a photo from his mobile phone supposedly showing the meeting between the senators and Muslim clans in Marawi last May 2," the Justice and Court Reporters Association said in a statement.
Aguirre said on Wednesday that he would have a supposed May 2 meeting in Marawi between Sen. Bam Aquino, Sen. Antonio Trillanes IV, Magdalo party-list Rep. Gary Alejano and former presidential adviser Ronald Llamas investigated for potential ties to the clashes that began on May 23.
Aquino and Trillanes were in Manila on that day and attended the session at the Senate, according to Senate attendance records. Aquino also spoke before graduating students of the Polytechnic University of the Philippines that day. Rep. Alejano, meanwhile, said that he attended a press conference and the plenary session at the House of Representatives on May 2.
Aguirre later claimed that he had been misquoted and that he did not intend to implicate the Lucman and Alonto clans in the Marawi crisis. Nevertheless, video footage of the briefing showed the Justice secretary mentioning the clans without prompting from reporters.
"As responsible journalists, we also took the opportunity to perform our duty of verifying [and] counterchecking the information and photo that the secretary presented during the briefing, and found that several details and information were wrong," JUCRA said, referring to a photo of Trillanes, Alejano and Llamas at the Iloilo airport in 2015 that Aguirre showed on his mobile phone.
"We remain committed to our role as a watchdog, especially in these times when 'fake news' have been spreading in social media and the truth is becoming scarce," the group added.
NUJP: There was no misquotation
The National Union of Journalists of the Philippines also cried foul at Aguirre's claim of being misquoted.
"We, the media will not be the scapegoats as you try to weasel your way out of your latest bout of foot-in-mouth disease," NUJP said in a statement on Thursday, the same day that Aguirre reportedly denied even showing the photo to reporters.
"You lie when you claim you were 'misquoted' when you lied about the fictitious meeting between opposition politicians and prominent Marawi clans that you then attempted to portray as a prelude to the continuing battle between government forces and extremist gunmen," it also said.
"There was no misquotation. Your words were recorded on video and audio," the group said, adding "trying to blame others for your blunders unmasks you as a mean-spirited coward."
NUJP took Presidential Communications Secretary Martin Andanar to task for saying in January that the media had been misreporting President Rodrigo Duterte's remarks about declaring martial law.
It also called out Andanar in February for vaguely implying that reporters who covered a press conference at the Senate by alleged Davao Death Squad member Arthur Lascañas had been offered bribes of as much as $1,000. He later explained that he did not say reporters accepted the bribes and then said that, having grown up in Mindanao, he is not very fluent in Filipino.
The Palace said earlier Thursday that Aguirre still has the full trust of President Rodrigo Duterte and that the Justice secretary has been doing an excellent job.
Presidential Spokesman Ernesto Abella made clear, however, that the Palace did not make the claim, "so please stand by our claim that we give accurate reports."
Abella said he believes Aguirre is "fully aware of what he needs to do and how to address the matter." — Jonathan de Santos