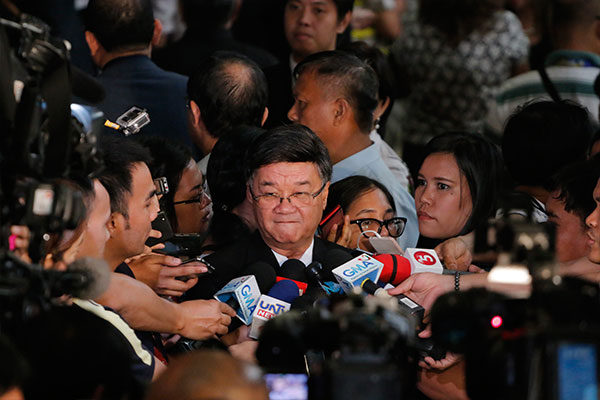 Justice Secretary Vitaliano Aguirre II earlier Wednesday said opposition lawmakers met in Marawi City weeks before the clashes. Philstar.com/File
Opposition twits Aguirre for 'Facebook intel'
(Philstar.com) - June 7, 2017 - 10:03am
MANILA, Philippines — (Updated 6:14 p.m.) Sen. Francis Pangilinan, Liberal Party president, called supposed intelligence disclosed by Justice Secretary Vitaliano Aguirre II linking members of the opposition to the Marawi siege baseless nonsense.
"This is pure nonsense and this is the nth time Secretary Aguirre has come up with baseless accusations linking the Liberal Party to destabilization efforts," Pangilinan said in a statement released Wednesday.
Earlier in the day, Aguirre said that he would have a supposed May 2 meeting in Marawi between Sen. Bam Aquino, Sen. Antonio Trillanes IV, Magdalo party-list Rep. Gary Alejano and former presidential adviser Ronald Llamas investigated for potential ties to the clashes that began on May 23.
"So, hindi ko malaman why after they went there, nagkagulo na after about two weeks," Aguirre said in a transcript of the briefing obtained by Philstar.com.
In the same briefing, which was recorded by reporters covering the Justice beat, the Justice secretary said that the existence of a connection between the meeting and the current clashes is "possible" and "probable."
"During our Senate briefing on the situation in Marawi, we asked [Defense Secretary Delfin] Lorenzana and [National Security Adviser Hermogenes] Esperon point-blank if they had intelligence information linking LP or the opposition to the Marawi incident and both denied having any such information," Pangilinan said.
"Every false accusation Aguirre makes against the LP results in further damage to his credibility," he said.
Lawmakers: We weren't in Marawi
Sen. Aquino, in a statement on Wednesday, said that he was in Manila — as a speaker at the commencement ceremony of the Polytechnic University of the Philippines and at the Senate — on the day the meeting supposedly happened.
"My trip to Marawi was on May 19, 2017 to launch the first Negosyo Center in the ARMM and I had with me an [Armed Forces of the Philippines] escort throughout my trip, which can easily be verified through the AFP," the senator also said.
"It would be prudent for Secretary Aguirre to clarify dates, seek evidence and request for official statements from legitimate government agencies before he makes yet another false accusation," the senator said.
"I also did not have any meeting in Marawi in May 2 since I haven't visited Marawi for the past three years," Sen. Trillanes said in a separate statement. He said that Senate records will show where he was on that day.
He also advised the Justice secretary to "avoid getting his intel from Facebook conspiracy theorists."
Trillanes was referring to a photo similar to one originally posted on a pro-Duterte Facebook page that Aguirre reportedly presented as proof of the meeting. The photo was taken in the Visayas in 2015.
Rep. Alejano, meanwhile, said that he attended a press conference and the plenary session at the House of Representatives on May 2.
He said the supposed meeting never happened. "It has been years since the last time I visited Marawi."
Alejano added that Magdalo, which represents active and retired military personnel in Congress, "would never support or affiliate with any terrorist organization."
Justice Secretary Aguirre has since said that he was misquoted in reports. In a statement, the secretary denied that he said the lawmakers met with the Alonto or Lucman families.
"What I said that there were reports that some opposition senators and leaders who went to Marawi to recruit local politicians and warlords to destabilize the Duterte administration. I never said that they were successful in recruiting any local politicians and warlords," he said, adding he did not intend to implicate the Alontos and Lucmans in the clashes in Marawi.
Aguirre did not retract the claim that there was a meeting on May 2. — Jonathan de Santos