'Fire Mocha' trends after PCOO asec's latest gaffe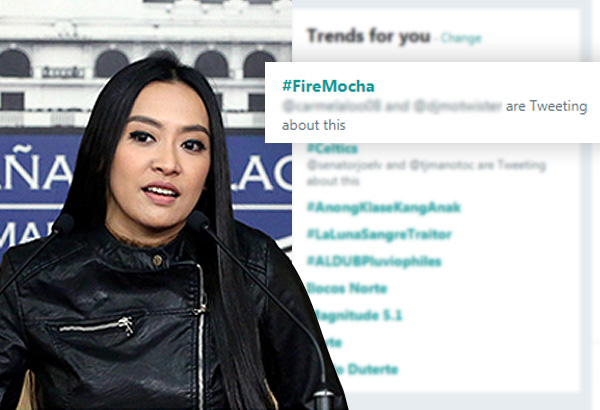 MANILA, Philippines — Netizens called for the removal of Assistant Secretary Mocha Uson from the Presidential Communications Operations Office, pointing out the latest of the official's blunders where she demanded opposition leaders to visit the wake of a cop who, as it turned out, died a year ago.
This happened a year ago. Can't believe our taxes go to a comms official who peddles fake news. We don't deserve this. #FireMocha pic.twitter.com/NUA8Bk2uHB

— ¡Oy Ruperto! (@rupertnotholmes) August 22, 2017
Dinelete ang tweet pero may resibo. Ang shunga lang talaga. Tapos 6 digits ang sweldo natin sa kanya? SANABABITS. pic.twitter.com/F3cp1QqD58

— Demontita Of Manila (@mrsunlawyer) August 22, 2017
The hashtag #FireMocha started trending on Twitter on Tuesday evening and became the top talked about topic in the Philippines on Wednesday morning.
Uson's tweet, which has since been deleted, came after President Rodrigo Duterte's remark that he would not visit the wake of Kian delos Santos, the 17-year-old casualty of the government's drug war killed under questionable circumstances by cops. Netizens also reported that the Palace communications official temporarily set her account to private before the post was removed.
WATCH: Duterte on why he will not visit #KianDelosSantos wake @PhilippineStar @PhilstarNews pic.twitter.com/N0FqVvjXRf

— Alexis B. Romero (@alexisbromero) August 21, 2017
Uson tweeted a screengrab of an Inquirer story about a cop, described as the "best intelligence officer" by his superior, who was shot dead in an anti-drug operation. The story was published on August 21 last year.
She questioned Vice President Leni Robredo and Sens. Antonio Trillanes, Risa Hontiveros and Bam Aquino when they would visit the wake of the cop. She captioned the post with the word "Waiting..."
READ: Duterte to jail cops involved in Kian's slay if found guilty
The four opposition leaders mentioned in the PCOO official's deleted tweet all visited Delos Santos' wake.
Uson's gaffe was the latest in a series of mishaps committed by her and the president's communication team.
READ: Reporters slam Andanar for 'fake news' on bribes
Last May, the assistant secretary and the Philippine News Agency posted wrong photos to depict Filipino troops battling Islamist militants in Marawi City. Uson used a photo of soldiers from Honduras while PNA used Vietnamese soldiers.
Uson was also slammed in a Facebook post where she cited Article 263 of the Philippine Constitution related to a tax evasion news story. The Philippine Constitution only has 18 articles.
She, however, clarified that she was referring to the Tax Code while taking a dig against the vice president.
This month, the PNA was also criticized for using the logo of a company selling canned pineapples in a story about the Department of Labor and Employment, whose acronym is similar to the former.
READ: A year of consistent inconsistencies
Para lang malinaw mga ka-DDS.#firemocha means kick her out of public office. Not set her on fire.

That's #dracarysmocha

— florin hilbay (@fthilbay) August 22, 2017
THE PHILIPPINES DOES NOT DESERVE FAKE NEWS. We do not deserve to be called Dilawan just bcos we are not kaDDS. We are kababayan. #FireMocha

— Honey Allaine (@eniallallaine) August 22, 2017
Sorry, but this gov't. won't #FireMocha. She's there to do exactly just that: troll the entire world and spread innacuracies & hate.

— Professional Heckler (@HecklerForever) August 23, 2017
#FireMocha because she is incompetent. We deserve better people like Judy Taguiwalo and Gina Lopez in government.

— Wayne Winter Uyseco (@wwjuyseco) August 22, 2017
HOW CAN SECS LOPEZ AND TAGUIWALO BE REJECTED AND MOCHA USON GETS TO STAY? ANONG SORCERY ITO? #FireMocha

— Ana Naul (@naulanan) August 22, 2017
Can the Civil Service Commission intervene? Can administrative sanctions (at least) be imposed against her? Daming beses na eh. #FireMocha https://t.co/caw2WPtmhI

— ¡Oy Ruperto! (@rupertnotholmes) August 22, 2017
When was the last time you ordered a mocha? Exactly. #FireMocha

— Nik (@iwriteasiwrite) August 22, 2017
#FireMocha for all her incompetencies. Here's aloe vera for all the burn you'll receive @MochaUson. pic.twitter.com/E9CN4mBIMd

— J (@ceejong) August 22, 2017
About time our hard-earned money stops going to this incompetent, malicious and sorry excuse of a public servant. #FireMocha

— Nathania Chua (@PilosopoTanya) August 22, 2017
Dear @martinandanar, the best gift you can give the Filipinos right now is to #FireMocha. Happy birthday nga pala.

— Dracarys's Pieces (@SungEmpress) August 22, 2017
For using comic sans, #FireMocha

I cannot stress this enough.

— Ethel (@econcepcion) August 22, 2017
We don't deserve government officials who constantly lie. #FireMocha @martinandanar

— HazelNut (@1nutty_hazel) August 22, 2017