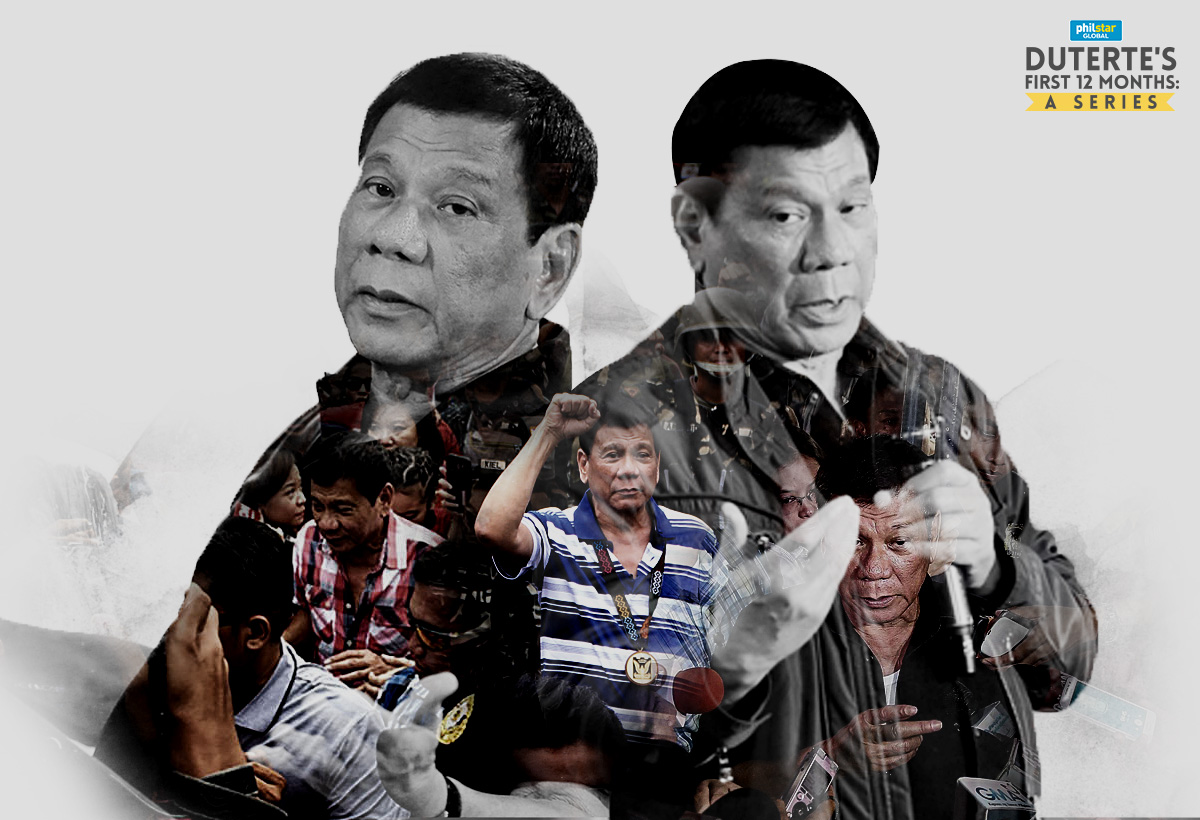 Filipinos listen intently to what President Rodrigo Duterte has to say. And with the same awe, confusion and shock so does the world.
A year of consistent inconsistencies
This piece is a part of a news analysis series on the first 12 months of the Duterte administration.
You may disagree with what he says and his unpresidential style of speaking but it is undeniable that President Rodrigo Duterte commands attention like no other—a feat in the era of sensory overstimulation where even a minute-long booting time of our computer tests our patience.
He knows how to keep us on our toes as he talks for hours, deviating from speeches written for him and talking instead about whatever he wants: his fury on corruption, tirade against critics or rage against the scourge of drugs.
His speeches at events of the Association of Southeast Asian Nations have been the most, if not the most, anticipated. Filipinos listen to him intently. And with the same awe, confusion and shock so does the world.
Fatigued Palace, baffled media
The firebrand Philippine president presented a whole different ballgame for the Palace communications team and journalists alike. He gives lengthy stream of consciousness speeches with no clear direction.
The media have been at the receiving end of the president's scolding for faithfully reporting his words. The Palace even urged journalists not to take the president literally and instead use "creative imagination" in interpreting him.
Duterte also seems fine with having different voices—most of them imitating the same tough talk of the president—come out of his administration and then letting others sort out the resulting chaos.
"If you have already a very colorful president like Duterte who's already world famous or world notorious, you actually have to have the complete opposite," Richard Heydarian, political analyst and author of the book "The rise of Duterte: A populist revolt against elite democracy" told Philstar.com.
"This is what is seen in the case of the United States. So you have a very colorful president like Trump but look at [State Secretary Rex] Tillerson, [Defense Secretary James] Mattis and [Speaker of the House] Paul Ryan… [who] try to actually do the complete opposite style."
Another problem with this is that the vulgarity of the language becomes the center of the attention and not the vital issues at hand, sociologist Jayeel Serrano Cornelio, who is part of the forthcoming book "The Duterte Reader," said.
READ: President Duterte's word wars
Presidential Communications Office chief Martin Andanar had to deal with the question of who speaks for the president at the outset after inconsistent explanations were given by officials on the coverage of the state of lawlessness imposed following the Davao blast.
Andanar appealed to Cabinet members to defer to presidential spokesperson Ernesto Abella, who is supposed to be the only official to speak for Duterte.
Gaffes, however, went on within the PCO and, in March this year, Andanar decided to take a back seat and leave the task of issuing Palace statements solely to Abella, who increasingly did a better job at it.
"Clearly, the president and this administration have been a challenge for media," National Union of Journalists of the Philippines Director Nonoy Espina told Philstar.com.
"But for all that, by and large, journalists have proven equal to the task of truth-telling amid a growing tide of discombobulation, disinformation, and outright lies," he said.
Blunders in the Palace communications team continued as Duterte's first year in office came to a close.
After mishaps on posting false information, Andanar announced that recently appointed Assistant Secretary Mocha Uson, a blogger and ardent Duterte supporter, will now have editors to monitor her posts regarding the president on social media.
Dealing with the dysfunction
A president's speech shows the direction the administration is going. But this could be a bit difficult in the case of Duterte, who often openly contradicts himself.
But Cornelio said many people who are familiar with the Visayan way of thinking will not necessarily see this as a problem. He explained that bugal-bugal or exaggeration is commonly practiced by Visayans to demonstrate the stupidity of an idea.
Rights groups, however, cautioned that some might see Duterte's rape jokes or hyperbolic statements urging the public to kill addicts and pushers as marching orders.
Figuring out if the president meant what he said in his speech can be challenging. But the trick is to distinguish between areas where he draws a red line (matters where the president will do exactly as he says like the drug war) and areas where he is just testing the waters and seeing how far he can go (like foreign policy and martial law), Heydarian explained.
"I don't think that it always has to be taken at the face value but sometimes he really means what he says, especially if it's an issue that is very close to his heart. And I think that was the problem. A lot of people thought it was just figurative speech. They didn't know he exactly meant what he said. So that's where he's tricky," he said.
Heydarian argued that when the president flip-flops on a statement, it might be due to internal pushback, an honest mistake, or he might just have been deliberately testing the waters.
"I mean from outside, people think as if Duterte is a dictator who can, you know, unilaterally shape Philippine foreign policy and the direction of the Philippine government. But the reality is that a lot of sensitive key issues including strategic relations with the United States, with China… there is a lot of internal debate including some resistance, if not pushback from members of the military."
Unique and complex
The world is currently experiencing a moment where populist leaders are on the rise.
But unlike other populists, Duterte's rhetoric style contains a "double punch" of humor and threat mixed with colorful personal stories, Heydarian explained.
"It's very different from Donald Trump's style of populism or even right-wing populism [which provokes] rage and anger against the liberal elite or globalization. You don't see that in Duterte," he said.
Duterte's very style is shaped by Davao's bloody and tortuous history and a hodgepodge of different political leaders he has observed and admired, most notable of which, Heydarian said, were disciplinarian Singapore leader Lee Kuan Yew and socialist Venezuelan President Hugo Chavez.
"I think the anti-American rants of Duterte, I see some shades of Hugo Chavez there so I won't be surprised. So he kind of has the stern, patriarchal, warning style of Lee Kwan Yew combined with the humorous, energized, populist touch of Hugo Chavez… But it's definitely with more political incorrectness."
He is Tatay Digong to the marginalized and ordinary Juan and Juana dela Cruz who saw sincerity and hope in his anti-establishment populist brand of politics. But he can be unstatesmanlike to critics and countries he does not like.
His siga or tough guy style of rhetoric peppered with curses, threats and sexism appealed to a bulk of the population, especially in Mindanao, who equated decency to the haughtiness of Manila and the political elite.
"Politics is always a search for a redeemer," Cornelio explained.
"Noynoy Aquino was a redeemer from Gloria Arroyo's regime. Gloria Arroyo was seen as a necessary evil to Joseph Estrada. Now, Duterte is this vulgar redeemer of Mindanao who can make things happen for us."