Cayetano cites 'change' of South China Sea strategy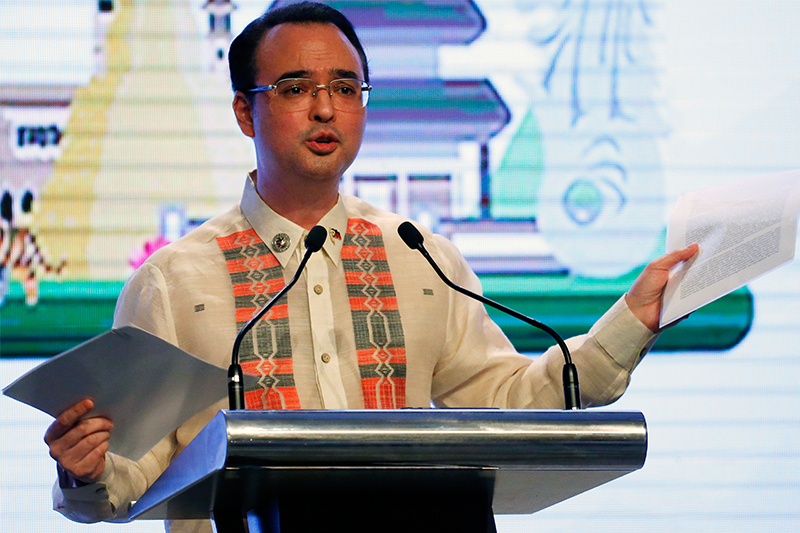 MANILA, Philippines — The Philippines' top diplomat insisted that the Duterte administration will not give a single inch of the country's territory amid reports that Chinese vessels have been deployed near Pag-asa Island in the West Philippine Sea.
Foreign Affairs Secretary Alan Peter Cayetano stressed that the Philippine government has been very consistent in its stand regarding the disputed waters.
Cayetano, however, noted that the current administration has changed its strategy on dealing with the territorial dispute.
"Before, any diplomatic action na ginawa ina-announce, may multilateral may confrontation, it did produce some results and we're not judging the past administration. We believe that there are certain factors that led them go that way pero may objectives sila and it was very clear... sa arbitration award kung ano 'yung objective," Cayetano told reporters in an ambush interview Tuesday.
The foreign affairs secretary added that the objective of the Duterte administration was to follow the 2002 Declaration of Conduct in the South China Sea where concerned parties agreed that uninhabited features in the region will remain as it is.
Cayetano also claimed that the Chinese are not invading Sandy Cay, a sandbar located some 2.5 nautical miles off Pag-asa Island, following Supreme Court Associate Justice Antonio Carpio's report on Chinese activities near the sandbar.
RELATED: Duterte: Why defend disputed sandbar?
He stressed that the government is taking up actions to address the issue despite the lack of details disclosed to the public.
"Let me assure you that despite the lack of details that we give you, we will tell you if there is an alarming station or if the public is in danger or if we are going to take or step up certain actions that needs the public's support," he said.
Cayetano added that the issue on the reported presence of Chinese vessels near Pag-asa Island has been resolved diplomatically.
"Let me assure you wala nang problema dun sa area na 'yun. Kung nagka-problema man it was resolved diplomatically but it is not true that there was an attempt na i-invade... and hindi papayag ang ASEAN na hindi masunod yung DOC," Cayetano said.
The secretary reiterated that he cannot disclose the facts as it would harm his job.
"We will tell you that we are taking the diplomatic actions but if we tell you every step of the way and all the facts etcetera, it will not help unless there is something that happened that the public has to know," he said.
Cayetano also stressed that the mere presence of Chinese ships near Pag-asa should not be a cause of alarm as long as they are conducting freedom of navigation operations like the United States.