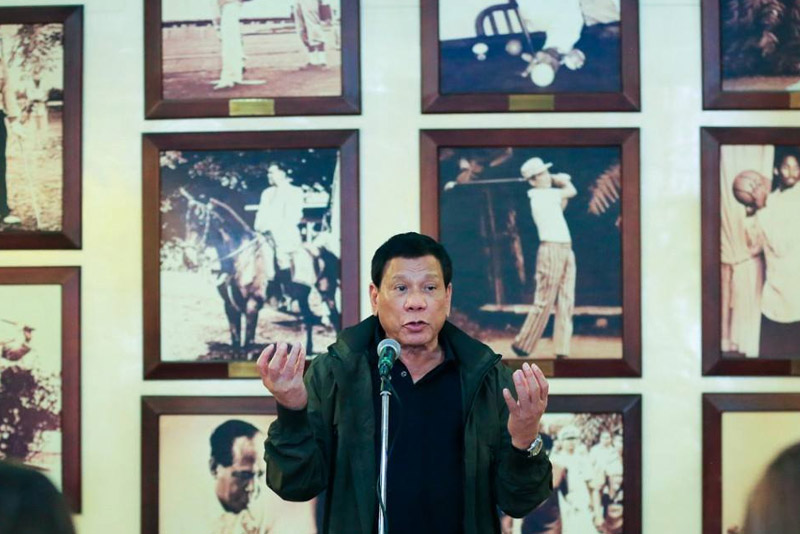 President Rodrigo Duterte speaks with the Malacañang Press Corps at the Malago Clubhouse, Malacañang Park in Manila on August 21, 2017. PPD
Duterte: Why defend disputed sandbar?
(philstar.com) - August 22, 2017 - 2:28am
MANILA, Philippines — President Rodrigo Duterte dismissed the warning of Supreme Court Senior Associate Justice Antonio Carpio that the Chinese are invading a sandbar near Pag-asa Island in the West Philippine Sea.
Carpio earlier urged the Philippine government to act on China's "invasion" of Sandy Cay, located some 2.5 nautical miles off Pag-asa Island and well within the island's 12-nautical mile territorial waters.
READ: Carpio: China virtually occupying Sandy Cay
The president, on the other hand, said that there is no reason to defend the sandbar as China was only patrolling the area.
"Why should I defend a sandbar and kill the Filipinos because of a sandbar?" Duterte told reporters Monday night.
Duterte added that Chinese Ambassador to the Philippines Zhao Jianhua assured him that Beijing will not be building facilities in the area.
"Hindi nga na-invade eh. Hindi naman totoo iyong sinasabi ni ano — they are just there but they are not claiming anything," Duterte said.
Carpio called on Duterte and Foreign Secretary Alan Peter Cayetano to protest the invasion of Philippine territory of China as it reportedly has two frigates, a coast guard vessel and two military fishing boats around Sandy Cay.
RELATED: Photos confirm Chinese flotilla near Pag-asa
The SC justice stressed that Duterte and Cayetano both vowed to the Filipino people that they will not concede a single inch of Philippine territory to China.
Duterte, however, does not see any reason why China would occupy the sandbar near the Manila-claimed island.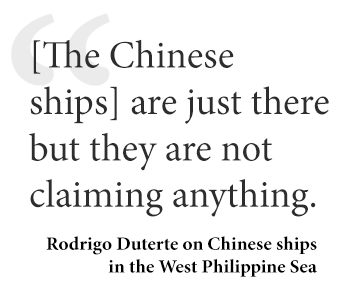 "Why would they risk invading a sandbar and get into a quarrel with us? Ano ang makuha nila?" he said.
Carpio earlier explained that Sandy Cay was discussed in the final ruling of an international tribunal which invalidated Beijing's nine-dash line claim over the South China Sea.
Located between Pag-asa Island and Zamora Reef, Sandy Cay is a disappearing sandbar — appearing only for a few months before it disappears.
"Apparently, because of China's dredging in Subi Reef, pulverized corals drifted and gathered at Sandy Cay and made it permanently above water at high-tide. As a high-tide elevation, Sandy Cay is now land or territory capable of sovereign ownership with its own territorial sea and territorial airspace," Carpio said.
Satellite imagery released by Washington-based Asia Maritime Transparency Initiative last week confirmed reports that Chinese vessels had been operating near Pag-asa Island.
RELATED: Cayetano defends Chinese presence near Pag-asa
The think tank said that the presence of Chinese ships in the area may be an indication that Beijing is discouraging Manila from its planned construction on Pag-asa.
"It is important to note that ownership of the territorial waters in which these ships are operating is still legally disputed. Subi was a low-tide elevation before China built an artificial island on it," AMTI said. — Patricia Lourdes Viray