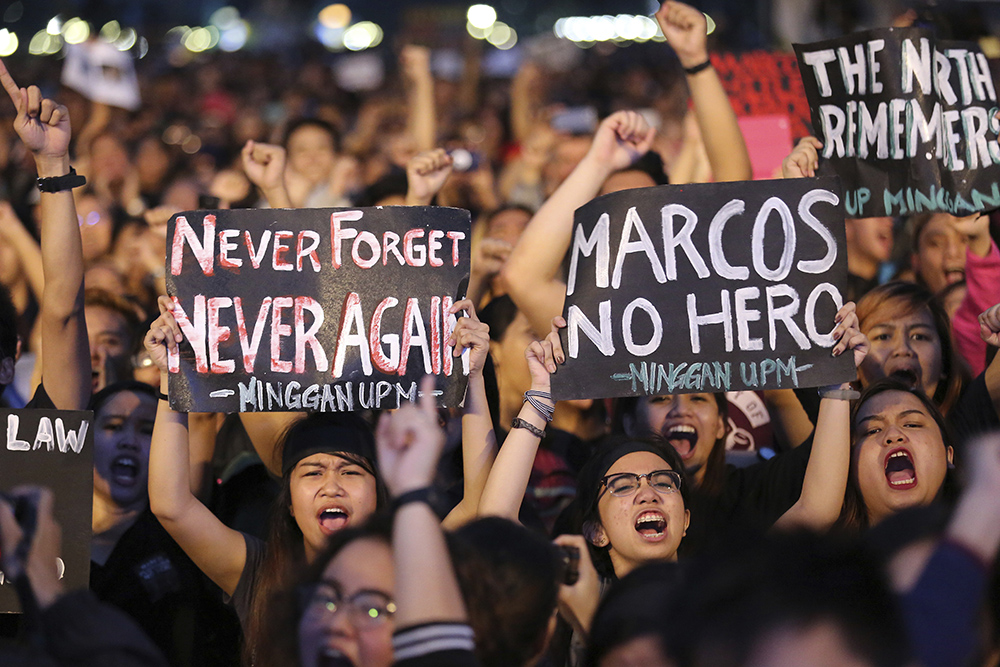 Students shout slogans during a rally at the Rizal Park, Friday, Nov. 25, 2016 in Manila, Philippines. Thousands of Filipinos, including more than a dozen nude students, protested Friday against the hasty burial of Philippine dictator Ferdinand Marcos in a heroes' cemetery, in a growing political storm that's lashing the president who allowed the entombment. AP/Aaron Favila
'Wiki warriors' fighting Marcos myths on Wikipedia
MANILA, Philippines (Updated August 5, 5:19 p.m.) — A handful of Wikipedia editors in the Philippines are battling in "edit wars" to rid the site of persistent Marcos myths, spending hours to purge untruths and historical revisionism, UK-based news agency The Guardian reported.
On average, there are 376.9 edits yearly on the Ferdinand Marcos Wikipedia page with changes done every day. The highest number of edits at 1,328 were made in 2016, when the younger Marcos ran for vice presidency and the late dictator was given a
controversial hero's burial
, a fulfillment of President Rodrigo Duterte's campaign vow.
"It's basically like playing in the sandbox. You build a sandcastle and then another kid comes along and just kicks it over," Carlos Nazareno, a computer programmer and one of the "Wiki warriors" battling a war on memory, said in the story by Southeast Asia-based journalist Kate Lamb.
"It's emotionally draining," he added.
Anyone with internet access can make changes on Wikipedia, an open-source encyclopedia read by 500 million people a month. And they can do so using their real identity or anonymously through a pseudonym.
The Guardian reported that out of 500 Filipino Wikipedia editors, only a few work on fact-checking the Marcos pages.
Most of them are low-profile computer programmers, web developers and young professionals "old enough to remember the days of martial law and young enough to understand the Wikipedia mainframe."
Words like 'kleptocrat,' 'stolen' deleted
One crucial tussle was on the use of the word "kleptocrat," which was previously erased in the opening line of the Ferdinand Marcos Wikipedia page. Word usage at the starting line of the Wikipedia page is particularly important as it appears as a short excerpt in the results of a Google search.
The word "stolen" was also deleted from the term "stolen wealth." The Marcoses has plundered an estimated $10 billion from the country.
Wikipedia pages on Martial Law and Ferdinand "Bongbong" Marcos Jr. also showed changes attempting to portray the Marcoses positively.
"When it comes to the Marcos family, the reshaping of history is a widespread enterprise. It is evident in school textbooks, historical websites, and in a series of slick YouTube videos, usually with the same lines of attack: vilification of opposition figures, exaggeration of Marcos family achievements and propagation of unverified fact," The Guardian report said.
'Whitewashing' of Martial Law, Marcos entries
The 39-year-old Nazareno started editing Wikipedia a decade ago, working on pages about martial arts and sci-fi movies.
His focus, however, shifted to pages on Philippine history such as the turbulent time under Marcos, especially with the return to power of the late dictator's family years after their ignominious exile to Hawaii in 1986.
The late strongman's wife Imelda is currently 2nd District representative of Ilocos Norte while his daughter Imee is the province's governor. Bongbong ran for vice president but lost by 263,473 votes to Leni Robredo. His
electoral protest
against the results is ongoing.
Families of the victims of rights abuses under Marcos, those who survived Martial Law and rights monitors are warning against the return of the Marcoses to Malacañang. Nazareno expressed a similar fear.
"I'll be blunt. I do not want Bongbong Marcos to win the 2022 presidency. If that happens, the Philippines will be the laughingstock of the entire world," he told Philstar.com.
He said he noticed recently that the pages on the late dictator's immediate family have been "very sanitized."
"I've been mainly contributing edits to the Ferdinand Marcos Wikipedia page. Within my radar, there have been whitewashing going on in the Philippine Martial Law pages and demolition jobs on EDSA-related [or EDSA] personality pages... since 2014, on and off," Nazareno said.
The computer programmer said he is looking for more "Wiki warriors" who would volunteer their time to police and edit Wikipedia entries on the Marcoses and Martial Law. He said he already started reaching out to academics, historians and subject matter experts.
"Filipinos have political amnesia and it's extremely disheartening. This is my little contribution so that we never forget the horrors of Marcos martial law," he said.
"Hopefully Wikipedia can help in fixing that."