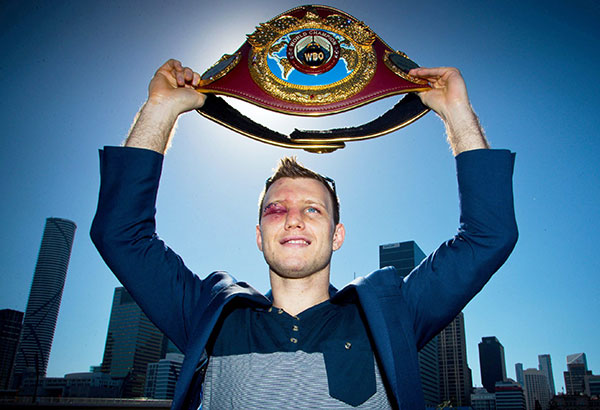 Jeff Horn in file photo - AFP
WBO review: Horn won fight
MANILA, Philippines - After a thorough review and analysis of the fight, the World Boxing Organization (WBO) has concluded that Australian Jeff Horn was the rightful winner against Filipino icon Manny Pacquiao.
A howl of protest followed the "Battle of Brisbane" after the 29-year-old Horn pulled off a stunning unanimous decision upset and won the WBO welterweight crown last July 2.
With no intention of reversing the decision, WBO president Paco Valcarcel appointed five anonymous judges to review and score the controversial bout.
Pacquiao issued a reaction to the WBO findings.
"Let the people judge for themselves. (The) people saw what happened. We have seen worse judgments in the past where judges manipulated results. Nothing surprises me now," he said.
The Games and Amusements Board (GAB), the governing and regulatory body for all professional sports and athletes in the Philippines, spearheaded the call for a review of the fight.
The results were tabulated and announced yesterday. Horn won on three of the five scorecards (115-113, 114-113, 114-113). One judge scored it for Pacquiao (114-113) and another had it as a draw (114-114).
"Based on this analysis, Jeff Horn was the winner of the bout," the WBO statement said.
The same method was used in the equally controversial fight between Pacquiao and Timothy Bradley in 2012, when the American won a controversial decision.
In the review, Pacquiao won on all five scorecards. Still, it was not enough for the WBO to reverse the decision and nullify Bradley's victory.
The "Battle of Brisbane" was a bloody 12-round contest with a handful rounds that were too close to call, and yet one judge had it for Horn by a wide margin, 117-111.
Two judges had identical scores of 115-113.
In the WBO review of the scoring, Pacquiao won the third, eighth and ninth rounds on all five sheets. Three judges scored the ninth round a dominant 10-8 round for Pacquiao.
In the fifth round, four judges had Pacquiao winning, and in the 11th round three judges also had the Filipino, bleeding from two nasty cuts, as the winner.
Horn won the first, sixth and 12th rounds by "100 percent," and the second, fourth and seventh by "80 percent" and the 10th round by "60 percent."
"From the results, it can be established that Pacquiao won five rounds while Horn won seven rounds," the WBO statement said.
Right after the fight, witnessed by a live audience of 51,502, there was talk of a rematch, and both fighters gladly welcomed the possibility.
"Bring it on," said Horn, confident that if a rematch takes place, he would beat the senator from the Philippines by a "wider margin."
"May rematch," said Pacquiao.
Nothing is certain, though, when the rematch would take place but it should be in November, when the Philippine Senate is on a break.
There are other cities that may also bid for the fight, including Melbourne, although it seems that Brisbane has a lock on it. – With report from Paolo Romero