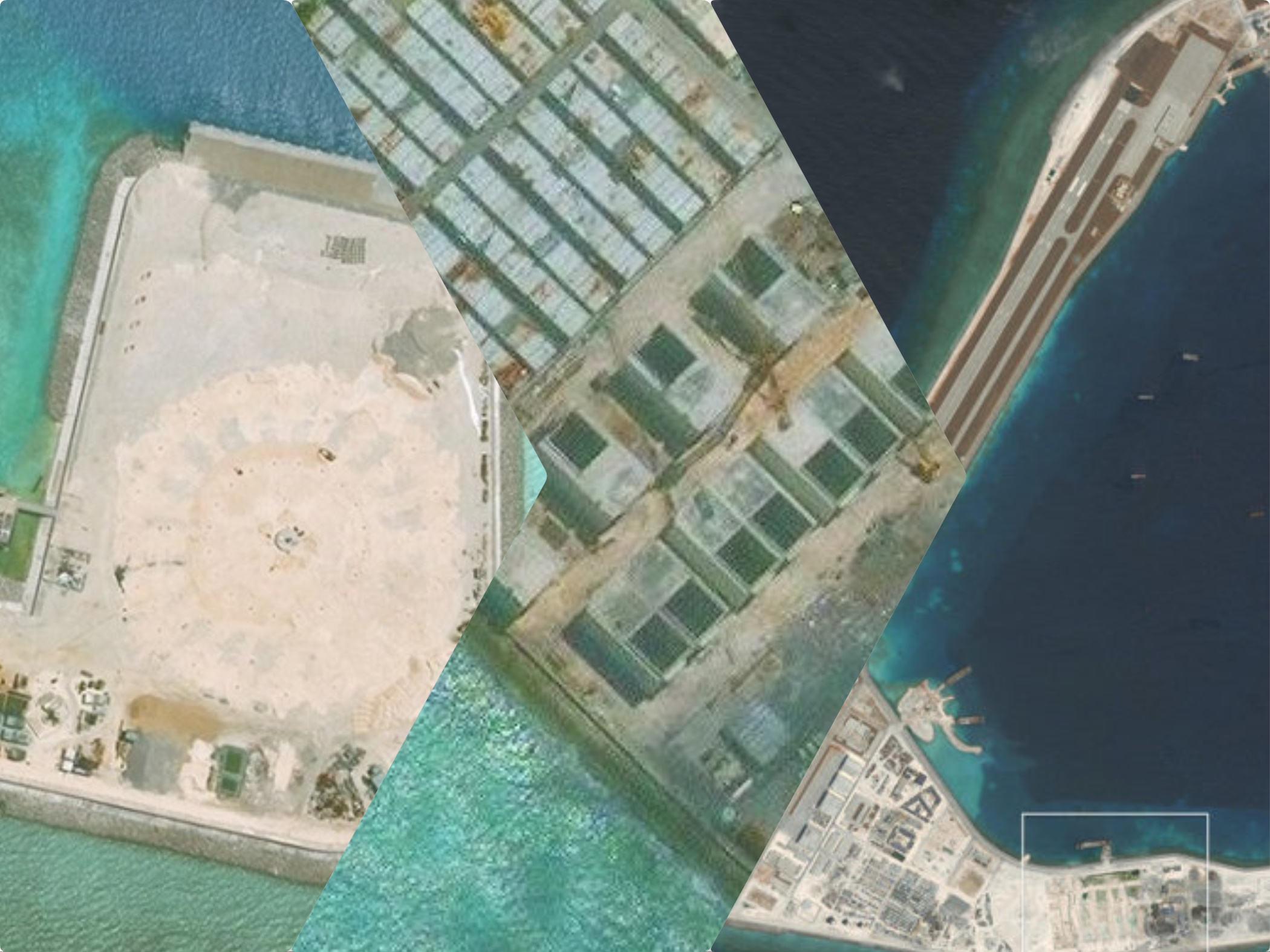 New Chinese missile shelters and radar facilities have spotted on Subi, Mischief and Fiery Cross reefs in the West Philippine Sea, the part of the South China Sea claimed by the Philippines. CSIS Asia Maritime Transparency Initiative
Analyst: China diverting int'l pressure while completing facilities in disputed sea
MANILA, Philippines — Beijing appears to be engaging with Manila and other Southeast Asian governments to divert international pressure from the disputed South China Sea, a foreign policy analyst said.
A few weeks ago, Washington-based CSIS Asia Maritime Transparency Initiative (AMTI) released new satellite imagery that China has been continuing the construction of facilities in three Manila-claimed reefs in the Spratly Islands.
China appears to have installed new missile shelters, radar and communication facilities on Fire Cross Reef, Mischief Reef and Subi Reef despite starting direct negotiations with the Philippines last May.
READ: As it engages Duterte, China keeps building in South China Sea
Gregory Poling, director of the AMTI, said that the approach of the Duterte administration hasn't resulted in any slowdown in the construction of military facilities on the artificial islands.
"This suggests that Beijing wants to keep Manila and the other Southeast Asian governments talking, diverting international pressure, while it finishes its power projection capabilities without interference," Poling said in an exclusive interview with Philstar.com
Poling added that Beijing is determined to establish de facto control over all features within its so-called nine-dash line in the South China Sea.
Beijing appears to be bent on establishing such control regardless of international law, as seen on its response toward the ruling of the United Nations-backed tribunal based in The Hague, Netherlands.
"That means that it does not want to allow any exploitation of fisheries, oil and gas, or other resources, or any other economic or military activities, by the Philippines without China's say-so," Poling said.
China's first step in gaining control would be to install radar and patrol capabilities to keep watch on Reed Bank and Second Thomas Shoal, according to Poling.
This will allow Chinese surface fleet and combat to prevent operations by other Southeast Asia claimants anywhere within its so-called nine-dash line.
"The missiles and point defenses are necessary to prevent the US or others from being able to easily eliminate that threat to regional freedom of the seas," the AMTI director said.
Poling also warned that Beijing is already capable of operations such as launching its first combat aircraft and missiles in the disputed waters.
"Once that political decision is made, they could be there in a matter of days," Poling said.
Meanwhile, the Chinese Foreign Ministry slammed the US for sending a pair of B-1B Lancer long-range strategic bombers flying over the South China Sea.
Chinese Foreign Ministry spokesperson Geng Shuang said that China has always respected and supported the freedom of navigation and overflight in the South China Sea but Washington's recent activity appears to be a case of "flexing of military muscles."
"However, we firmly oppose the flexing of military muscles by individual countries to endanger China's sovereignty and national security under the pretext of 'freedom of navigation and overflight," Geng said.
RELATED: China criticizes US sending bombers in overflight mission