China criticizes US sending bombers in overflight mission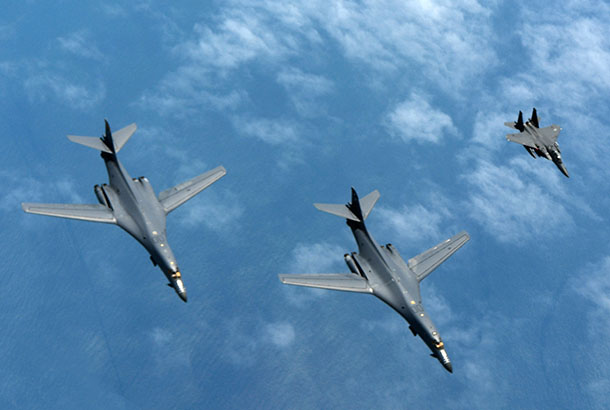 BEIJING — China's foreign ministry criticized the US decision to send a pair of B-1B Lancer long-range strategic bombers flying over the South China Sea, calling that a case of "flexing of military muscles" in a manner seen as threatening to Beijing.
The bombers based at Anderson Air Force Base in Guam performed their mission as President Donald Trump was preparing to meet his Chinese counterpart, Xi Jinping, on the sidelines of the G-20 summit in Hamburg, Germany, for talks dwelling mainly on North Korea's nuclear threat. It followed a "free of navigation operation" by a US destroyer near Chinese-controlled Triton island in the South China Sea that Beijing also strenuously objected to.
The US sees such missions as necessary to counter what it regards as China's excessive territorial claims in the South China Sea, considered by Beijing to be a Chinese waterway virtually in its entirety. The US and others are also wary of possible Chinese plans to establish an air defense identification zone over the South China Sea similar to one it declared over a large section of the East China Sea in November 2013.
China says it will proceed with such a zone arrogating to itself with the right to direct all aviation in the area based on the perceived threat level. The US, Japan and others denounced the East China Sea zone as illegitimate and ignored it.
Responding to the presence of the bombers, foreign ministry spokesman Geng Shuang told reporters Friday that there was little point in such missions because "the freedom of navigation and overflight in the South China Sea has never been a problem."
"The Chinese side has always respected and supported the freedom of navigation and overflight in the South China Sea enjoyed by all countries under international law," Geng said. "However, we firmly oppose the flexing of military muscles by individual countries to endanger China's sovereignty and national security under the pretext of 'freedom of navigation and overflight.'"