As it engages Duterte, China keeps building in South China Sea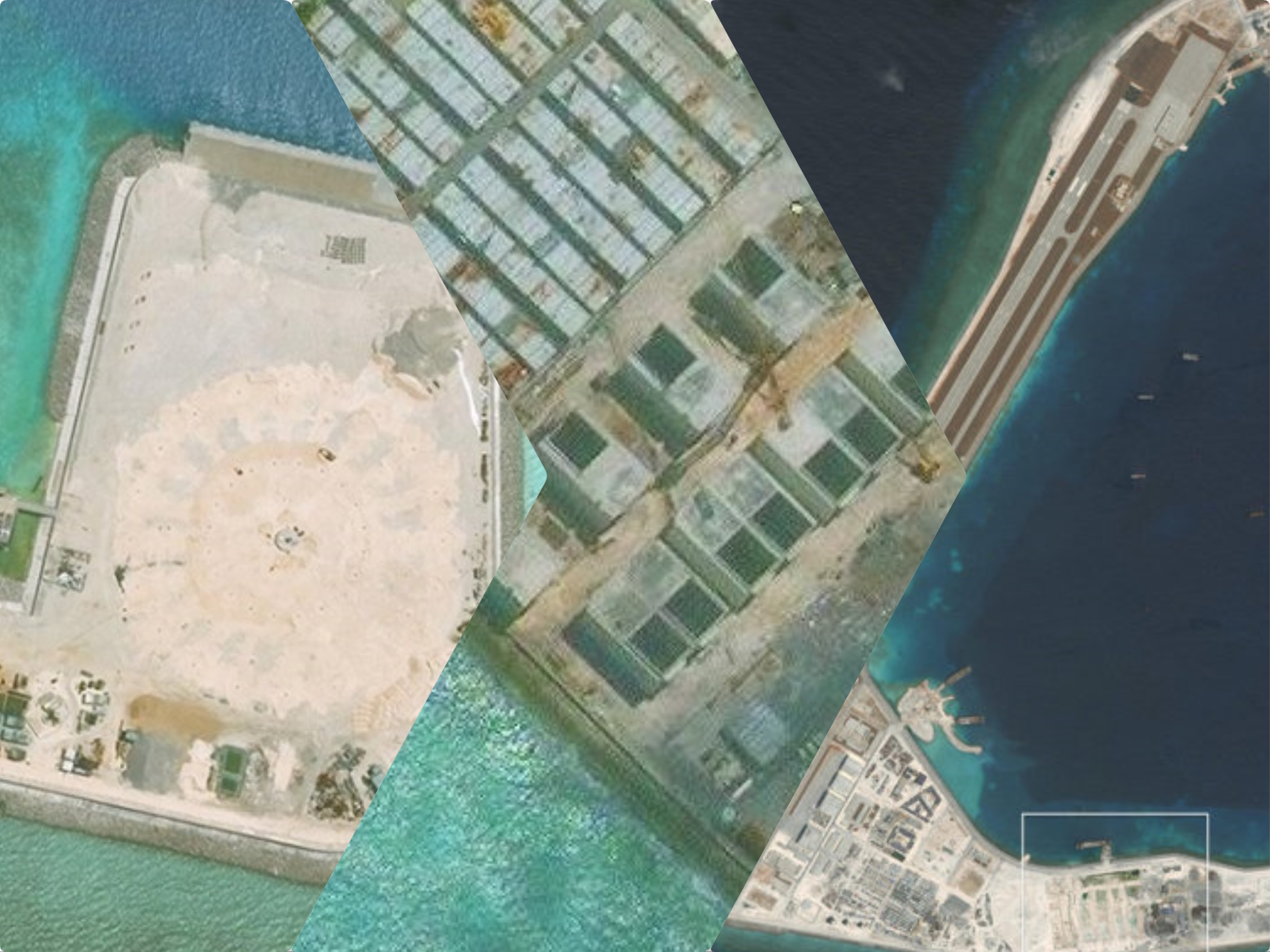 MANILA, Philippines — New satellite imagery released by a Washington-based think tank shows that there has been no letup in the construction of military facilities in the Philippines' maritime backyard despite the warming up of Manila's relations with Beijing.
Over the past few months, the CSIS Asia Maritime Transparency Initiative observed the installation of new missile shelters, radar and communications facilities and other infrastructure on man-made islands sitting on Fiery Cross Reef (Kagitingan), Mischief Reef (Panganiban) and Subi Reef (Zamora).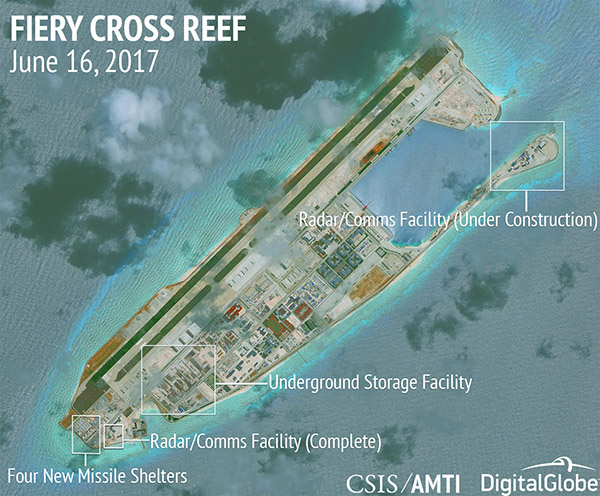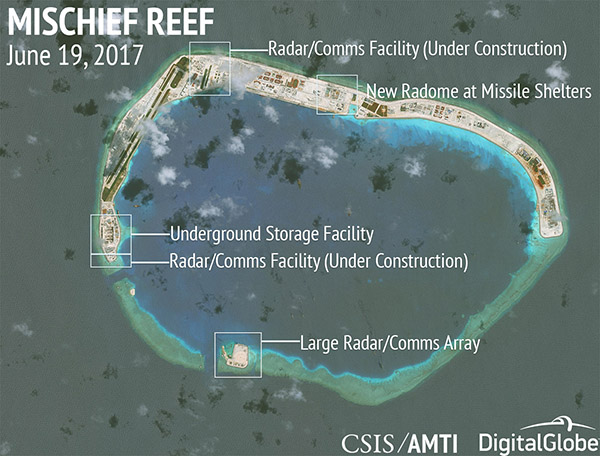 The continuing activities in the disputed waters claimed by the Philippines persisted while China is engaging with its Southeast Asian neighbors on the framing of a binding code of conduct to hopefully manage South China Sea disputes.
READ: Analysts: Draft a sign of progress on South China Sea code of conduct
The report said that the images suggest that "while the region is engaged in peaceful discussion, China remains committed to developing its power projection capabilities."
In May, the administration of President Rodrigo Duterte restored direct negotiations with Beijing. Duterte has led a marked foreign policy pivot away from the Philippines' traditional ally, the United States, and toward China over the past year immediately after a United Nations-backed tribunal ruled in favor of Manila's maritime claims and dismissed China's.
READ: ASEAN accepting South China Sea as China's lake, says analyst
The Manila-Beijing dialogue mechanism was reestablished for the first time in six years following a period of tense engagement under President Benigno Aquino III. Duterte, in contrast, flew into China twice—for an official visit and to attend the Xi Jinping-led "One Belt, One Road" summit—in his first year in office.
New expansion
The AMTI report says the artificial island on Fiery Cross Reef has been the most advanced of China's bases in waters of the West Philippine Sea, the part of the strategic waterway the Philippines claims to be within its exclusive economic zone.
Fiery Cross, Subi and Mischief reefs have hosted hardened shelters with retractable roofs at least since February with a potential to house missile launchers. Four additional shelters were spotted by satellite on Fiery Cross in June.
A line of "very large" antennae were also seen being hoisted on a small outpost at the southern side of Mischief, "presumably boosting China's ability to monitor activity around the feature," the report says.
"That ability should be of particular concern to Manila, given Mischief's proximity to Palawan, Reed Bank, and Second Thomas Shoal," it says.
Another house for a large radar antenna was also spotted on a building at the southern end of Fiery Cross. A similar facility was seen being built at its northern end, and two more of the same on Mischief Reef.
Near the facilities on Mischief, a smaller dome was found. This indicates that "it could be connected to radars for any missile systems that might be housed there."
Four potential underground munitions structures were similarly spotted on each reef. A Pentagon report cited buried facilities previously built there to store water and fuel.
James Clapper, former director of US national intelligence, told Sen. John McCain that China is likely to complete its offensive and defensive facilities in the Spratly Islands in late 2016 or early 2017.
"He wasn't far off the mark," the AMTI reports. "Major construction of military and dual-use infrastructure on the 'Big 3'—Subi, Mischief, and Fiery Cross Reefs—is wrapping up, with the naval, air, radar, and defensive facilities that AMTI has tracked for nearly two years largely complete."
"Beijing can now deploy military assets, including combat aircraft and mobile missile launchers, to the Spratly Islands at any time," it adds.
READ: China exploring joint military drills with Philippines vs terrorism
In July last year, the Hague-based arbitral tribunal ruled that the Big 3 were originally high-tide features that do not legally generate their own continental shelf or exclusive economic zones despite China's newer islands.
After the freedom of navigation operations of the US Navy to challenge Chinese claims in the area halted in the later months of the Obama administration, only one FON mission was announced to have been conducted under President Donald Trump.
At a news conference Thursday in Beijing, Chinese Foreign Minister Wang Yi said the Philippines and China would "continue to improve our mutual trust and control our differences so as to maintain the peace and stability of the South China Sea." Wang's Philippine counterpart, Alan Peter Cayetano, is in Beijing this week with Manila having received rifles and ammunition from its maritime rival.
READ: US stand on South China Sea remains unchanged amid China dialogue