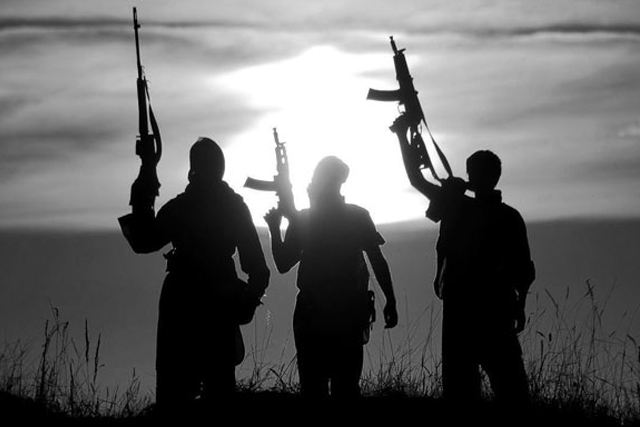 The encounter erupted when troops zeroed in on the location of the Abu Sayyaf group after getting a tip from two kidnapped Filipino fishermen rescued on Friday. File
3 Abus, trooper killed in Sulu clash
Roel Pareño
(The Philippine Star) - July 8, 2017 - 4:00pm
ZAMBOANGA CITY, Philippines – At least three Abu Sayyaf militants and a trooper were killed while 15 soldiers were wounded in a firefight between bandits and government troops yesterday morning in Patikul town, Sulu, the military said.
The encounter erupted when troops zeroed in on the location of the Abu Sayyaf group after getting a tip from two kidnapped Filipino fishermen rescued on Friday.
Brig. Gen. Cirilito Sobejana, commander of Joint Task Force Sulu (JTFS), said troops from the 21st Infantry Battalion led by Maj. Christopher Genzola engaged heavily armed Abu Sayyaf gunmen under the command of Almujer Yaddah in a one-hour firefight at Sitio Darayan at the boundary of Barangays Danag and Buhanginan around 8:45 a.m. yesterday.
During the clearing operations, troops recovered the body of an unidentified Abu bandit at the encounter site, Sobejana said.
"Our forces on the ground also spotted the bandits dragging away two bodies of their companions who appeared to be dead," he said.
The killed soldier and wounded were brought to the military hospital in Jolo.
Sobejana said the encounter was a result of the information provided by two rescued kidnap victims, Reyjim Rocabo and Roel Leones.
He said they pinpointed the locations of the Abu Sayyaf group that is keeping captive 21 other kidnap victims, including Vietnamese crewmen.
"The soldiers are careful in their movements since it is believed that the Abu Syayaf group is still carrying with them around six to seven kidnap victims," Sobejana said.
He said pursuing forces were taking into consideration the safety of the kidnap victims.
2 fishermen rescued
Meanwhile, Rocabo, 41, and Leones, 37, both from Tukuran, Zamboanga del Sur, were on board a motorcycle when intercepted and recovered by government forces at 5 p.m. at Daang Puti, Patikul town.
Sobejana said the victims revealed that they were kept under the custody of Abu Sayyaf members Ben Tatoo and Almujer Yadah, along with other kidnap victims.
Rocabo and Leones, crewmen of FB Ramona 2, were seized by the Abu Sayyaf group along with captains Noel Besconde and Roy Borja Ramos last Dec. 20 at the Celebes Sea.
Besconde, however, was beheaded on April 13 by the group of Abu Sayyaf under Yadah at Sitio Pantay Minol, Barangay Tanum, Patikul.
The military said Ramos, on the other hand, was rescued on June 8 by government forces at vicinity of sitio Kandabaw, Barangay Lagtoh, Talipao town after he escaped from his captors in Patikul two days earlier.
Sobejana said Rocabo and Leones were turned over to the police Anti-Kidnapping Group before they will be reunited with their families.
He called on the residents of Sulu to continue helping the government in defeating the Abu Sayyaf.
The military said the recovery brought the number of kidnap victims to 23, including 19 foreigners and four Filipinos, still in captivity of the Abu Sayyaf group. – With Jaime Laude