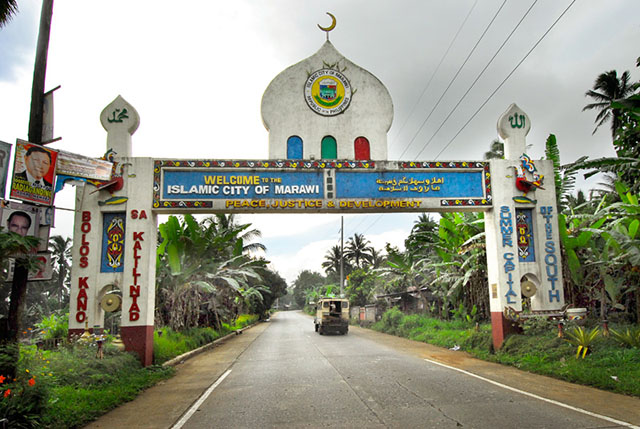 The discovery of the five victims among 17 bodies retrieved would be the first evidence that civilians trapped in besieged Marawi City were decapitated during the five-week stand by militants loyal to the Islamic State (IS) group, as some who escaped the city had previously reported. File
Jaime Laude
(The Philippine Star) - June 28, 2017 - 4:00pm
Military sees sharp rise in number of slain civilians
MANILA, Philippines - The decapitated bodies of five civilians have been found in Marawi City in an area previously occupied by the Maute group, the military said yesterday, warning the number of residents killed by extremist "atrocities" could rise sharply as troops retake more ground.
The discovery of the five victims among 17 bodies retrieved would be the first evidence that civilians trapped in besieged Marawi City were decapitated during the five-week stand by militants loyal to the Islamic State (IS) group, as some who escaped the city had previously reported.
Lt. Col. Emmanuel Garcia of the Western Mindanao Command said the troops found the five decapitated among 17 civilians in Barangay Gadungan previously under control of the terrorists.
"Government troops, together with policemen, elements of the Bureau of Fire Protection and civilian volunteers recovered at around 11:40 a.m. yesterday 17 cadavers while conducting retrieval operations in Barangay Gadungan," Armed Forces spokesman Brig. Gen. Restituto Padilla reported.
Troops also retrieved the bodies of two foreign looking militants somewhere in the battle zone.
"They resemble Middle Easterners," Padilla said.
Padilla could not say, however, how many foreign fighters are actually involved in the Marawi conflict.
"We don't have any documents as basis for the existence of all these foreigners except information that have been coming in from various sources," he said.
Padilla said the military got hold of footage showing the terrorists carrying out executions.
However, the death toll arising from these killings was not yet included in the official figure on civilians killed, which currently stands at 27, he said.
"We are not certain exactly how many civilians [have been killed] because the number you have now, which is 27, may increase significantly once we are able to validate all these information," Padilla said in a news conference in Malacañang.
"There have been a significant number (of slain civilians) seen in the video but again we could not include many of these (in the official death toll) because we have not validated or authenticated (this) information. Until such time, we will remain with those numbers," he said.
Padilla said the terrorists who laid siege on Marawi took footage of some of their killings supposedly to gain recognition from IS, to which they have pledged allegiance.
"Whatever the objective of the terrorists – either to scare people or to communicate across other members of the country of their extreme and radical ways – has been achieved because of that," he said.
Videos have appeared this month on the website of Islamic State's Amaq news agency and its social media channels of hostages in Marawi pleading for their lives, saying they would be beheaded if air strikes were not stopped.
Clips have also appeared of people on their knees, shot in the head from behind.
The military has so far been reluctant to discuss the possibility that the real impact of the fighting on civilians could be far more severe than has been reported.
It has played down the impact of daily air strikes and mortar assaults aimed at rebel sniper positions, which have reduced areas of the lakeside town to rubble and alarmed people stuck there, some of whom have said the shelling was a bigger threat than the militants.
Disaster officials are keen to start dangerous missions to recover what they believe are large numbers of bodies in the streets near the conflict zone.
President Duterte said on Tuesday he was prepared from the outset for a long fight against a well-armed Maute motivated only by murder and destruction.
"It seems to be limitless supply. They were able to stockpile their arms," he said.
"Some of those who traveled to the Middle East got contaminated, brought the ideology back home and promised to declare war against humanity."
'Significant number'
Padilla said it was likely that many civilians had been killed and the death toll – already at 27 before the latest 17 were announced – was only what the authorities could confirm independently.
He said a "significant number" of dead had been seen by those who had escaped the fighting.
"(It) may increase significantly once we are able to validate all this information," Padilla told reporters.
"There have been a significant number that have been seen but again, we cannot include many of these," he said.
Padilla said the cause of those deaths would be "atrocities committed by the terrorists."
Among those atrocities, the military said, have been residents being forced to loot homes, take up arms or become sex slaves.
Nine more civilians were rescued Tuesday by the military from the battle zone.
Some 71 soldiers and policemen and 299 militants have been killed and 246,000 people displaced by the conflict.
The Department of Social Welfare and Development said there are some 334,304 people accommodated in at least 83 evacuation centers in Lanao del Norte, Iligan City, Misamis Oriental and Cagayan de Oro City. Some 293,069 individuals or 60,029 families had sought shelter with their relatives.
Padilla, on the other hand, called for patience and said troops needed more time to flush out the gunmen and secure the city.
"Our combat environment is sensitive. First, there are trapped civilians that we have to protect. They also have hostages and third, there are many traps so we have to clear buildings slowly," he said.
Defense Secretary Delfin Lorenzana earlier said the conflict in Marawi could be over before President Duterte delivers his State of the Nation Address next month.
Padilla, however, stressed the military is doing everything it can to end the fighting at the soonest.
"We are not setting any deadline and I have been citing why. We are doing our best to finish this, to liberate Marawi at the soonest possible time," Padilla said.
Padilla likened the battle of Marawi to the cities invaded by the IS in the Middle East.
He mentioned Mosul, Iraq's second most populous city, where Iraqi forces worked their way to regain the historic city after it fell to IS in June 2014.
"These cities in the Middle East are like what is happening now in Marawi. It is a complicated thing for them (Iraqis) who have bigger armed forces and more challenging for those fighting in the Middle East, how much more for us?" he remarked.
He stressed the battle in Marawi is challenging and it would not end abruptly.
Padilla said the militants had the tactical advantage of fighting the troops in their terrain.
He said the troops are not used to fighting in an urban setting and confronting the militants who are using civilians as human shields.
The military also denied allegations that troops committed abuses on women and children evacuees.
Various groups called on the evacuees to report any abuses committed by security forces. – Edith Regalado, Roel Pareño, Lino de la Cruz