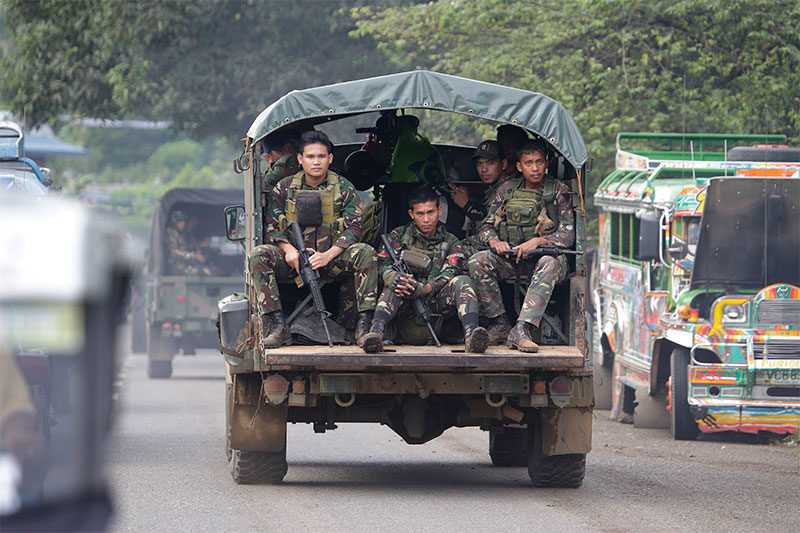 In this June 9, 2017, photo, soldiers ride a military vehicle on the outskirts of Marawi city, southern Philippines. The Philippine military says 13 marines have been killed in fierce fighting with Muslim militants who have laid siege to southern Marawi city. AP/Aaron Favila
Presidential task force: No arrest warrant for photojournalist covering Marawi
MANILA, Philippines — The Presidential Task Force on Media Security on Thursday debunked rumors and fake news that a warrant of arrest has been served on a photojournalist covering the siege of Marawi City.
Such rumors started when blogger RJ Nieto said that photojournalist Jes Aznar should be arrested for allegedly revealing the positions of Philippine soldiers in a video posted on a social media site.
The presidential task force, comprised of government officials and representatives from media organizations, said in a statement that Aznar has been unfairly accused of posting real time updates of the confrontation between government forces and the Maute terror group.
"To debunk rumors and fake new, the Philippine National Police, a member of the Task Force, said that it has not served a warrant of arrest to Aznar," the task force said in a statement.
Several media groups have expressed concern over the safety of the rest of the media workers covering the Marawi siege.
"Our colleague Jes has been maliciously attacked by netizens and now fears for his safety," Joe Torres of the National Press Club (NPC) said.
The task force urged authorities to extend appropriate assistance to media workers for safe coverage.
"What is happening to Aznar can have a chilling effect and can happen to other media workers. We don't want that" task force executive director Joel Sy Egco, a former media worker, said.
The task force called on the public to stop sharing and posting fake news that can aggravate the situation in Marawi and may even endanger the lives of media workers and government forces.
The National Union of Journalists of the Philippines earlier condemned Nieto for endangering Aznar's life on what it said were unfounded reasons.
"We likewise condemn those who threaten our colleague who was simply doing his job," NUJP said.
Aznar has said that he did not post the updates in real time and that journalists covering the conflict in Marawi would not endanger security forces or themselves by doing so.
Representatives of the NPC, NUJP, Kapisanan ng mga Brodkaster ng Pilipinas, Publishers Association of the Philippines Inc., Center for Media Freedom and Responsibility and Philippine Press Institutes are members of the task force.
Justice Secretary Vitaliano Aguirre II sits as the chairman of the task force while Presidential Communications Operations Office Secretary Martin Andanar is his co-chairman. Andanar had earlier pushed for accreditation for bloggers, including Nieto, to cover President Rodrigo Duterte and his activities.