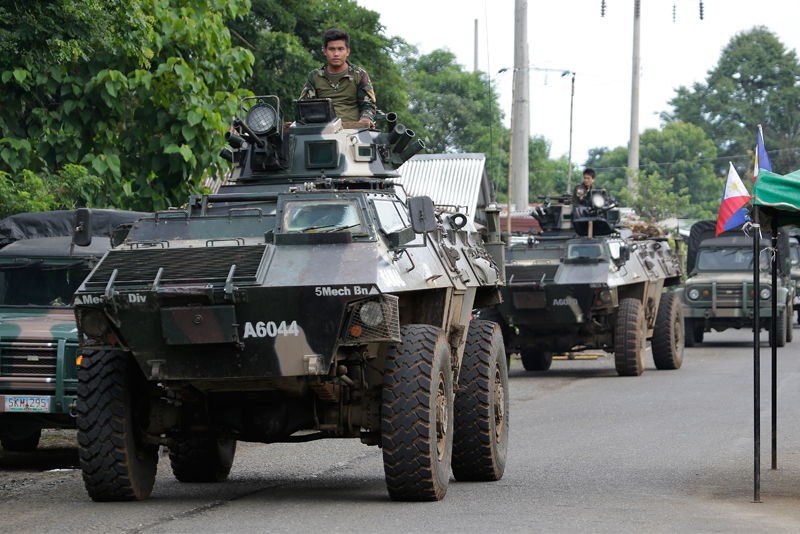 A military convoy passes a checkpoint on the outskirts of Marawi city, southern Philippines, Friday, June 9, 2017. It's unclear how many people remain trapped in Marawi as government troops battle Muslim militants led by the so-called "Maute" group but army officers have put the figure this week at anywhere from 150 to 1,000. AP/Aaron Favila
NUJP condemns blogger for endangering photojournalist covering Marawi
MANILA, Philippines — The National Union of Journalists of the Philippines on Tuesday condemned a blogger for allegedly putting the life of a photojournalist covering the siege of Marawi City in danger.
The photojournalist also issued a statement through his social media account "advising" RJ Nieto, publisher of the blog site Thinking Pinoy, to recant his statement or face "legal repercussions."
In a statement, NUJP condemned Thinking Pinoy and Nieto for "endangering" the life of a journalist based on "unfounded reasons."
The group of journalists also blasted those who threatened journalists covering the clashes between Philippine security forces and Islamist militants from the Maute and Abu Sayyaf groups.
"We condemn Thinking Pinoy and Mr. Nieto for endangering a journalist, more so on unfounded reasons. We likewise condemn those who threaten our colleague who was simply doing his job," NUJP said.
In a blog article posted on June 18 titled, "Jez Aznar, Get Out of Mindanao for Your Own Good," the site criticized the photographer for allegedly revealing the sniper positions of Philippine soldiers in a video posted on a social media website.
Thinking Pinoy said that the video "compromised the safety and tactical advantage of AFP snipers."
The blog site added that the video was disregarded an earlier military request for people to refrain from posting compromising information.
Thinking Pinoy said that since President Rodrigo Duterte had suspended the privilege of the writ of habeas corpus the photojournalist could be "arrested anytime—without warrant—for aiding and abetting the Maute Rebels."
"So I suggest that you board the first flight out before some AFP general orders your arrest because trust me, you will be no hero in the eyes of Filipinos," it said.
Aznar defended posting the video, saying that it was a screen grab of an Instagram account taken more than three weeks ago.
"Let me remind the gentleman, that these kinds of attacks to the press are outright dangerous. Especially for us who are covering this event and are actually inside the conflict zone," he said. "Let me also remind you that the media, fully aware of the dangers involved in covering such conflicts, are there not to be kibitzers but to do a sworn duty to keep the public informed. No more no less."
NUJP said that it was concerned by the continuous threats received by Aznar over a "mistaken accusation" by Thinking Pinoy and Nieto.
"The National Union of Journalists of the Philippines expresses deep concern at the threats continuously being received by photojournalist Jes Aznar, whose work appears, among others, in the New York Times and is also carried by international photo agencies, over a mistaken accusation by the blog site Thinking Pinoy published by one RJ Nieto," the group's statement said.
"We urge authorities to protect Mr. Aznar from these threats and to assist him should he seek redress and accountability for those who seek to put him in danger," it said as it also commended journalists covering the events in Marawi City.