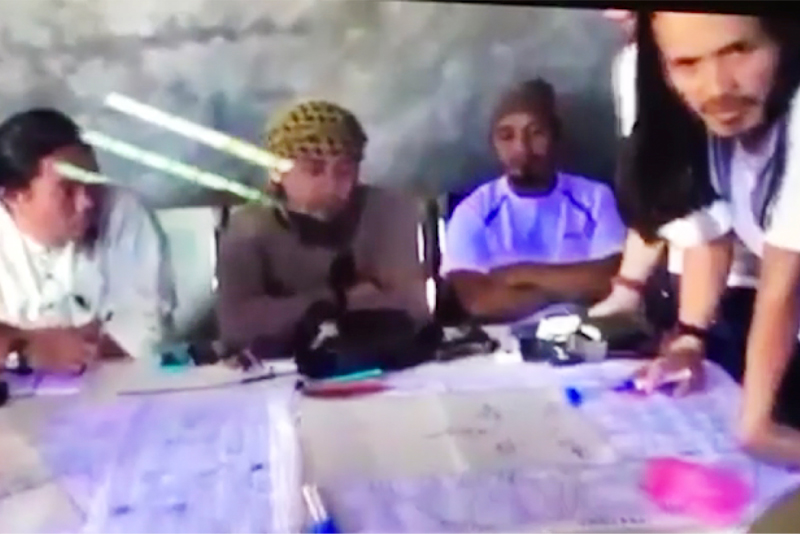 This image taken from undated video shown to The Associated Press by the Philippine military shows the purported leader of the Islamic State group Southeast Asia branch, Isnilon Hapilon, center, at a meeting of militants at an undisclosed location. The images offer a rare glimpse into the clandestine operations of insurgents who followed through two weeks ago with an unprecedented assault on the lakeside city of Marawi, parts of which they still occupy today. Philippines Military via AP
Ex-BTC member: Maranaos don't support terrorists
MANILA, Philippines — A former member of the Bangsamoro Transition Commission on Monday contradicted the claim of President Rodrigo Duterte that Maranaos allowed terrorism to establish a hold in Marawi City, where an intense battle between security forces and Islamist militants is now in its fourth week.
In an interview with ANC, Samira Gutoc, a peace advocate and former member of the BTC, said that Marawi residents were largely unaware of the Maute Group and Isnilon Hapilon, an appointed "emir" of the so-called Islamic State of Iraq and Syria (ISIS).
Maranaos are the predominant people of the Lanao provinces.
Gutoc's statement contradicted pronouncements by Duterte early this month when he expressed his anger at Maranaos for allegedly allowing the foreign ideology of the so-called ISIS to enter the area.
The peace advocate, who is from Marawi, said that the Maranao community did not receive Hapilon. She added that the Maute group was not in the mainstream and were strangers to the local residents.
Gutoc said she was flustered by the statement of some people especially on the internet that they tolerated and allowed the group and its ideology to establish a foothold in the Islamic city of 200,000 people.
"He's not received at all. We don't know about him. We don't know this Maute's campaign. They're not in mainstream. They're not in public platforms. They're definitely strangers. So for the public, for the netizens to say, 'You guys tolerated it.' That's strange. We don't have a connection with these people," she answered when she was asked how Hapilon was received by the Maranaos.
.Duterte blamed the local residents for the weeks-long war ravaging Marawi City, which has left hundreds, including 62 government troops. The clashes have also forced most of the once-bustling community to flee to neighboring towns and cities.
The former BTC member chided the president for his sweeping statement, saying that he should have focused his tirade only on those who condoned terrorism.
"I mean he kept on saying the cultural group. Why don't you just say galit ako sa tao who condoned this terrorism," she said.
Gutoc also warned that the Islamist groups might be winning the hearts of young people which could pose a serious problem in the future.
"Yang mga taong yan, they started about 10, five, and they grew to about 30. I know of some people who were recruited by them because of fear. They were texted, 'If you don't join us.' I was even texted, 'Please get our children out. Please get our daughter out.' She was married inside the group. She didn't make paalam. So these are concrete examples that they are winning hearts of young people. And it's a scary thing," she said, emphasizing the need for the government to win the residents, starting with schools up to the larger community.
'Hapilon a stranger to us'
Gutoc also clarified that the residents of Marawi City were not protecting the Maute and Abu Sayyaf fighters.
"So Hapilon is definitely a stranger. He doesn't have any ascendancy. He's a Tausug. Wala kaming alam sa Tausug. We don't speak Tausug. It's a cultural barrier. So, Hapilon is definitely a stranger to the Maranao people," she said.
Philippine security forces are currently still engaged in a protracted battle with Islamist militants positioned in the city.
The military and the police have faced strong resistance from the terrorists who have proven tenacious as the fighting enters its fourth week.
Duterte placed Mindanao under army rule in an effort to crush the terrorists amid fears that its sympathizers and other groups would escape to other cities and towns on the island of 22 million.