Troops, Maute group clash in Marawi City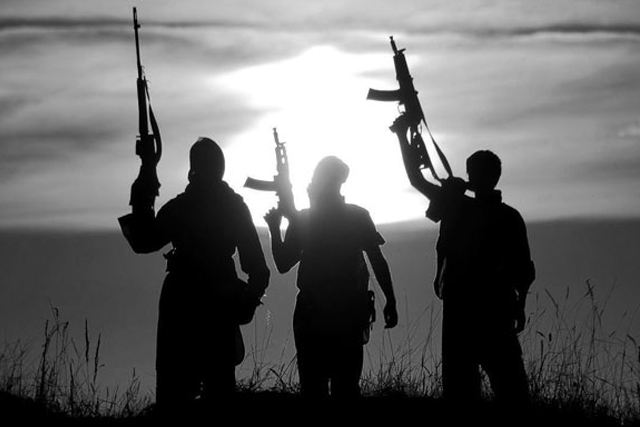 LANAO DEL SUR, Philippines - Gunshots reverberated through villages in Barangay Basak Malulut in Marawi City as Maute gunmen and soldiers clashed there Tuesday, sending Maranaws running for their lives.
Senior Superintendent Oscar Nantes, director of the Lanao del Sur provincial police, said the scene of the encounter is not too distant from their headquarters and the campus of the Mindanao State University.
"We can hear automatic gunshots from where we are," Nantes told The STAR at exactly 3:20 p.m. Tuesday.
Local officials told The STAR loud explosions rocked the barangay as members of the Maute terror group and soldiers traded shots.
The Maute group is also known as the Dawlah Islamiya Philippines, which espouses hatred to non-Muslims.
It also boasts of loyalty to the Islamic State of Iraq and Syria and uses the black ISIS flag as its revolutionary banner.
Nantes said personnel of Army units under the 103rd Brigade based in Marawi City were to search for members of the Maute group in Barangay Basak Malulut when the encounter erupted.
The group, founded by radical siblings Abdullah and Omar Maute, lost more than 50 members in a spate of encounters with soldiers in the past five months.
"We are still investigating on what caused the encounter this afternoon," Nantes said.
Army intelligence sources said members of the Maute group had infiltrated a gathering of hundreds of Tablighs in the barangay, prompting the deployment there of soldiers backed by armoured vehicles.
The Tablighs are missionaries engage in da'awah (preaching) activities that many moderate Islamic theologians do not agree with.
Among the staunch critics of the Tablighs was the late Imam Salamat Hashim, founder of the Moro Islamic Liberation Front, who had studied Islamic theology at the Al-Azzhar University in Cairo, Egypt.
Zia Alonto Adiong, a member of the 24-seat Regional Assembly in the Autonomous Region in Muslim Mindanao, said he received reports purporting that the raging gunfights in Barangay Basak Malulut involved local ISIS-styled extremists and soldiers.
Adiong, who resides in Marawi City, has urged his constituents to stay in their homes to ensure their safety through text messages to community elders and via an appeal he posted on his Facebook timeline.