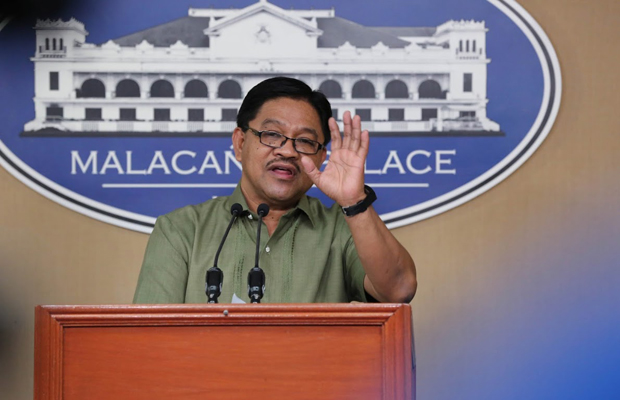 Agrarian Reform Secretary Rafael Mariano at a press briefing at Malacañang. PCOO/File photo
DAR installs 159 MARBAI farmers on Lapanday land
(philstar.com) - May 18, 2017 - 9:25am
MANILA, Philippines — The Department of Agrarian Reform was able to install farmer beneficiaries in Tagum, Davao del Norte who were evicted by Lapanday Food Corp. on its third attempt on Thursday.
The department announced the development on its Twitter account.
A THREAD FOR OUR FARMERS: Today MARBAI farmer-beneficiaries in the SANID area were successfully installed after two attempts in April. pic.twitter.com/CLKpV2727v

— DAR Philippines (@dargovph) May 18, 2017
According to the Philippine News Agency, 159 members of the Madaum Agrarian Reform Beneficiaries Association Inc. (MARBAI) were installed as rightful owners of the 145-hectare San Isidro (Sanid) farm area inside the former Hijo Plantation in Tagum.
Agrarian Reform Secretary Mariano said in the PNA report that the meeting between President Rodrigo Duterte and MARBAI members in Mendiola "gave a strong push to install back the farmers, who have now rights over the contested land."
The DAR served the writ of installation and cleared the area of Lapanday guards before the farmers entered the banana plantation. Police and military personnel were on hand to secure the area and to discourage confrontations between the farmers and the guards, PNA said.
Mariano is also set to meet with the Hijo Employees Agrarian Reform Beneficiaries Cooperative-1 (HEARBCO-1), which has a standing agreement with the breakaway MARBAI.
According to a press statement on Wednesday, Agrarian Secretary Rafael Mariano said that he would be with the agrarian-reform beneficiaries during the installation.
The DAR had tried to install the beneficiaries of the Madaum Agrarian Reform Beneficiaries Association Inc. twice in April but, it said, this "was opposed by LFC owners with the help of their armed goons and the failure of the Region XI local police to come up with operational plan to execute the writ the of installation."
On May 14, LFC said that it wants a
"continuing constructive dialogue"
that will "resolve all issues that pertain to the portion of the farm that is subject of the concerted action of MARBAI and its supporters."
The company had stressed that Davao City Regional Trial Court Branch 14 has upheld its compromise agreement with HEARBCO-1. The same court had ruled that the DAR does not have jurisdiction over the dispute because it is not agrarian in nature.
Mariano, in a statement Wednesday, said he "will not be deterred by the RTC order. It is actually the LFC who defied our cease and desist order so they could eject the Marbai farmers."
"Only the Supreme Court can overrule the writ of installation I have issued," he also said.