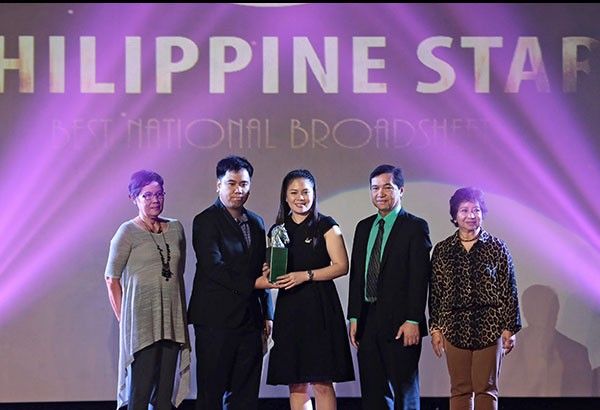 STAR reporters Alexis Romero and Helen Flores receive their awards at the Trinity University of Asia in Quezon City on Saturday. With them are (from left) Evelyn Agato, head of Trinity's media and communications department; Rogelio Bathan, dean of the College of Business, and Graduate School faculty Illuminada Castigador.
MICHAEL VARCAS
STAR bags journalism awards from Trinity
MANILA, Philippines - The Philippine STAR bagged three major awards in the print category at the 2017 Platinum Stallion Media Awards (PSMA) of Trinity University of Asia in Quezon City on Saturday.
Aside from the Best National Broadsheet award, STAR reporters Helen Flores and Alexis Romero were adjudged Best Female and Best Male print journalists, respectively.
Romero is a Malacañang reporter. Flores covers the Office of the Vice President, Philippine Atmospheric Geophysical and Astronomical Services Administration as well as the Philippine Institute of Volcanology and Seismology.
Last year, the Trinity University of Asia feted STAR as Best National Broadsheet.
Romero thanked Trinity University for the recognition during the awarding ceremony with the theme "Glam World."
"In behalf of The Philippine STAR, the only paper you read from cover to cover, we would like to thank the Trinity University of Asia for this award. In this age of fake news and information overload, you can expect The Philippine Star to deliver credible, unbiased news that will empower the Filipinos while remaining faithful to its battle cry – Truth Shall Prevail," Romero said.
Trinity University started PSMA in 2015. The awardees are chosen by the students, faculty, non-teaching personnel, alumni and other community members such as parents, janitors and security guards of the university.
The university gives recognition to members of the media because of the "relevant inspiration rendered to the creative thinking, intellectual gratitude and social growth of the Trinitian community through their outstanding contribution in the media industry."
For television category, Ted Failon of ABS-CBN was cited as Best Male News Anchor, Jessica Soho of GMA7 as Best Female News Anchor, Ian Veneracion as Best Male TV Personality, Iya Villana-Arellano of GMA-7 as Best Female TV Personality, Vice Ganda as Best Talk Show Host, State of the Nation with Jessica Soho as Best Primetime News Program, Magandang Buhay as Best Morning Show, It's Showtime as Best Noontime Show, Bubble Gang as Best Gag Show, TV Patrol as Best News Program and ABS-CBN as Best Television Station.
Paolo Ballesteros won as Best Film Actor (Die Beautiful) and Julia Baretto as Best Film Actress (Vince & Kath & James).
For radio category, the awards were given to Mike Enriquez of GMA 7 (Best Male AM Broadcast Journalist), Karen Davila of ABS-CBN (Best Female AM Broadcast Journalist), dzBB (Best AM Radio station) and STAR FM (Best FM Radio Station).
Rappler was cited as Best Online News Outlet.