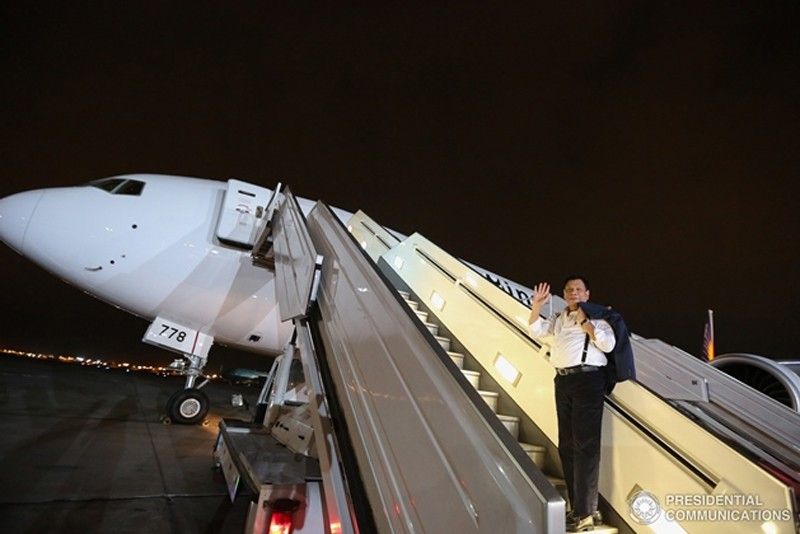 In this Nov. 21, 2016 photo, President Rodrigo Duterte boards the plane at Jorge Chavez International Airport on November 21 as he heads back to the Philippines following the Asia-Pacific Economic Cooperation Leaders' Summit in Peru.
PPD/King Rodriguez
Gov't spent P277M for Duterte's trips, says Palace
MANILA, Philippines — The government spent a total of P277 million for President Rodrigo Duterte's visit to a total of 12 countries, Malacañang said on Tuesday.
Presidential spokesman Ernesto Abella said the country gained from the visits because they paved way to agreements and investment pledges that can generate thousands of jobs.
"We're glad to report the windfall of President Duterte's official foreign visits last year. The President made a total of seven foreign trips, visiting a total of 12 countries since he took office. These visits incurred a total of about P277 million in expenses, which included airfare, charter lease and others," Abella said at a press briefing.
"These official trips are part of the President's obligation to maintain and strengthen diplomatic ties with neighboring countries and has clinched numerous economic investments and commitments amounting to billions of pesos and generate thousands of jobs in the following years," he added.
Abella did not provide a breakdown of the expenses.
Tuesday's briefing marked the first time the Duterte administration issued information about the expenses incurred during foreign trips. During the previous administration, Malacañang would release the cost of foreign trips on the same day of the president's departure.
The president's first foreign trip was in Laos, where he attended the Association of Southeast Asian Nation summit last September. He also went to Peru last November to participate in the Asia Pacific Economic Cooperation meet.
Other countries he visited include China, Japan, Brunei, Malaysia, Indonesia, Singapore, Vietnam and Cambodia. Duterte also had two brief stopovers last November. He passed through Thailand to honor the late Thai King Bhumibol before visiting Malaysia. He also had a layover in New Zealand after attending the APEC summit in Peru.
12 countries, 7 trips
Overall, the president visited a dozen countries in seven foreign trips. This means that the average expenditure for each foreign trip was P39.57 million.
"The visit to China, however, resulted in more than 20 agreements with an estimated value, total value of $4 billion and will generate over a 100,000 jobs," Abella said.
The agreements include a 50 million Renminbi grant for drug rehabilitation facilities and another 50 million Renminbi million grant for law enforcement-related equipment, he added.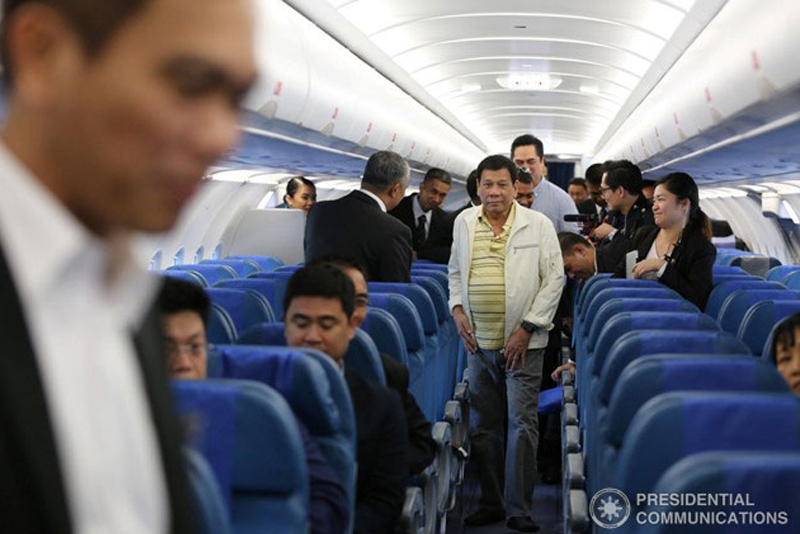 In this Sept. 5, 2016 photo, President Rodrigo Duterte chats with his Cabinet Secretaries inside the plane bound for Vientiane, Laos to attend the ASEAN Summit. PPD/King Rodriguez
The trip to Japan, Abella said, yielded about $1.85 billion worth of investment commitments that would generate about 250,000 jobs in the next few years.
"There were also about five government-to-government agreements signed, including the exchange of note and agreements up to $184 million," he said.
"Moreover, 15 pipeline loans were acquired by several national agencies during the visit in Japan, which includes the construction of a subway from North Avenue to Taguig and a high-speed railway from Manila to Clark."