Duterte: We can share West Philippine Sea oil with China
December 20, 2016 | 12:07pm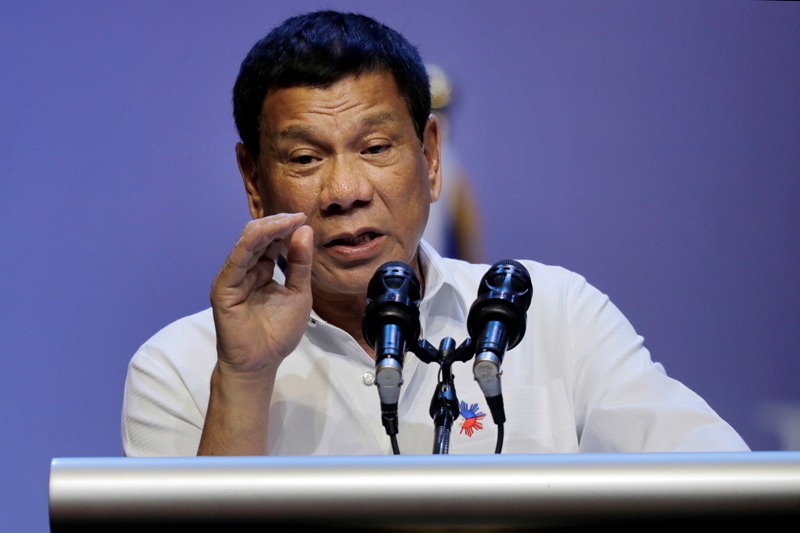 MANILA, Philippines — Despite maintaining that he will not deviate from an arbitral tribunal's ruling on the South China Sea, President Rodrigo Duterte said that he is willing to share oil with China.
The president reiterated that he does not want to go to war with China over maritime claims in the South China Sea, part of which Manila claims and calls the West Philippine Sea.
"Kung gusto ninyo, let's just develop what's the oil there, hati na lang tayo. Anuhin ko ba yang dagat kung walang... What will I do with this carbon source, swim there every day?" Duterte said in a speech in Malacañang on Monday evening.
Under the 1987 Constitution, "the exploration, development, and utilization of natural resources shall be under the full control and supervision of the State" although this can be done in partnership with Filipino citizens or with corporations owned by Filipinos.
The constitution also requires the state "to protect the nation's marine wealth in its archipelagic waters, territorial sea, and exclusive economic zone, and reserve its use and enjoyment exclusively to Filipino citizens."
In 2005, the Philippines, China and Vietnam agreed though their national oil corporations agreed to conduct joint explorations of the disputed South China Sea even though up to 80 percent of the Joint Maritime Seismic Undertaking site was within the Philippines' 200-mile exclusive economic zone.
The agreement, which expired in 2008, was opposed at the Supreme Court, which was asked to rule on the constitutionality of the deal.
Arbitral tribunal ruling
Duterte noted that he did not bring up the South China Sea issue with Chinese President Xi Jinping during his state visit to Beijing in October.
"Sabi ko kay... kay Xi Jinping that we will have to take this up but not now because I'm here as a visitor and 'yung sabi ko I cannot talk about it kasi labas na tayo. Bisita lang ako dito sa inyo but I will bring this up," the president said.
The president said that he will still to push for the Permanent Court of Arbitration's ruling on the South China Sea dispute during his term but not now.
Last week, however, Duterte said that he will set aside the ruling at least for now.
"In the play of politics, now, I will set aside the arbitral ruling. I will not impose anything on China," he said then.
Foreign Affairs Secretary Perfecto Yasay Jr. earlier said that Duterte will not deviate from the arbitral tribunal's ruling but also said in response to reports that China is putting weapons on some reclaimed islands it controls that the Philippines "cannot stop China at this point in time and say 'Do not put that up.'"
Revitalizing ties
The Philippine government is currently on its path to revitalizing bilateral ties with China which grew hostile during the previous administration to due territorial disputes.
"This we will continue to do for the foreseeable future, until such time that we achieve a trust level that will allow us to discuss the more sensitive issues in our bilateral relations," Yasay said.
The arbitral tribunal ruled that China violated its commitment to the United Nations Convention on the Law of the Sea by constructing artificial islands in the Philippines' exclusive economic zone.
The tribunal also concluded that Beijing's nine-dash line claim over the contested waters does not have legal basis.