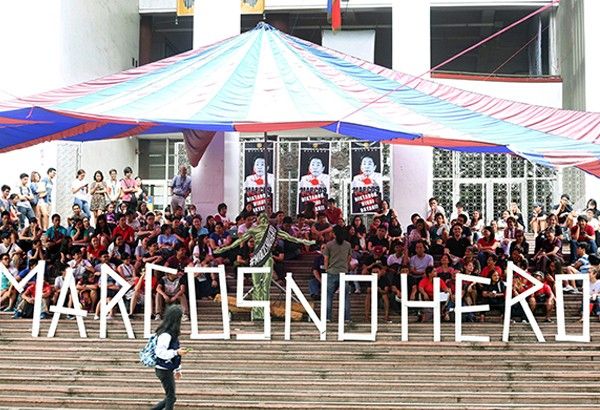 Groups opposed to the burial of former president Ferdinand Marcos at the Libingan ng mga Bayani gather at the University of the Philippines yesterday.
BOY SANTOS
Duterte wants military confined to camps today
MANILA, Philippines - Amid rumors of a coup, President Duterte has ordered the military restricted to barracks during the Black Friday protests today.
Duterte said on Wednesday that he respected the decision of various groups opposing the hero's burial accorded to former president Ferdinand Marcos.
Duterte ordered the military to stay put even after he revealed there were groups out to remove him from the presidency.
He also waived the need for anti-Marcos groups to secure rally permits.
Along with his directive, Duterte barred Armed Forces of the Philippines (AFP) personnel from mingling with the crowd or the police, the primary agency tasked to maintain peace and order during rallies.
"Consistent with these valued principles, let me assure you that while protest actions are being staged, our military forces will remain confined in their camps. They are restricted to be there in their proper places," Duterte said.
AFP chief Gen. Ricardo Visaya stressed the military's role is to support the Philippine National Police (PNP) to maintain peace and order in today's protest actions.
"It's the PNP who has the primary role and if they need assistance, our JTF-NCR is always ready to support the police," Visaya said, referring to the AFP's 200-strong Joint Task Force National Capital Region.
Various anti-Marcos groups are expected to converge in key areas of Metro Manila to denounce the hero's burial of the late strongman at the Libingan ng mga Bayani.
"We are hoping for the best but we are preparing to be deployed and to perform what we will be asked to perform in terms of maintaining order, in terms of maintaining discipline on areas where the freedom of expression would be held," AFP Public Affairs Office chief Col. Edgard Arevalo said.
Previous destabilization efforts during past administrations needed the support of the military, along with a critical mass of people, to succeed.
"We shall also keep a lean number of police personnel. Their role shall be limited to traffic enforcement and the basic policy standards. They are prohibited from carrying long firearms," Duterte said.
Duterte said he will not prevent anti-Marcos groups from conducting their protest rallies in respect of their constitutional rights of free speech and freedom of expression.
"Protest actions shall be allowed in all open public places for as long as they want with no time limit," Duterte said in Davao City upon his arrival from Peru.
Duterte attended the Asia-Pacific Economic Cooperation (APEC) forum in Lima and flew home to Davao City late Wednesday.
Duterte said he already learned of the plans to greet his return with protests.
At the same time, Duterte also threw questions to protesters questioning his decision to allow the Marcos burial.
"To all the protest organizations, let me throw this simple proposition to you: I will gladly and happy even to step down and relinquish my post if you can answer in the negative these two key questions: was the late Ferdinand Marcos a president and was he a soldier?" he said.
"Never mind about a hero. Because we are to document something like that. To document heroism requires history. That's not an easy task," he said.
Duterte maintained he was guided by the common good and the general welfare of the people in allowing the Marcos burial.
"In the absence of the protest organizations here or pending their availability for their actual answers, let me end this arrival statement tonight: all of the decisions that I have made and still have to make are always guided by the common good and the general welfare of the people," Duterte said.
"Be it in foreign affairs or in the domestic front, all actions of the government will be always driven by the desire to resolve and advance the national interests," he added.