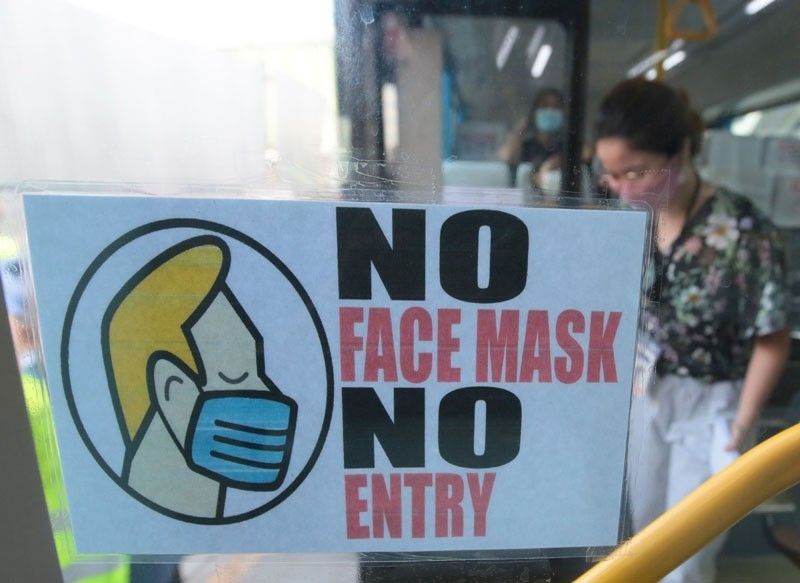 Metro Manila COVID-19 updates
LATEST UPDATE: January 13, 2021 - 9:38pm
+ Follow Story
January 13, 2021
The Quezon City government says it is closely monitoring the case of a resident who trested positive for the new COVID-19 variant, which was first detected in the United Kingdom.
City Epidemiology and Surveillance Unit says they are doing everything they can to trace and isolate, following the arrival of the patient from Dubai last January 7.
"We have to remain cautious and vigilant to avert the spread of this new variant. What is important is we take care of the resident, and make sure we don't sow panic in the community," Mayor Joy Belmonte says.
January 12, 2021
Manila prohibits street parties, stage shows, parades, palarong kalye and other similar activities that will draw crowd in the community in Pandacan and Tondo areas for the nnual Feast Day of Sto. Nino on January 16 to 17.
In Executive Order 2, Mayor Isko Moreno says such activities during fiesta regulation, if not regulated, can be an easy medium of COVID-19 spread and transmission.
Selling of liquor and other alcoholic beverages within Pandacan and Tondo will also be banned on the same dates.
January 11, 2021
Pasig City has ordered 400,000 doses of the AstraZeneca vaccine against COVID-19, Mayor Vico Sotto announces.
He adds, though, that "actual quantity and date of delivery will depend on several factors."
"We'll buy from others too as opportunities arise," he also says.
Many of us LGUs signed a tripartite agreement with AstraZeneca and the national govt yesterday.

Pasig ordered 400K doses (*100M pesos). Actual quantity & date of delivery will depend on several factors.

We'll buy from others too as opportunities arise.https://t.co/iwjrTssqr4

— Vico Sotto (@VicoSotto) January 10, 2021
January 5, 2021
The government of Quezon City is finalizing discussions for purchasing an initial batch of 750,000 does of COVID-19 vaccines.
Quezon City Mayor Joy Belmonte says the procurement will be through a tripartite agreement between the national government, local government unit and the pharmaceutical company.
"The LGU is not authorized to procure... The pharmaceutical company allocates what it can to LGUs that signify intent, with the national government procuring in behalf of the LGU," Belmonte says. — The STAR/Janvic Mateo
Isinasaayos na ang pagbili at pagkuha ng COVID-19 vaccines mula sa isang international company para sa paunang 750,000 na doses ng mga libreng bakuna para sa mga residente ng lungsod. pic.twitter.com/tjYP6iecHr

— Quezon City Government (@QCGov) January 4, 2021
December 22, 2020
Nine cities in Metro Manila have seen an increase in their average daily new COVID-19 cases, according to the University of the Philippines' OCTA Research team.
As infection rate in the capital region went up to 1.15, the following cities saw a rise in daily cases: Quezon City, Makati, San Juan, Marikina, Malabon, Taguig, Navotas, Valenzuela and Caloocan.
"Based on the available data, the period of the declining trend in cases observed in the NCR in the pas few months has now ended. The trend has been reversed with significant positive growth in new cases observed in the region," UP-OCTA Research says. — report from ONE News
December 21, 2020
Valenzuela City will exempt cyclists from the requirement to wear face shields outdoors, Mayor Rex Gatchalian announces.
ADVISORY: Exempted sa pagsusuot ng face shield ang mga nagbibisikleta sa Valenzuela City.

Gayunman, kung magtutungo na sa pampublikong lugar o papasok sa establisyimento, kailangang muling magsuot ng face shield. pic.twitter.com/3mYdEzySqY

— Rex (@rex_gatchalian) December 21, 2020
They will still have to put a face shield on when in crowded areas or indoors, the mayor says.
Pasig City over the weekend announced a similar exemption, saying "evidence shows and consultation among bikers reveals that biking while wearing a face shield is dangerous."
"Wearing a face shield obstructs view and makes breathing difficult," Pasig Transport also said.
December 20, 2020
Defense Secretary Delfin Lorenzana debunks rumors that the quarantine classification in Metro Manila will be shifted to a stricter status for the holidays.
Lorenzana says the capital region will remain under general community quarantine until yearend. — report from The STAR/Romina Cabrera
December 20, 2020
Meralco has agreed to extend its no-disconnection policy for its customers who fail to pay their electricity bills until Jan. 31, 2020, according to Speaker Lord Allan Velasco.
This development comes after Velasco wrote a letter to Meralco president Ray Espinosa in November.
Meralco extends its no-disconnection policy, which will benefit more than 3 million customers, following a "careful evaluation and in consideration" of the House leader's request.
December 6, 2020
Quezon City's local government is set to officially roll out its City Bus Augmentation Program starting Monday, under which the LTFRB will grant provisional authority for public utility buses to ply through eight routes in the city.
The city administration says the program will be open to the public for its initial run, but will eventually require passengers to present the soon-to-be-released QCitizen ID Card.
It adds that buses will only stop on designated pick-up and drop-off points along routes. — Franco Luna
November 10, 2020
The STAR reports Metro Manila's mayors have agreed to ban caroling in their jurisdictions to prevent the spread of COVID-19.
According to Metropolitan Manila Development Authority general manager Jojo Garcia, the proposal will be forwarded to the Inter-Agency Task Force on the Management of Emerging Infectious Disease.
October 28, 2020
"All of the OVP staff who were exposed last week tested negative," Vice President Leni Robredo announces on her Twitter account.
"Thank God!! All the activities today and the succeeding days will proceed as scheduled. Thank you all for your prayers and well wishes. They are very much appreciated," she also says.
Robredo said last Saturday that she would go into self-isolation after finding out she had "very close contact" with a COVID-19 patient.
"Following protocols, we decided to do self quarantine beginning Friday until we get a swab test," she said then.
October 27, 2020
A recording of President Rodrigo Duterte's meeting with the Inter-Agency Task Force on the Management of Emerging Infectious Disease will be aired at 8 a.m., according to an advisory from the Palace late Monday night.
Duterte is expected to announce new quarantine classifications for November.
October 23, 2020
The Manila city government and Quiapo Church have agreed to cancel the grand procession of the image of the Black Nazarene in January 2021 in light of the pandemic.
It is the first time that the procession for the image of the Black Nazarene, where millions of barefoot devotees take part yearly.
Mayor Francisco 'Isko Moreno' Domagoso says in a statement that public health protocol must prevail over religious traditions because of the threat posed by COVID-19.
"Nakikisuyo po ako, iwasan po muna natin ang mga parada at prusisyon ngayong may pandemya dulot ng sakit na COVID-19. Maaari pong mapahamak ang ating mga deboto, mailagay sila sa alanganin," Domagoso says.
(I am asking that we avoid parades and processions during the COVID-19 pandemic. Our devotees might get sick, they will be at risk)
October 19, 2020
Manila Mayor Isko Moreno will raise the capacity at churches and other places of worship to 30% from 10% of seating capacity.
Moreno says in a report by Super Radyo dzBB, the increased seating capacity "on the premise that the leaders of the chruch will continue to practice simple protocol under the IATF rules."
October 8, 2020
The city of Manila prohibits the use of karaokes, videokes and other sound-producing devices that may disturb the community from 7 a.m. to 5 p.m., Monday to Saturday.
The city council released the ordinance to support students studying from home.
Violators will be fined P1,000 for first offense, P2,000 for second offense and P3,000 for the third and succeeding offenses.
October 7, 2020
The Land Transportation Franchising and Regulatory Board has ordered the removal of fees from Automated Fare Collection System cards.
This comes within days of the Department of Transportation ordering the "No Beep card, no ride" policy on the EDSA Busway over the collection of P80 per card by service provider AF Payments Inc.
AF Payments had said the cards were being sold for zero profit and were partially subsidized.
The LTFRB says commuters will only have to pay for their fare and not the reloadable cards.
October 6, 2020
AF Payments Inc. will give away 125,000 Beep cards to the public for free, ONE News reports.
This comes after the Department of Transportation threatened to suspend the use of Beep cards on the EDSA Busway over an 80-peso fee that AFPI collects for the cards.
President Rodrigo Duterte on Monday night said the cards should be free.
The company behind Beep card says it is giving away 125,000 Beep cards to the public for free, after commuters found the card's P80 purchase free burdensome. pic.twitter.com/MPcYtnq31X

— ONE News PH (@onenewsph) October 6, 2020
ONE News reports said the cost of the cards, which AF Payments last week said is sold at zero profit and is already partially subsidized, will be shouldered by its shareholders "as well as donations from Ayala Infrastructure's various business groups."
October 4, 2020
The Department of Transportation says it will suspend implementation of the Beep cards on public utility buses after implementing the project on October 1.
It said the suspension is because of "the refusal of AF Payments, Inc., the provider of the automatic fare collection system (AFCS) at the EDSA Busway, to waive the cost of the beep card despite consistent pleas made by the government."
AF Payments this week said the cards are already sold at no profit and are partially subsidized,
"The EDSA Bus Consortia stated that they will look for another AFCS provider who can offer a better solution to the existing problem. Meeting with other AFCS providers is scheduled on Tuesday morning," DOTr also said.
September 30, 2020
Manila Mayor Isko Moreno says the local government will be conducting regular free mass swab testing for public market vendors, mall employees, mall employees, supermarket employees, hotel staffers, restaurant workers and drivers of public transportation.
Moreno says they will try to reach as many as possible with the help of the new RT-PCR molecular laboratory at Sta. Ana Hospital.
"Gusto namin bigyan ng kapanatagan ang mga Batang Maynila, na ang mga manggagawang nakakahalubilo nila ay mga healthy persons. We need to manage and balance public health and the economy," Moreno says.
September 13, 2020
MMDA General Manager Jojo Garcia says Metro Manila mayors have agreed to close all cemeteries on All Saints' Day as a precaution against the coronavirus.
Garcia adds the mayors will meet Sunday night for the guidelines of the implementation of this decision.
September 10, 2020
Cemeteries in San Juan City will be closed from October 30 to November 3 as a precaution against COVID-19.
San Juan Mayor Francis Zamora says he signed an executive order for the temporary closure of all public and private cemeteries in the city. All halloween activities will also be banned.
"Ito po ay para sa kabutihan at kaligtasan ng lahat," Zamora says.
August 18, 2020
MRT-3 will be resuming its operations on Wednesday, August 19, as Metro Manila ends its modified enhanced community quarantine status.
This announcement comes after President Rodrigo Duterte declared that Metro Manila and, Laguna, Rizal and Bulacan will revert to a more relaxed general community quarantine.
MAHALAGANG PAALALA

Balik-operasyon na ang mga tren ng MRT-3 simula bukas, 19 Agosto 2020, matapos i-anunsyo ni Pangulong Rodrigo Roa Duterte na isasailalim muli sa General Community Quarantine (GCQ) ang National Capital Region (NCR). pic.twitter.com/xamUADv6EZ

— DOTr MRT-3 (@dotrmrt3) August 18, 2020
August 17, 2020
Pasig City Mayor Vico Sotto announces that the local government passed an ordinance waiving all regulatory fees for private schools until face-to-face classes are allowed.
"We know private schools are having a difficlut time too, and some are in danger of closing. Many of their students can't afford tuition anymore," Sotto says.
The local ordinance also includes extension of scholarship fund to 3,000 indifent private school students.
1. Passed an ordinance waiving ALL regulatory fees for private schools until face-to-face classes are allowed;

2. Extension of Scholarship Fund to 3,000 indigent private school students. the schools will help us identify the beneficiaries.

[Mtg w PAPRISA & our parochial school] pic.twitter.com/gaHQbTwbk0

— Vico Sotto (@VicoSotto) August 16, 2020
August 14, 2020
The government of Quezon City is considering to place at least 25 villages inder special concern lockdown for being COVID-19 hotspots, Cabinet Secretary Karlo Nograles says.
Nograles, co-chairperson of the inter-agency task force on COVID-19, says they have agreed with Quezon City Mayor Joy Belmonte on a six-step approach to address the pandemic.
"Quezon City has already been doing special concern lockdowns to control transmission," he says in an interview with ANC's "Headstart".
August 12, 2020
The Metropolitan Manila Development Authority announces it will allot P20 million from its 2020 internal income for the purchase of COVID-19 vaccines once available to protect its employees.
"The vaccine will add up to our sustained efforts against COVID-19. Our personnel who are mostly frontliners can be fully secured of their health," MMDA Chairman Danilo Lim says.
"Our employees' families are as important as they are to us. We want them to be protected, too," Lim adds.
August 8, 2020
St. Luke's Medical Center announces that its COVID-19 wards and ICUs in Bonifacio Global City and Quezon City are at full capacity.
"We would like to request those who require immediate care to seek COVID-related treatment from other healthcare facilities until our hospitals are able to accommodate COVID cases again," it says in a statement posted on Facebook.
August 6, 2020
Restrictions on transportation during the August 1-18 Modified Enhanced Community Quarantine will be more lenient than during the previous lockdown, the Inter-Agency Task Force for the Management of Emerging Infectious Disease says in a press release.
Tricycles will be allowed to ply routes but are limited to just one passenger while pillion riding on motorcycles will be allowed "provided that they have the IATF-approved barrier installed."
Passengers will not be limited to the driver's spouse or partner.
August 4, 2020
Quezon City reimposes its liquor ban in light of the Modified Enhanced Community Quarantine declared over Metro Manila.
Under the ban, selling or distributing alcoholic beverages is prohibited "from August 4, 2020 to August 18, 2020 (or until expiration of the MECQ, if MECQ is further extended)."
Previously, selling of alcoholic beverages was allowed from 1 p.m. to 5 p.m. with limits on how much alcohol could buy.
Drinking is allowed in private residences.
August 3, 2020
The Pamantasan ng Lungsod ng Maynila will be on lockdown for two weeks starting August 3 to curb the spread of the coronavirus in the campus. With this, employees will be adopting a work from home arrangement for the time being.
The university currently has four confirmed cases, two recovered patients and one death among employees with three probable and one suspect cases.
"We are taking this two-week timeout as an extra precaution as we acknowledge the current health situation in our campus, in the City of Manila, and in the country. We are hoping that in our own way, we can prevent further COVID-19 infections within our community," PLM President Emmanuel Leyco said.
August 3, 2020
Coronavirus cases in the Philippines may reach 220,000 by the end of August if Metro Manila remains under general community quarantine, UP Professor Ranjit Rye says.
Now that Metro Manila and nearby provinces will return to modified GCQ, there would be 50,000 to 70,000 cases less, he adds.
August 3, 2020
Vice President Leni Robredo calls for another batch of volunteers for her team's COVID-19 response operations in Metro Manila.
"MECQ has just been declared. We will be activating most of the services we offered for our frontliners in March and April," Robredo says.
Those who are interested to volunteer may email ovpcovid19volunteers@gmail.com with the following details: name, address, contact number and email address.
August 3, 2020
As Metro Manila goes under modified enhanced community quarantine, MRT-3 announces that it will suspend its operations from August 4 to 18 or until the capital region will go back to general community quarantine.
"Pinapayuhan ang lahat ng mga commuters na manatili sa kani-kanilang bahay at iwasan ang paglabas ng bahay sapagkat magiging mahigpit na ang seguridad sa iba-ibang lugar," MRT-3 says in a statement.
MAHALAGANG PAALALA:

Dahil sa pagpapanumbalik ng Modified Enhanced Community Quarantine (MECQ) sa Kalakhang Maynila, pansamantala po munang ititigil ang operasyon ng MRT-3 simula Aug. 4, hanggang Aug. 18, o hanggang maibalik muli ang NCR sa GCQ. pic.twitter.com/dn0jveXxYy

— DOTr MRT-3 (@dotrmrt3) August 3, 2020
August 2, 2020
Going back into lockdown would be a "serious and sweeping decision with equally serious repercussions across the board," Quezon City Mayor Joy Belmonte says in a statement quoted in media.
She says there is no assurance that a return to the Enhanced Community Quarantine as requested by medical frontliners "will have the effects the frontliners anticipate."
She adds that she hopes the Inter-Agency Task Force on the Management of Emerging Infectious Disease would dialogue with medical frontliners "and discuss with them each and every one of their concerns, because it might be possible that their issues, when compartmentalized, can be addressed without having to go back into lockdown."
August 2, 2020
The Inter-Agency Task Force for the Management of Emerging Infectious may consider enhanced community quarantines at the barangay level, Rep. Bernadette Herrera (Bagong Henerasyon party-list) says.
She says that the IATF can let Metro Manila's mayors "swiftly impose ECQ for clusters of barangays, city blocks, and buildings with high and medium risk of infection spread based on solid data on confirmed, probable, and suspect cases, as well as specific local conditions that influence disease spread."
"This could be a viable alternative to a Metro Manila-wide ECQ or Modified ECQ. With this approach, we spare the recently-opened small business from ECQ or MECQ shutdown, as well as residential areas which low or zero COVID-19 cases."
July 31, 2020
The National Task Force, the Department of the Interior and Local Government and the Coordinated Operations to Defeat Epidemic Teams will implement a "strictly localized lockdown" in barangays with high community transmission in NCR and Region IV.
"Also part of the measures are stringent enforcement of minimum health standards; massive targeted testing, intensified tracing, and quarantine of close contacts; isolation of confirmed cases; and strict adherence to Oplan Kalinga implementation," presidential spokesperson Harry Roque said.
Government hospitals in NCR and Region IV have been directed to increase hospital beds dedicated to COVID-19 patients up to 50% while private hospitals are enjoined to increase up to 30%.
July 25, 2020
The main office of the Bureau of Immigrations will be closed temporarily on July 27 and 28 "as a precautionary measure" against COVID-19, according to a document acquired by Philstar.com.
The closure was prompted by "the increasing number of employees who tested positive in the rapid antibody-based tests and swab tests."
The note, submitted by Deputy Commissioner Aldrin Alegre and approved by Commissioner Jaime Morente, also recommended monthly rapid tests all immigration employees.
July 21, 2020
The Presidential Communications Operations Office will suspend its work on July 21 as safety precaution after an employee tested positive for COVID-19.
In a bulletin, the PCOO Undersecretary Marvin Gatpayat said the New Executive Building at Malacañang Palace Compound will be disinfected and swab testing will be conducted for primary and secondary contacts.
The PCOO will resume work on July 27 in time for President Rodrigo Duterte's fifth State of the Nation Address.
July 20, 2020
St. Luke's Medical Center on Monday announces that both of its hospitals in Quezon City and Bonifacio Global City (Taguig) have reached full capacity in all intensive care units for COVID-19 patients.
The hospital says its critical care beds in the emergency room, as well as COVID-19 wards in both hospitals, are also full.
"In this regard, we encourage COVID patients, including suspect and probable cases, to temporarily seek treatment from other healthcare facilities for the time being," SLMC says in a statement.
July 15, 2020
Metro Manila will remain under General Community Quarantine for two more weeks, presidential spokesperson Harry Roque says.
He says the National Capital Region was initially supposed to return to Modified Enhanced Community Quarantine as recommended by UP researchers but local mayors had said they would be able to respond to possible increases in cases in their areas.
July 15, 2020
Government should enter service contracting with public transportation operators to provide more buses, jeeps and other modes of transport for Metro Manila's workers and commuters, Sen. Risa Hontiveros says.
"Commuting continues to be difficult and many drivers still don't have a source of livelihood. That isn't what the 'new normal' should be," she says in Filipino.
"Government should engage the public transport sector via service contracting to enable the speedy and safe return of jeeps and buses to our streets."
Service contracting means the government will operators to ply routes regardless of how many passengers they ferry.
Hontiveros says service contracting should also be done in other areas under General Community Quarantine.
July 14, 2020
The Quezon City Legislative building will be temporarily closed from July 15 to July 19 after three city councilors and some office staff test positive for COVID-19.
The closure may last longer if the City Epidemiology and Surveillance Unit needs more time for testing and containment measures.
"The CESU will conduct exhaustive contact tracing as appropriate and follow-up testing as necessary," the QC government says.
July 13, 2020
Makati Medical City declares full capacity following of a review of its bed utilization and manpower.
The hospital says it has attended to thousands of suspected COVID-19 patients since its outbreak in February when it had to increase physical and manpower resources to accommodate more patients.
"Much as we would want to extend the same degree of care and attention to any additional admission for COVID-19, MMC has reached its threshold in capacity to respond to more COVID-19 patients," the hospital says in a statement.
July 13, 2020
St. Luke's Medical Center announces that both its hospitals in Quezon City and Taguig City have reached full capacity of allocated COVID-19 beds in the intensive care unit.
The hospital asks the public to consider bringing critically ill COVID-19 patients to other hospitals.
"Both hospitals remain open to accommodate admissions and treatment of non-COVID19 cases, including outpatient procedures," SLMC says in a statement.
July 8, 2020
Quezon City Mayor Joy Belmonte on Wednesday announces that she tested positive for COVID-19.
In a statement posted on the Facebook page the Quezon City government, Belmonte says she might have gotten he virus from visiting health centers and hospitals, special concern lockdown areas and communities in the city.
"Nangyari po ito sa kabila ng aking ibayong pag-iingat, pagsusuot ng facemask, madalas na paghugas ng kamay at social distancing," Belmonte says.
July 7, 2020
CNN Philippines goes off the air temporarily as its Mandaluyong office is disinfected, the station's staff announce.
A member of the network's utility staff tested positive for COVID-19, prompting the disinfection.
July 6, 2020
The MRT-3 will suspend its operations from Tuesday, July 7, the Department of Transportation announces.
"The temporary shutdown will be undertaken to give way to RT-PCR (swab) testing of all MRT-3 personnel, including those of its maintenance provider and subcontractors, to prevent further spread of the disease, and, most importantly, to protect the health and safety of both its personnel and commuters," it says.
The suspension of operations will be until July 11, although the MRT-3 management says the shutdown may last "until RT-PCR testing confirms a sufficient number of COVID-19 negative personnel to enable resumption of at least limited operations."
"To help ferry commuters, the MRT-3 Bus Augmentation Program will continue with 90 buses and fixed dispatching interval of every 3 minutes. In addition, 150 buses will be deployed for the EDSA Busway service, carrying passengers between Monumento and the Parañaque Integrated Terminal Exchange (PITx)," it also says.
July 6, 2020
The MRT-3 on Monday deploys a fewer number of trains as more MRT personnel tested positive for the novel coronavirus. Up to 186 MRT personnel have tested positive for the virus as of Sunday 6 p.m.
As of 8:10 a.m., the MRT- said it has 10 to 11 trains running, down from last week's 16 to 19 trains.
MRT personnel who have contracted the virus have been admitted to government quarantine facilities in the World Trade Center, Philippine Arena and PhilSports Arena.
July 5, 2020
There have been 172 MRT-3 personnel who have tested positive for COVID-19, The STAR reports, quoting a statement by the train line's management.
Of those infected, 166 are personnel from the North Avenue station. Among those who tested positive were ticket sellers, a station nurse, and a train driver.
July 3, 2020
Southville III in Barangay Poblacion in Muntinlupa City will be on a 24-hour curfew until July 15 because of an increase in COVID-19 cases there.
According to a barangay resolution announcing the curfew, there are now 27 confirmed cases in Southville III.
The 24-hour curfew means only the following residents are allowed to leave their homes:
Emergency cases
People with quarantine passes going out for essential goods and medicine
Those going to work in industries operating under GCQ
Other Authorized Persons Outside of Residence (APORs)
July 2, 2020
The following barangays in Quezon City are considered at high-risk areas — those with 10 or more active cases per 10,000 persons — according to a June 26 analysis by the city government. The classification is based on risk zoning criteria from the Inter-Agency Task Force for the Management of Emerging Infectious Diseases.
District 1
San Jose
Santa Cruz
Salvacion
Maharlika
Bungad
NS Amoranto
District 3
Libis
E Rodriguez
District 4
Kalusugan
Kristong Hari
San Martin de Porres
Mariana
Obrero
Central
Horseshoe
Kaunlaran
District 6
Apolonio Samson
Sangandaan
New Era
Balong Bato
Follow this thread for updates on COVID-19 risk levels, safety measures, and data from Metro Manila's local government units.
Photo: The STAR/Michael Varcas