Harry Styles is a show on his own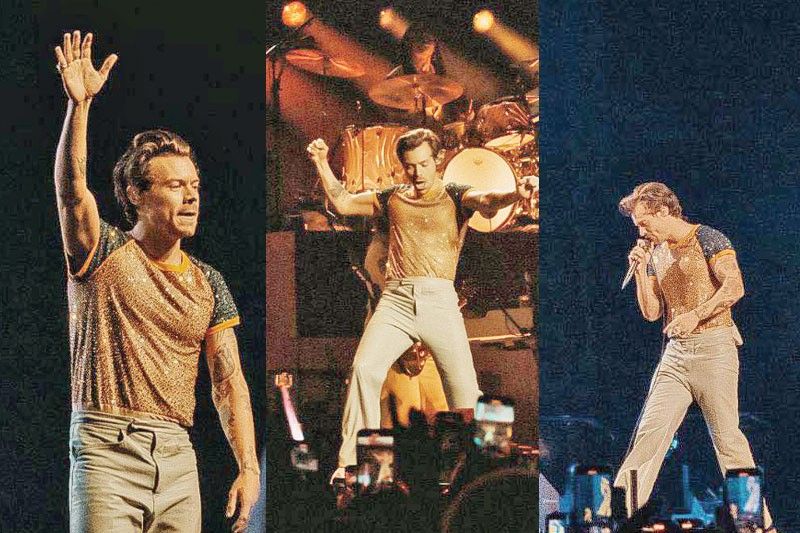 MANILA, Philippines — Harry Styles: Love on Tour 2023 will linger like a delicious memory for all the fans who came to see the English superstar perform again on the Philippine stage. At noon on March 14, slews of feathers, sequins, cowboy hats, and printed flares splashed the gardens of the Philippine Arena with colors as bright as the midday sun.
Lines for ticketholders of the early entry premium standing (priced at P17,500 each) grew to coil around the venue. The fans were oblivious of the scorching heat and only eager to get their hands on the free merch that went with the VIP package and to get inside the arena.
It seemed a beautiful story had been planned out for the night. Minutes before the concert started, an audience of youthful vibe slowly filled the 55,000-seater huge indoor arena. The stage was straightforward and devoid of embellishments. The black cloths covering the band's instruments were unceremoniously lifted by staff. Exactly 10 minutes before Harry Styles appeared on stage at 8 p.m., the lights went out section by section in the venue, sending concertgoers roaring in excitement. Mobile phones, penlights and light sticks flickered in the dark as Bohemian Rhapsody was played and the enthusiastic crowd sang along.
Everyone was under a magic spell by then. This kind of experience was taken away during the pandemic and it felt right to savor it again by having back one of the world's biggest pop stars.
Introduced by a brief silence, Harry appeared on stage, in the flesh, in sparkling blue and gold shirt, teal gray trousers, and Adidas x Gucci Gazelles. His image being flashed on the three huge screens alone was worth the price his devotees paid to get in. His opening number, Music for a Sushi Restaurant, sent the audience on their feet, unable to sit again until the end.
Harry is a great musician who charms and engages his followers extremely well. He would strap his guitar and sing away his familiar hits. In between flying kisses and profuse gratitude to his Filipino fans, he sang Golden and followed it up with Adore You before turning around for a quick gulp.
He came back and checked on his audience with "Kamusta, Philippines! Good evening people of Manila, my name is Harry," and the crowd went wild. The loud and loving Harry Styles enthusiasts reciprocated the energetic performance of the Grammy Album of the Year (Harry's House) winner by singing along with him, letting the guy know how well they've memorized his songs.
Harry promised a great night in the beginning of the concert and fans wondered how quickly the songs flew by. He gave an enthralling performance of his hits that included Keep Driving, Daylight, Woman, Little Freak, Cinema, Late Night Talking Treat People with Kindness, Watermelon Sugar, and Love of My Life.
He would go from end to end of the stage, covering all corners, waving to the crowd, gyrating and sending the girls to a frenzy with his signature moves. No more than the stage lights, his band, his moves were needed to create a new memory for his fans. The songs they expected had been sung and he appeared as human as each of them. He also did a first in his Love on Tour concerts — a duet with a fan who proposed to his girlfriend.
The Manila concert was a narrative of Harry Styles and his fans from this part of the world. The former lead of One Direction sang the band's hit, What Makes You Beautiful, a reminder of his first visit in the country, when he and his fans were still short of being adults. He came back as a solo performer in 2018, dealing with life's lessons.
In November 2022, concert producer Live Nation Philippines announced that they were bringing Love on Tour to the country. Harry returned for the third time to bring his hit, As It Was, with a vigor from a man who has seen the world. It could be from that knowledge that the English singer-songwriter must have been aware of what to bring to his audience in the Philippines.
Clearly, he needs no pyrotechnics, nor zombies and cobras, not even a flamboyant attire. HS (his initials that are found on countless outfits worn on his concerts) is a show on his own, a theatrical figure who etches his image on the memory of his fans, always hypnotic and stimulating. His presence alone sufficed to send shivers into their spines, to bring out energy from those who watch and adore him.
Harry's fans went home an hour and a half after the show started, taking with them the sheer joy of his Satellite Stomp, his humor as he amused the crowd with the Banana Song, his solemn stance in doing Matilda, and the image of him happily waving the pride flag, a symbol of inclusivity and of safe space that does not fear judgment. Plus, all of those emotional choruses where he encouraged his fans to sing along like in the Sign of the Times, as well as his gratitude and acknowledgment of their support for him through the years.
As It Was was finally sung by dear Harry in the Philippines. His supporters then became anointed members of Harry's House as the singer playfully threw water on them to end another sweet HS memory.