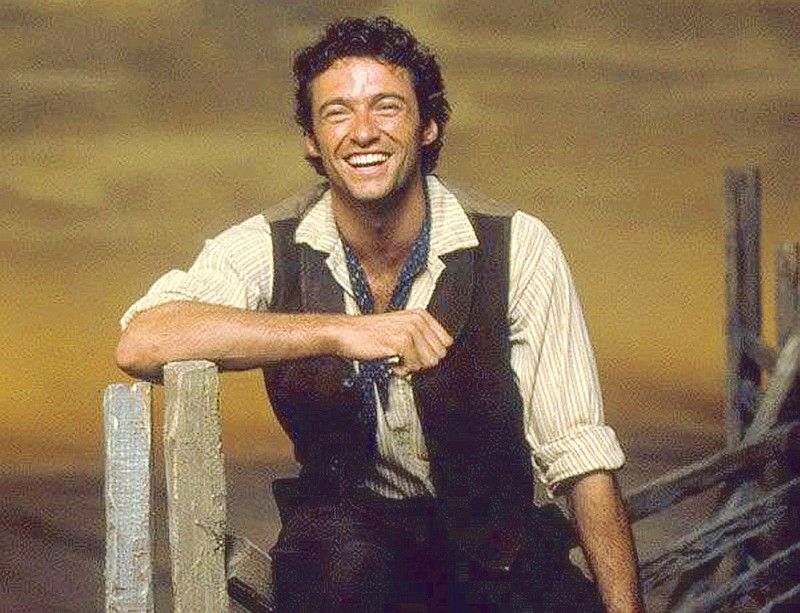 Hugh Jackman is a singing and dancing leading man with cowboy sex appeal.
Jackman gives Oklahoma one fantastic Curly
Each time I watched Hugh Jackman in a movie, I would wonder how he is able to be an action hero and a star of musicals at the same time. I know John Travolta did this, too, in Grease and Face Off, but not to the same extent.
Remember Jackman became a major star because he was cast as the mutant Wolverine/ Logan in the X-Men franchise. And he played the part very well that he starred in eight blockbuster X-Men flicks. Then note that he also starred in two of the most successful film musicals of all time, the big screen version of Les Miserables and the P.T. Barnum biopic, The Greatest Showman. He was also in top form in both.
So how is he able to do that? Last week I got my answer. The reason is not only because he is a competent actor but because he has the chops to be both. That is play a taciturn hard-fighting hero and in the next breath, be a singing and dancing leading man. That is how he is in the role of Curly in the iconic Rodgers and Hammerstein musical Oklahoma.
These past weeks of lockdown situations in many parts of the world have flooded the web with all types of content. This is the way that entertainers are doing their bit to make our being cooped up at home tolerable. I must say that the offerings are not only varied but over the top in quality and star value and I am actually wishing for more time to watch them all.
One of these was the filmed staging of Oklahoma at the Royal National Theater in 1998 which was shown last weekend. It was presented by the Rodgers and Hammerstein Organization on Broadway HD for free, no subscription needed. It is quite long, nearly three hours, but made for truly enjoyable viewing.
Oklahoma, which opened in 1943, was the first musical that Rodgers and Hammerstein collaborated on. They wanted to create a true American musical that is story- and song-driven. It is a simple tale about cowhands and farmers who have settled in the territory of Oklahoma that would soon become a part of the United States. Set inside this is the love triangle of Curly, the headstrong girl Laurey and the farmhand Jud Fry.
Oklahoma turned out to be so successful with 2,000 performances during its initial Broadway run and also won the Pulitzer Prize. Its songs like O What A Beautiful Morning, People Will Say We're In Love and Surrey With the Fringe on Top became big hits. The rousing title theme became the official song of the state of Oklahoma.
It is generally acknowledged that Oklahoma ushered in the Golden Age of musical theater. It was the beginning of the incredible partnership of Rodgers and Hammerstein who went on to create The Sound of Music, Carousel, Flower Drum Song, The King and I, South Pacific and Cinderella in the ensuing years. We owe the existence of those masterpieces and other Broadway musicals to Oklahoma.
Directed by Trevor Nunn, the London revival, though darker than earlier versions or even than the sunshiny movie adaptation, was a masterful production. The setting was effective though minimalist. The dancing superb. The music as transporting as ever. And the cast is just how I have always imagined they should be. Shuler Hensley as Jud Fry won the Tony, Oliver and Drama Desk Awards for his work but it was Jackman who oozed star from every pore.
Jackman, a theater and television actor from Australia, was first noticed when he played Gaston in Beauty and the Beast. Oklahoma was his big international break and, I say, that whoever brought him to London deserves a medal. He gave Oklahoma one fantastic Curly, a singing and dancing leading man with cowboy sex appeal. And he set Jackman, young, curly haired and a very good baritone on his way to stardom.
I could not help thinking that if Steve McQueen tried singing or maybe if Robin Padilla could, they would be like Jackman in Oklahoma. I am so glad, I sat down to watch, and I loved all three hours of it.
So I made sure to check out the Broadway HD quarantine sked and found out that next on tap and also free is Peter Pan, one of my favorites. Who says, no theater this season?