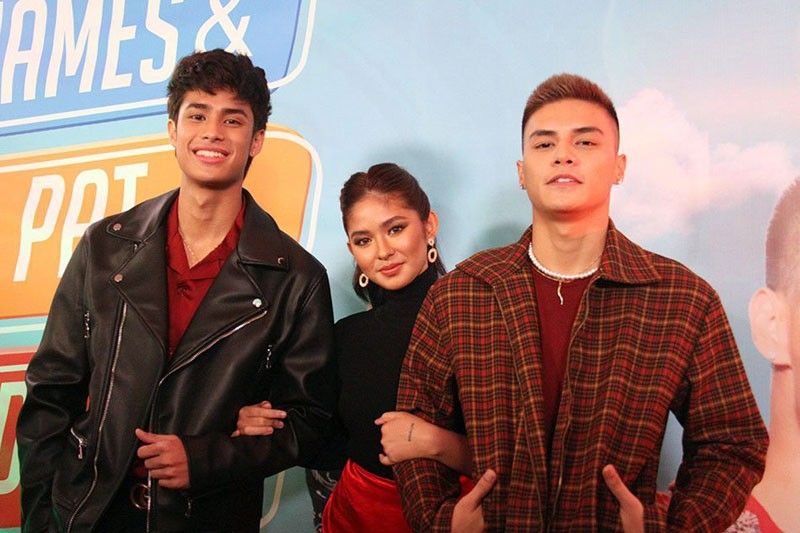 The stars of James and Pat and Dave, from left, Donny Pangilinan, Loisa Andalio and Ronnie Alonte: Good vibes in the age of anxiety.
Doing fun movie in the age of gloom
MANILA, Philippines — This is no good month to feel optimistic about anything.
The earthquakes, the volcano eruptions and now the Wuhan virus epidemic have rendered everyone glued to their cell phones and waiting for the next bad news.
But after watching the trailer of direk Theodore Boborol's latest movie, James and Pat and Dave, you get the drift of good vibes and you realize it's possible to have fun with all the bad news weighing on everyone.
For one, the cast is young, the story totally relatable. It is the kind of movie that even senior citizens would want to watch to recall their "freewheeling younger days" when falling in love was all you need to be happy.
Direk Theodore shares his mindset when dealing with young actors. "I value truth and authenticity when it comes to acting. So that when it comes to actors who are young and newcomers, I'd rather that they portray characters not far from their real-life persona. I try to bond with them to understand their mindset as well which can be insightful in telling the stories of people their age."
He thinks he has assembled a good cast. "Ronnie (Alonte) has 'it.' He has an actor's debonair presence. I'm excited to work with him now because he is determined to prove his detractors wrong. That 2016 was a banner year for him was not a fluke. He's in it to win. Loisa (Andalio) is a versatile actress. She can do drama; she can do comedy. Always prepared before coming to the set, she's bold and brave to take risks in acting. Donnie (Pangilinan) is the next star to watch out for. He is a classic leading man and a sensitive and sensible actor."
James and Pat and Dave is his homage to the Pinoy teen romcoms he grew up with. Thus, the movie has its share of fun and kilig and he made sure it is light, relatable and heartwarming.
He adds: "My actors are working millennials so their core values are always rooted to the reason why they're acting, that is their families. All three are family-oriented. Loisa is the breadwinner of her family. Ronnie has big dreams for his. Donny is continuing a family legacy."
Direk Theodore started directing films in 2015 when he handled the first LizQuen project, Just The Way You Are. It was followed by Vince & Kath & James which launched Joshua Garcia, Julia Barretto and Ronnie Alonte in the MMFF circuit. He also directed the last team-up of John Lloyd Cruz and Sarah Geronimo, Finally Found Someone.
Last year, he turned indie and directed his first Cinemalaya film, Iska. It won for Ruby Ruiz her first Best Actress trophy.
He has been in showbiz for 20 years. "I started straight out of college as researcher for Star Cinema. My most fulfilling is Vince & Kath & James because I found my voice in that movie. I had good memories doing it as well."
On TV, one of his most satisfying projects is Angelito: Batang Ama which launched JM de Guzman's career.
Through all those projects, he learned that a director should also be a psychologist. "You have to understand the psyche of your actors to be able to direct them well. You also need to understand the psyche of your working crew and producers for better work relations. I never worked outside showbiz since college graduation but I remember my second option would be to use my Broadcast Communication degree as a pre-law course."
Even with several successful projects to his credit, he cannot as yet predict if a movie will find good acceptance at the box office or not. "Movie audiences now have many viewing options. They have to find an exciting reason to watch a film in a movie house. There is no formula as to which movie will make it at the tills. All you can do is to come up with a really good film that is also relevant to the times and where audiences can easily connect. With the depressing times now, I think my film is just timely. We really need to put hope, love and light into everyone's lives. I hope my latest film can do that."
On his insight after 20 years in showbiz, he shares, "I still have a lot to learn as a director. But what I have learned so far is that to be a good director, you also have to be a good person. Everything will run smoothly after that."
James and Pat and Dave is now showing in cinemas nationwide.