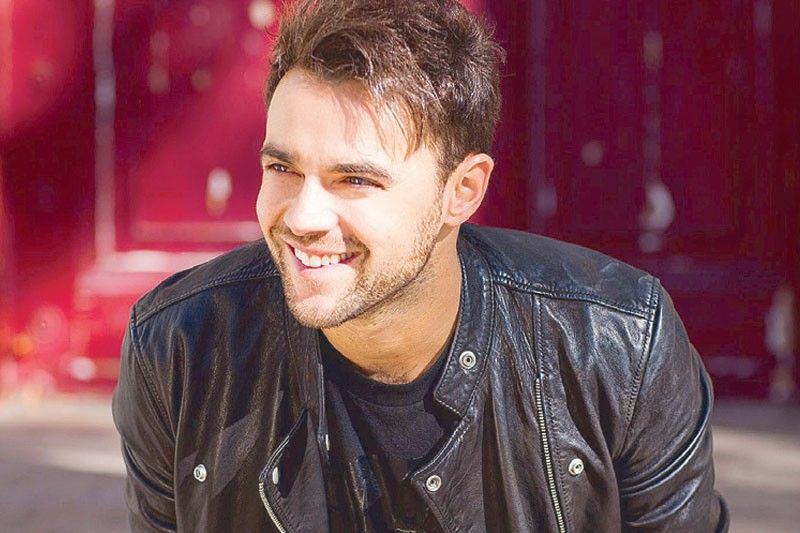 The lead singer of the chart-topping '90s boyband A1 and now prominent UK-based music producer has collaborated with Filipina singer Morissette (inset) on the duet song This is Christmas.
A1's Ben Adams on Pinoy fans, K-pop & Morissette collab
Ben Adams embraces the Christmas spirit with the happy holiday tune, This is Christmas.
The lead singer of the '90s boyband A1 and now a prominent UK-based music producer has chosen to collaborate with Filipina singer Morissette on this duet.
Released under Sony Music, This is Christmas was originally composed by Ben for a Dutch pop star. But the BRIT awardee changed his mind and took the material as part of his Christmas album set for release end of November.
"I loved it so much I couldn't give it away," the British singer-songwriter said.
After his tweet early this year that said he was looking for a duet partner from Southeast Asia, he received recommendations from followers and colleagues from the industry, including Roslyn Pineda, Sony Music's GM for Philippines and VP for Business Development Asia, who advised him to check out Morissette. And he did find the "perfect" duet partner in the 23-year-old power belter.
Ben, who was here last weekend for A1's nth Manila concert held at the MOA Arena, said, "We're starting off the promo in Philippines because I'm here with A1 and we signed the song through Sony Philippines. So, we're beginning here but it is also going to be available in the rest of the world and I've already had, you know, so much feedback from the UK and Europe."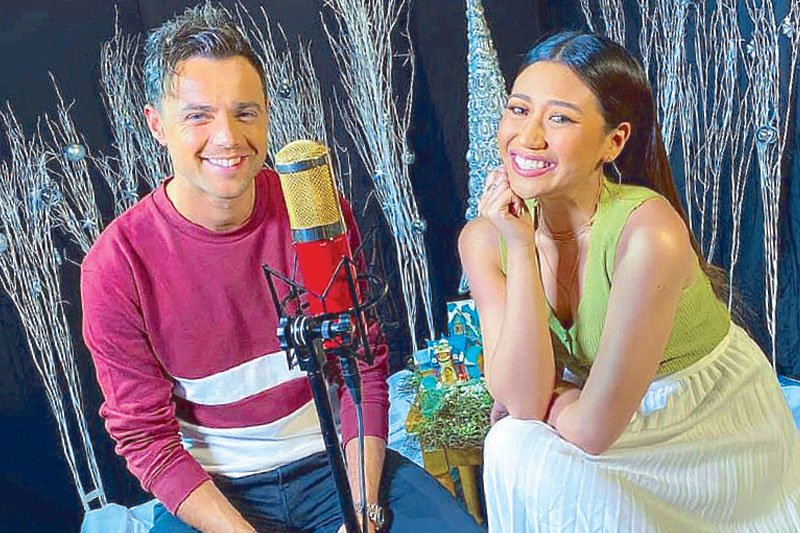 On Tuesday, The STAR and other media were able to chat with Ben minus Morissette, who was earlier announced to be joining the singer for the roundtable interview, but was a no-show. No reason was given by the management of Morissette, who was recently involved in a concert walkout issue, but has already apologized for it.
Ben was all praises for Morissette, whom he described as an amazing singer, a nice person and "a real pro who knows what she does." He said she was very helpful as he navigated through the crazy schedule of TV and radio guestings, music video shooting and other promo activities.
The 37-year-old crooner, on the other hand, showed why he is very much loved by his Filipino fans to this day — friendly, charming and still boyband material, not really looking a day old from the heyday of A1 dishing out such hits as Walking in the Rain, Like a Rose, Everytime, among many others.
"To my Filipino fans, I want to thank you so much for all your support over the years. Hopefully, we come back to the Philippines, year after year, not just Manila but also the suburbs and other places that we haven't visited, and perform for you all. Thank you so much for your reaction to This is Christmas. It's been amazing just to see all the feedback, you guys on social media are like crazy over here. All the feedback is much appreciated. Hope you enjoy it and have the best Christmas, and hopefully see you next year," Ben said.
Here's the rest of the interview:
On being a repeat visitor to the Philippines:
"I've been to the Philippines quite a lot. Last time we came, we were fortunate enough to go to Cebu, Manila, Davao City and did a concert there. We went to Boracay, that was amazing. We will go to El Nido (in Palawan) and have a nice chill there after the promo. It's such a lovely country to be in. So, the more often you can come back, the better.
"To have people still coming to our concerts and greeting us in the airport and things like that, is an amazing feeling. You really just want to thank them. We love it! We will keep coming back as long as the fans want us to."
On collaborating with Morissette:
"Morissette has one of the best voices I think I've ever heard actually. I mean, I write and produce music for a lot of very big artists, you know, in the UK and across the world. And when I wrote the song, This is Christmas, I actually wrote it for a Dutch artist. And then sometimes when you write songs for other people, it's quite tough to give the songs away, so this one in particular, I love Christmas, it's is one of my favorite times of the year. It's actually the first lyrics of the song: This is my favorite time of the year.
"So, I felt like it was so special and too special to give away. So, I took the song back from the artist and she was very upset with me and wasn't happy at all and decided to do it myself and had a version of me just singing the whole thing and I thought, I wonder what would make it really special?
"So, I went to Limeline (UK recording studio), asked people, my fans, people that follow me to suggest a Southeast Asian artist that I could duet with. And lots of people suggesting various people. And then it was Ros from Sony Music, who suggested Morissette to me, and I looked at her clips on YouTube and Spotify, I was just thinking, what an incredible voice!
"So, I asked if she'd like to do it and she said yes, and that was how it kind of became a thing."
On his songwriting process:
"I've been working on this since June. It's a bit weird doing a Christmas song in June, but to get it ready for release now, that's what you have to do. I've always wanted to write something that could potentially be a Christmas hit, that stays around forever because you know I have my favorite Christmas songs, All I Want for Christmas by Mariah Carey is one of my favorites. You know, as soon as you hear the beginning bars of that song, you suddenly feel so Christmasy and you're like okay now we're in the Christmas spirit.
"So, I wanted to write a song that had a feeling of that song that makes you just feel good. And that's what This is Christmas is all about. It's about just the holidays and, you know, I think, especially when you hear the first few bars like the Mariah Carey song and you just go ah, I really feel ready for Christmas. That was the idea."
On working with more Filipino artists in the future:
"I hope so! I suppose I hadn't really thought about it before. I've always loved coming to the Philippines but I wasn't that familiar with a lot of the big artists over here. But when I started to think about that would be a possibility, I started to look at different people over here. I just sort of realized how much talent there is over here.
"So, yeah, gosh, there's so many (I want to collaborate with). I mean, Sarah Geronimo, she's fantastic! (They also suggested) Catriona Gray, yes. I haven't seen much of her singing. She looks great! But apparently she's got a great voice as well. And Jessica (Sanchez), yeah, yes she's great and also Lea Salonga. She's great and doing lots of musicals. Actually that's one that could possibly happen because she's more in the UK, so it makes it a little bit easier for a collaboration. But you never know really. I've got some great songs, a ballads called Two by Two, which I would love to do with somebody."
On being forever identified as part of A1 even if he's doing other things as a solo artist:
"Well, I mean, it's great, you know, of course, I'm okay with that. I think, it's amazing to have written songs, you know, 20 years ago, and to come over here and I literally have to go, you know, at a concert, (breaks into song) treat me like a rose, and every single one in that entire arena, just sings the whole song back to me. That's an amazing feeling.
"I think, if I could go back in time and tell myself when I was writing those songs at a piano in my mom's house that, you know, in 20 years' time, in arenas full of people, were gonna be singing it back to me, I wouldn't have believed you. You know, I hope to be successful, blah, blah. That's like a dream come true for all of us, you know, and it's not just that song, you know, so many of our songs have been so popular all over the world. I'm very grateful for that.
"And I think it's so nice for people to still, you know — I think anyone and bands of our era represent a sort of nostalgic feeling for people... Life is tough and we live in a weird world, but it's an opportunity for people to come along and sort of forget about all the crap that's happening in their life now and just remember a time when they were kids and they had no troubles and they had memories or whatever, and it's like for two hours, you just forget it, everything, and just have a great time. And that's what so nice to see in people's faces."
On K-pop and the new breed of boybands from Korea:
"I know K-pop is huge. You know, I've often been asked to go over and write for them, which I will do soon... I'd love to go over and do a bunch of writing for those kind of bands. But we don't really know them over in the UK. I know they're massive over here, probably the biggest types of bands, aren't they?
"I think, there's one that broke into UK? Yes, BTS, they're massive over there. But apart from that, we're not that familiar with any of them. Maybe we should be! Maybe I can bring them to that side of the world as well."